Lowes Scores Provisional Pole for Yamaha Factory Racing in Suzuka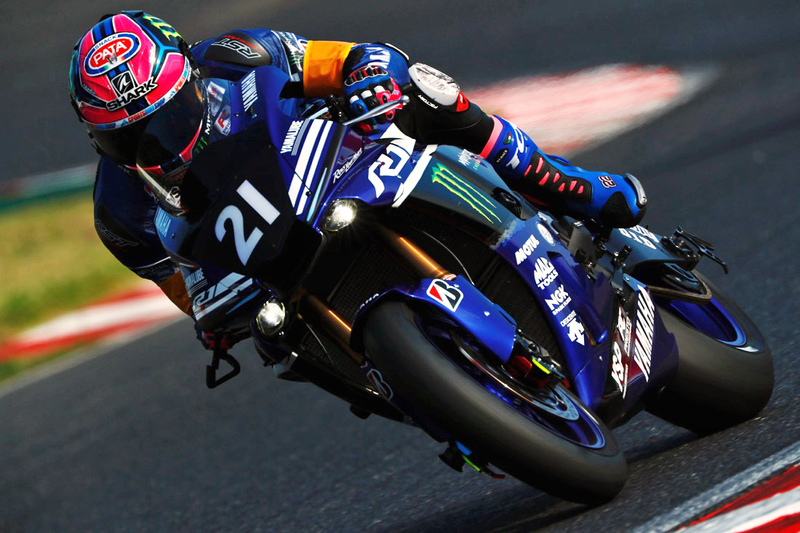 The Yamaha Factory Racing Team were determined to keep their Suzuka record up today, with Alex Lowes scorching to the fastest lap of the day to secure provisional pole position in the 2017 Coca-Cola Suzuka 8 Hours. The YART Yamaha Official EWC Team put in a strong performance to secure a place in the top ten, with Broc Parkes taking the fastest lap time. The GMT94 Yamaha Official EWC Team continued to focus on their race pace, wrapping up the day with 15th on the grid for Sunday's race.
The day started a lot slower than it ended, with Factory riders Katsuyuki Nakasuga, Alex Lowes and Michael van der Mark faced with a half-wet, half-dry track to kick off the morning practice. Sitting out the early minutes of the delayed start, as the circuit began to dry out the team took to the track. Once out it was business as usual, the trio quickly finding a competitive pace amongst the frontrunners. As the delayed session played out its final minutes, the team stepped up the pace. Fighting through heavy traffic to temporarily lead the pack by an impressive 2.8 seconds, they eventually settled in 3rd at the end of the session with a final best lap of 2'10.562.
The morning qualifying heats saw storming performances from Nakasuga first and then Lowes. Both delivered just a single flying hot lap to lead their session before returning to the pits. Nakasuga's 2'06.779 time was the first lap under the 2'07s for the day. Not to be outdone, British rider Lowes followed suite, laying down what was to be the provisional pole lap on his first attempt, a scorching 2'06.405. With used tyres, heavy traffic and several session-halting red flags, the morning QP proved more challenging for van der Mark. Undeterred, the Dutchman kept a consistently fast pace through the pack to score 3rd with a 2'08.164.
The afternoon brought the sun out and with it, considerably higher temperatures that made track conditions more challenging. Multiple red flags and heavy traffic saw Nakasuga, Lowes and van der Mark take a calm approach to their second QP sessions, having secured spots in the top ten with the morning's performance. Nakasuga was 6th in his heat, Lowes 4th and van der Mark 2nd. The average of their respective best qualifying times for the day of 2'07.116 ensured provisional pole for tomorrow's Top 10 Trial.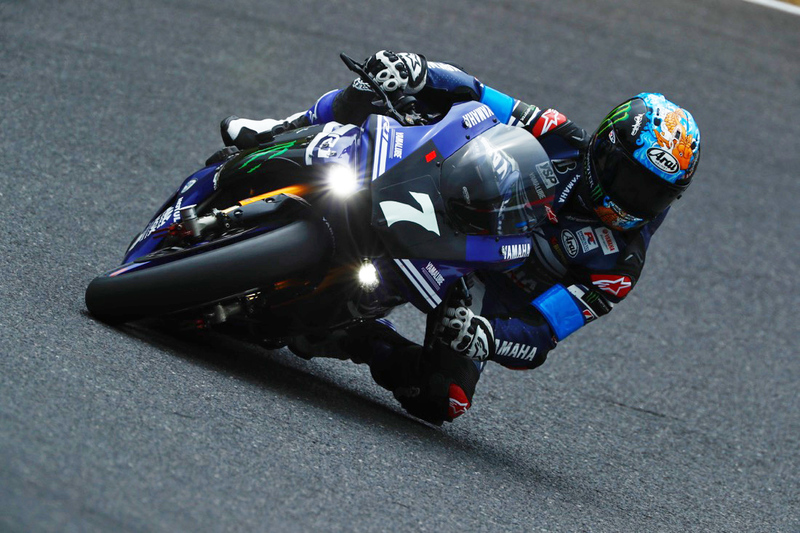 The YART Yamaha Official EWC squad of Broc Parkes, Kohta Nozane and Marvin Fritz was similarly cautious in the morning practice, riding carefully through the drying conditions in the hunt for the perfect machine setup for the race. Wrapping up the practice in 9th, the team were ready and eager for qualifying. Parkes led the way, impressing with one of YART's fastest ever laps at Suzuka with a 2'07.718 for 6th. Nozane was on similar form, flying to 5th with a 2'08.056, just outside the 2'07s. Heavier traffic and by now less grip from the used tyres meant a tougher stint for Fritz. Nevertheless, a consistent ride delivered 7th with a 2'08.764 lap.
YART decided to focus on bringing up the pace of Fritz in the afternoon, so both Parkes and Nozane skipped second QP to allow the young German to ride on fresh rubber. He was one of the strong performers of the session, taking 5th with a lap time of 2'08.984 in the heat. The 2'08.176 average time of the team ensure they enter tomorrow's Top 10 Trial in 6th position.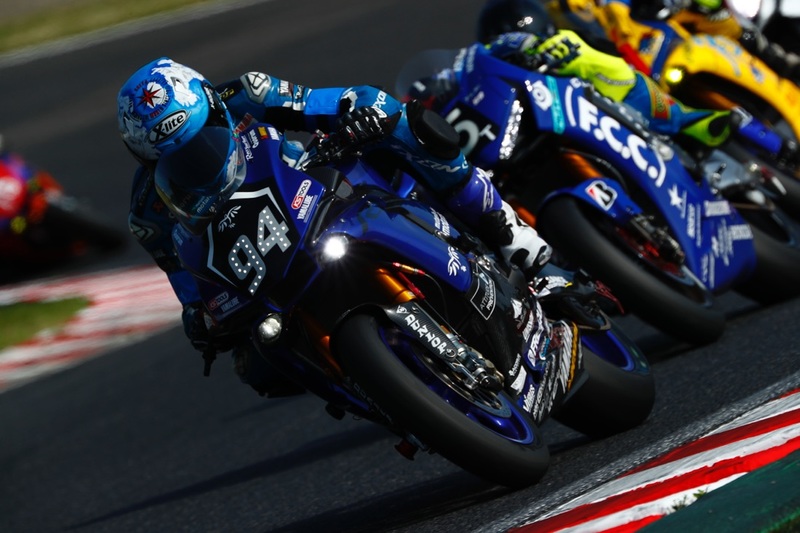 The three riders of the 2017 EWC title-contending GMT94 Yamaha Official EWC Team were quick to hit the track in the morning practice, David Checa, Niccolò Canepa and Mike Di Meglio clearly enjoying the amazing wet grip of their Dunlop tyres. Initially the fastest team on track, their position only began to drop a few paces to 8th as the track dried, with a best time of 2'12.315 to end the session.
Focused on using just two rear and one front tyre for all qualifying sessions, the riders worked hard to keep their pace consistent through the morning and afternoon heats in the gradually changing track conditions. Canepa was the fastest of the team in both the morning and afternoon qualifying, adding to the times of Checa and Di Meglio to make an average of 2'09.950 for 15th on the grid for Sunday's 40th anniversary Suzuka 8 Hours.
Overall Qualifying Classification
| Pos. | No. | Team | Machine | Avg. Time |
| --- | --- | --- | --- | --- |
| 1 | 21 | YAMAHA FACTORY RACING TEAM | YAMAHA | 2'07.116 |
| 2 | 12 | YOSHIMURA SUZUKI MOTUL RACING | Suzuki | 2'07.523 |
| 3 | 634 | MuSASHi RT HARC-PRO. Honda | Honda | 2'07.538 |
| 4 | 11 | Kawasaki Team Green | Kawasaki | 2'07.867 |
| 5 | 5 | F.C.C. TSR Honda | Honda | 2'07.919 |
| 6 | 7 | YART Yamaha Official EWC Team | YAMAHA | 2'08.176 |
| 7 | 71 | Team KAGAYAMA | Suzuki | 2'08.553 |
| 8 | 19 | MORIWAKI MOTUL RACING | Honda | 2'08.796 |
| 9 | 25 | HondaSuzukaRacingTeam | Honda | 2'08.984 |
| 10 | 22 | SatuHATI Honda Team Asia | Honda | 2'09.295 |
| 15 | 94 | GMT94 Yamaha Official EWC Team | YAMAHA | 2'09.950 |
| 17 | 75 | ITO・RACING・GMD & REDGRIFFIN | YAMAHA | 2'10.262 |
| 24 | 6 | Titanium Power HOOTERS Racing | YAMAHA | 2'11.840 |
| 25 | 74 | AKENO SPEED・YAMAHA | YAMAHA | 2'12.017 |
| 39 | 502 | NCXX RACING | YAMAHA | 2'13.982 |
| 42 | 24 | CLEVER WOLF Racing & 3ART | YAMAHA | 2'14.562 |
| 43 | 99 | oosakamobius icuRT99 & OUTRUN & motokids | YAMAHA | 2'14.653 |
| 45 | 59 | HKC & IMT Racing | YAMAHA | 2'15.227 |
| 46 | 32 | TEAM Rabit Transit | YAMAHA | 2'15.254 |
| 47 | 41 | IWATARACINGFAMILY | YAMAHA | 2'15.289 |
| 53 | 321 | Favorite factory + SUZUKA R & D | YAMAHA | 2'16.037 |
| 54 | 51 | T・MOTOKIDS・ALTEC・ICU・KAWAUSO RT | YAMAHA | 2'16.093 |
| 57 | 65 | MOTOBOX KREMER RACING | YAMAHA | 2'16.394 |
| 59 | 15 | Team Etching Factory | YAMAHA | 2'16.801 |
| 62 | 903 | NOI:Z RACING TEAM | YAMAHA | 2'16.913 |
Yamaha Factory Racing Team
Day 2 (overall): 1st with 2'07.116 (avg. best)
Katsuyuki Nakasuga
"The bike is in its third year now and we haven't really changed any of the settings. Looking at the race weekend we have a good flow going as a team. The weather today isn't how it's going to be on race day so I'm a little bit worried about what it will be like if it gets really hot. We rode in the rain in the test so we have good data, so no matter what the conditions are we are ready for it. Alex took the provisional pole lap this year, so looking at the Top 10 Trial tomorrow, I was really nervous trying to get the fastest lap last year, but now he can do it and I can enjoy the session!"
Alex Lowes
"Today has gone really well. We worked on qualifying pace in the first session and then on used tyres this afternoon. I still felt really good on the bike and it feels really strong. It's obviously not about one fast lap in this race, it's about being fast and consistent for the full eight hours and in particular for the hour of your riding stint. I'm fully focused on the race, I feel good and I'm enjoying the weekend."
Michael van der Mark
"It's been a really good day. I think this morning was a bit difficult with the weather conditions. We went out and it wasn't completely dry but we had quite a good pace anyway. It was a bit tricky but good to get some laps done. In qualifying, Nakasuga-san and Alex made some really fast laps and did a really good job. I had to use their old tyres for my first run and halfway through the session was a red flag. After that I tried to push through the traffic. I didn't do my best lap but I was consistent which is what is important. At the end I'm really happy and consistent with the used tyres; that is really important in endurance racing. The team did great today."
Team Manager Wataru Yoshikawa
"Everything is good, I'm really happy. The performance of the team is good and the communication between the riders is going really well. They go out and perform at a similar level on new and used tyres and that is important. Compared to the typical 8 Hours, the temperature has been quite low today. We have no idea how it's going to be throughout the weekend, but our job is to keep calm and do what we need to do as a team. Our riders are fast so as long as they keep calm and do what they need to, we'll be fine."
YART Yamaha Official EWC Team
Day 2 (overall): 6th with 2'08.176 (avg. best)
Broc Parkes
"I think we have to be really happy with how we've all ridden today. For my side I feel I made a really good lap time and then repeated consistently. In general the bike is feeling really good and I think we are all very consistent and in a good position for tomorrow's Top 10 Trial. Kohta stepped up today as he was struggling a little at the start, and Marvin also. We are now all within a second of each other so we're good to go."
Marvin Fritz
"Qualifying was easier in the first session than in the afternoon when it was a lot hotter. It was more difficult to improve my lap time then. The morning time wasn't too bad, and we made all three qualifying sessions with one set of tyres. I wanted to improve at the end but it was a little difficult. The plan was to save one set of tyres for the race so we have an extra set. Broc and Kohta are both looking strong so we're looking forward to the race."
Kohta Nozane
"I didn't ride the second stint of qualifying as Marvin was still a little bit behind our pace so we gave him new front and rear tyres to improve; so we used a total of two sets in qualifying. To save extra tyres our strategy was for me to miss a session. My performance has improved over the last two days and my times were better today on used tyres than I thought they would be. All three of us have good pace and I think we can do better than I originally thought. There probably aren't many teams with the same average rider pace between the team riders. I can't say I'm aiming for the championship but I haven't given up on it. It's a difficult thing to make possible so we are focused on aiming for the podium. After that, if the title comes that's great, but a lot depends on GMT's race."
Team Manager Mandy Kainz
"We are satisfied with today's results, it is exactly where we should be. We are the first team behind the big five; that is the position where we expected to be. This means we are the best of the rest, so we are happy. The team are working well, Broc and Kohta made incredible lap times and Marvin did a really good job on used tyres. Kohta feels a lot of pressure; it is his home race here and for sure he is measured against Nakasuga-san. We have to be fair though as he doesn't have the same level of bike to work with so there isn't such a big difference in lap times."
GMT94 Yamaha Official EWC Team
Day 2 (overall): 15th with 2'09.950
David Checa
"Honestly we struggled a little bit during the test two weeks ago so here we brought some different things, including different tyres. I think we need another second and a half per lap to win the race, but this is not our target; our target is to be world champion. This year we can be a little bit faster than last year when we were 4th, and my teammates and the bike are also at a higher level so we are in a good place. We will make the best race possible and see where we are on Sunday night!"
Niccolò Canepa
"I'm really happy because in my qualifying practice I was in the top ten which was good. I'm satisfied with my lap times because we made them with race tyres; that is important for Sunday. We struggled a little in qualifying as we don't have a specific qualifying engine or tyres but we are in good shape for the race, so let's see what can be."
Mike Di Meglio
"My day was good today, I improved my lap time and the pace for the race is quite good. This is very different to a normal race here but we are all feeling good so looking forward to what we can achieve on Sunday."
Team Manager Christophe Guyot
"Sometimes you can be2nd or 3rd on the grid and not be happy and sometimes you can be 15th and be very happy! Of course it was not possible for us to fight for pole position today and we have a title to fight for. We have an allocation of 20 tyre stickers for the race and we needed to have 16 tyres to use. If you want to change your front and rear tyres in every stint, you need 16 tyres and stickers. To be sure and in case of problems I have kept one extra to be safe. So in my pocket I have 17 stickers. We have used only three tyres for qualifying, one front and two rears. So in this situation we made very good lap times on used tyres. The morning free practice was a good reference as we were first in the wet, then we finished 8th as it dried. This means we are in a good place for the race. Dunlop worked hard to bring us better tyres than in the test two weeks ago so we can be confident of fighting for the title. I sincerely hope that our favourite competitor YART will make a good race, because this proves the high level of Yamaha in endurance."