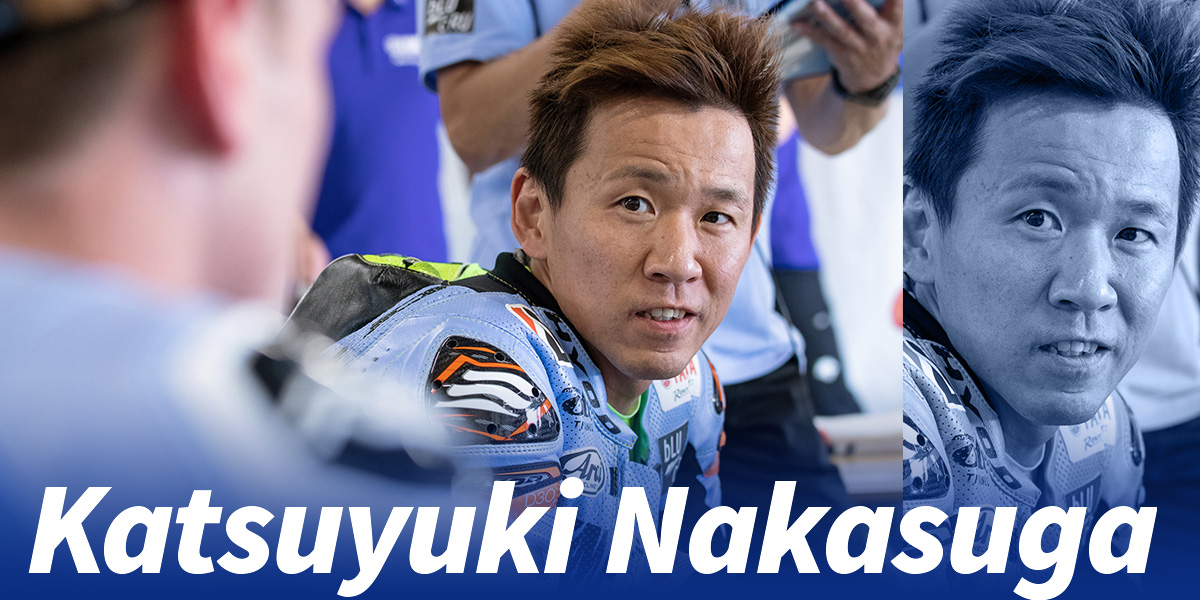 Forget Defence, Stay on Offence
The Suzuka 8 Hours is Japan's biggest motorcycle race and often referred to as a "midsummer festival". Of course, while it has the elements of a festival, it remains a major sporting event that is marked on just about every racing calendar.
The blazing sun mercilessly beats down on the riders, the track asphalt is practically sizzling and the engines of each bike are only adding to it all as they radiate their own heat. In these punishing conditions, the riders get into their racing leathers, put on their helmets and then physically work to manoeuvre their bikes from full lean left to full lean right at extremely high speeds—none of it is ever easy. And to top it off, the riders also have to maintain razor-sharp focus for each stint they run.
While racers navigate Suzuka Circuit with the wind hitting their bodies and helmets, even the wind itself is hot. When a rider comes in from a one-hour stint, they are drenched in sweat and their face is flushed. Some are so lightheaded that they have to be helped off the bike by the team. A post-stint dip into a small pool filled with cold water becomes a godsend of sorts, otherwise there would be no way to maintain their body temperature over the course of the race. In short, winning the 8 Hours requires the physical fitness and mental toughness of a top athlete, and the Yamaha Factory Racing Team's Katsuyuki Nakasuga has won the race four times in a row.
At the start of Yamaha's winning streak in 2015, Nakasuga was 33 years old. In fact, three-time All Japan 500cc Champion Tadahiko Taira was the same age when he rode the TECH21-liveried YZF750 to his long sought-after 8 Hours victory.
Now, four years later, Nakasuga is 37 and has helped continue Yamaha's run of dominance at the 8 Hours. With a fifth consecutive win on the line this year, the Japanese racing legend is working tirelessly to bolster both his physical condition and his drive to win.
While arguably being the fastest man on two wheels in Japan, "I know there's still room for me to grow," he stresses. "When I don't feel that way anymore, that's when it'll be time for me to hang up my leathers. I'm always trying to progress as a rider and I don't feel like I'm losing out to anybody right now, so I still don't plan on giving up my seat on the factory bike."
The reason Nakasuga can assert himself so clearly is the confidence and self-belief he has as a road racer that is doing exactly what needs to be done. From physical conditioning and polishing riding techniques to machine setup and maintaining a positive relationship with teammates and team staff, there is always much to be done, but the veteran rider handles each with meticulous care.
However, in the first free practice session the morning of the Saturday before the race last year, he crashed and was injured, taking him out of the weekend's remaining sessions. Then came race day and the team would be taking to the track without its lead rider. This would normally be the most devastating blow a team could suffer, but the Yamaha Factory Racing Team showed no signs of panic. Thanks to Michael van der Mark and Alex Lowes' fast, steady riding, the race was won again and Yamaha's winning streak continued.
For Nakasuga, he supported his teammates as best he could. "I wanted to do for my teammates the same things that team manager [Wataru] Yoshikawa and many others have done for me in the past that really helped me pull through or cheered me up. I'm really thankful to those guys for coming through in the best way possible with another win for us."
From the different view he had that year, standing one step away from the action instead of in the saddle, Nakasuga realised many things from the experience. "I got to really see again how the whole team crew works behind the scenes. Seeing everything that way, I really felt that if any one of them wasn't there, we wouldn't have been able to win. If you don't have everyone united and working towards achieving the same goal, winning the 8 Hours is impossible."
"I know it sounds strange to say this," he says with a laugh. "But I'm even sort of glad I got injured last year. I think it made me grow as a person."
It isn't that Nakasuga isn't aware of or thankful for the people who have supported him over his storied career. Rather, since he wasn't able to race the 8 Hours last year and witnessed first-hand the mammoth effort of the people behind the team, he realised anew how pivotal their support is to any win.
"When you keep on winning, it's something that becomes easy to overlook or take for granted, even if you don't mean to. Last year I couldn't ride in the race, but it was a real reminder for me of what it takes to go racing. Sometimes you need that kind of wake-up call."
As the team basked in the glory of a hard-fought win, Nakasuga thought that, "It's because everyone did exactly what they needed to do that we're all here sharing the joy of victory."
Inspired by Lowes and van der Mark's heroic ride last year, he has dedicated himself to preparing for the race more than ever before. Should anything happen to his teammates, he plans to do whatever he can to cover for them as they did for him. They were all able to stand on the top of the podium afterward as a result.
However, the situation he had been preparing for actually happened when van der Mark had a vicious highside at the World Superbike round in Italy and was injured. Luckily, the Dutchman has recovered well. But Nakasuga remained unfazed even with this introduction of an unforeseen factor to the mix. "No matter what happens, we'll be fine. Of course, I want to stand on top of the podium with Michael again so I'll keep working on the setup so he won't have any issues riding the bike."
This year's special TECH21 livery has also introduced some additional pressure, but also additional pride, and has Nakasuga's motivation to run at the front higher than ever. "The TECH21 colours are from a time when I was little and didn't know much about racing, but right now I can feel the weight of the history and achievements of the racers who wore the colours. The fans are really loving it, too. I want to really do the TECH21 name and livery justice this year."
Nakasuga states that being able to keep winning is what brings value and meaning to his life as a racer. His burning desire to remain at the top is what feeds him energy and drives him. "Honestly, I don't really think much about winning 'again.' What I want to do is win this year's 8 Hours. More than defending or carrying on a streak, I simply want to focus on winning a race."
Lowes—his Suzuka teammate for the third year in a row—refers to this year's R1 colour as "baby blue". In a sense, the paler blue of the TECH21 livery can be likened to the beginnings of Yamaha's darker, signature Yamaha Racing Blue today.
Always go into the race with clear head. Always strive to win the race at hand. Don't defend; stay on the attack. This year's "baby blue" YZF-R1 will head into the battle that is the Suzuka 8 Hours and stay on the attack until the chequered flag.