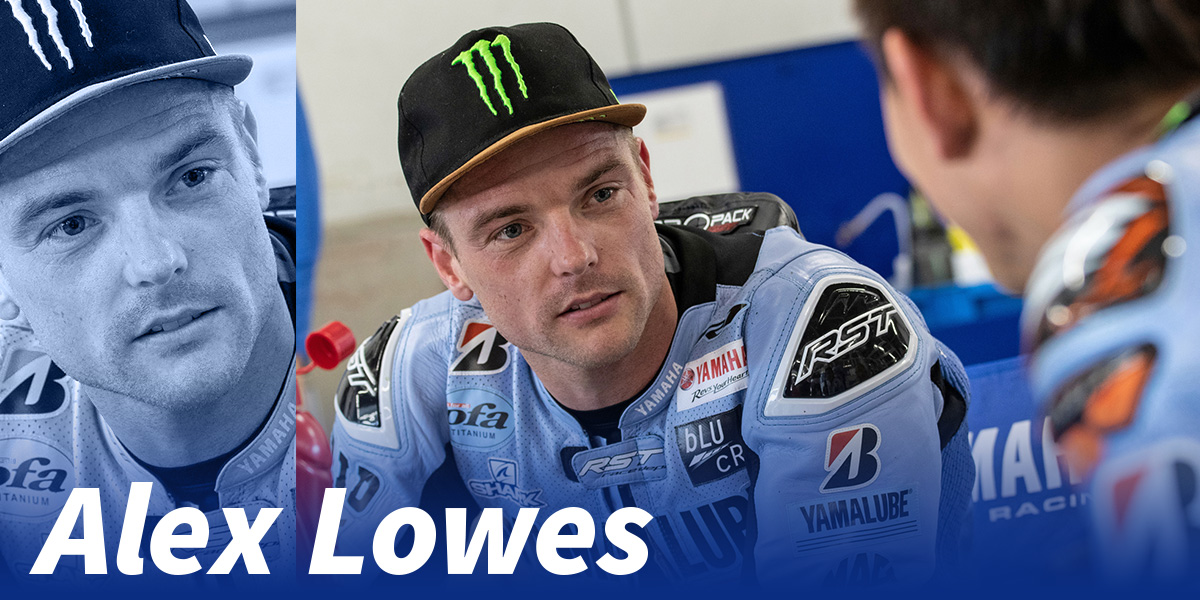 The Air About the Yamaha Garage
There was a fresh breeze flowing through the Yamaha Factory Racing Team's pit garage, but it wasn't from the winds from nearby Ise Bay. Rather, it was the kind of fresh air that brings comfort and a sense of clarity, and it feels far better than what an actual change in temperature brings.
There's no other way to put it—the atmosphere in the pit is great. Both the team and riders look serious; they are aiming for a fifth consecutive Suzuka 8 Hours victory, and careful preparation is key. It's a typical scene at a racetrack, with a certain degree of palpable tension but some calm and confidence there as well.
The coolest and calmest air of all seemed to surround the area where riders Katsuyuki Nakasuga and Alex Lowes were seated.
Lowes and Nakasuga keep the banter in the pit to a minimum, but their short conversations in English seem to always end with the two laughing and a clap on each other's shoulders.
"I really have fun racing," says Lowes. It's his fourth time to race the Suzuka 8 Hours. "Being a motorbike racer was my dream since I was just a kid, and not only has that dream come true, but I'm doing it at one of the biggest races, on the best team, in the top category, and against some of the fastest riders in the world. It's just fantastic!" he says with a smile.
Although the Suzuka 8 Hours is full of glory and glamour at first glance, behind that is pain, hardship and worry. But the 28-year-old Briton takes all that in stride and focuses on enjoying the event. "I really enjoy the autograph sessions, the interviews and even the journey to get here. In the World Superbike Championship, I have an R1 all to myself but even then, we almost never find the perfect setup. We have to make compromises to make it all work within the amount of time we have.
"So in the 8 Hours with several riders sharing the same bike, I have to change my approach even more. I can't put myself first because we have to find the solution that works best for the whole team. When the team comes together towards the same goal, that's when you can get a good result. That's what the 8 Hours is about. I mean, Michael [van der Mark] is my teammate but he's also my rival on track normally, so getting to work together to fight for the win? Of course it'll be fun! Then add in that this year we're running the special TECH21 colours. I'm really proud to be a part of it."
Last year, Nakasuga crashed in free practice the day before the race. Despite this, Lowes and van der Mark rode the entire eight-hour race as a two-man team, taking another incredible win.
"Nakasuga-san really blamed himself for what happened, but it didn't really bother me," says Lowes. "It's something that can't be avoided when you're racing and pushing 100%. It actually made me think even more that we have to go out and win! Everybody makes mistakes. I do too. You've just got to learn from those mistakes and come back stronger.
"But of course, it's always nicer to have Nakasuga-san racing with us! Michael had a bad crash in World Superbikes and he's injured, but I'm hoping he'll be back. I want to ride in the 8 Hours with the same team, all three of us."
Enjoying something is often the key to being relaxed, and being relaxed is a big advantage when racing motorcycles. Lowes is well aware of this and puts on a bright smile in the pit garage. But he sometimes shifts between racer focus and racer friendly, at times patting Nakasuga—who has a tendency to tense up—on the shoulder.
This year, with another chance at an unprecedented consecutive win on the line, Lowes' style remains unchanged. "Our rivals have come back stronger each year, but we've still won the race. But this year is this year; we have to forget last year and remember that we're starting from zero in an all-new challenge this year.
"We have to do whatever we can, always be positive, and be confident but we also have to enjoy ourselves. If we can do that, I think we can definitely win."
The four factors Lowes lists were without a doubt already present in the Yamaha Factory Racing Team's garage during testing. There is not a shred of doubt or confusion and the mission is clear, just like the air flowing through the pit.