Yamaha Factory Racing Team on Pole Position at Suzuka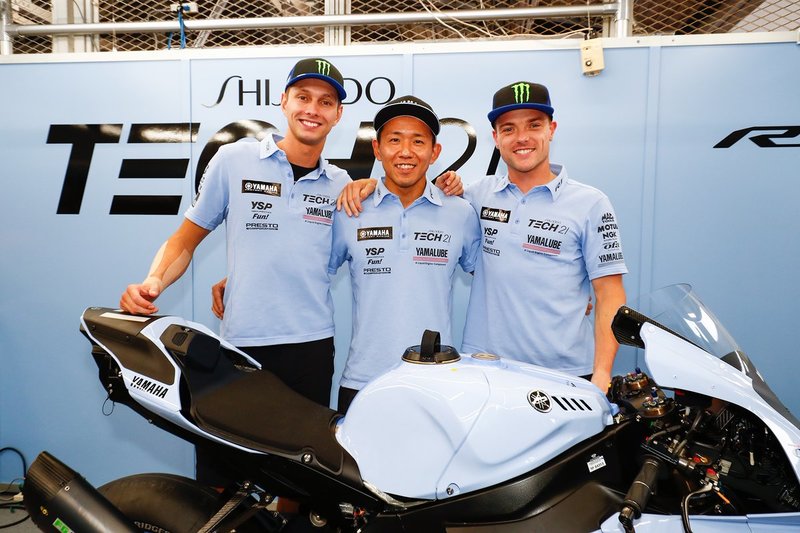 The Yamaha Factory Racing Team will start the 42nd edition of the Suzuka 8 Hours tomorrow from pole position on the grid, following the cancellation of all track activities this afternoon due to adverse weather conditions.
Katsuyuki Nakasuga, Alex Lowes and Michael van der Mark were all set to defend their provisional pole position, achieved in yesterday's qualifying sessions, in today's Top 10 Trial, which was scheduled to get underway at 15.30.
However, the untimely arrival of Tropical Storm Nari, which made landfall early this morning in Mie Prefecture where the Suzuka circuit is located, meant that the Yamaha Factory Racing Team riders arrived to find the track blanketed by low lying cloud and with heavy rain making track conditions treacherous.
As the rain continued unabated throughout the day the decision was made to cancel both the planned free practice session and the Top 10 Trial on safety grounds, with the result that the grid for tomorrow's Suzuka 8 Hours will form up in the order in which the teams qualified yesterday.
This means that the Yamaha Factory Racing Team trio of Nakasuga, Lowes and van der Mark will chase Yamaha's fifth consecutive Suzuka 8 Hours win from pole position, while the YART Yamaha EWC Team riders, Niccolò Canepa, Marvin Fritz and Broc Parkes, will start from sixth position tomorrow.
The 42nd edition of the Suzuka 8 Hours will get underway with the traditional Le Mans style start at 11.30 local time tomorrow.
Yamaha Factory Racing Team - 2'06.619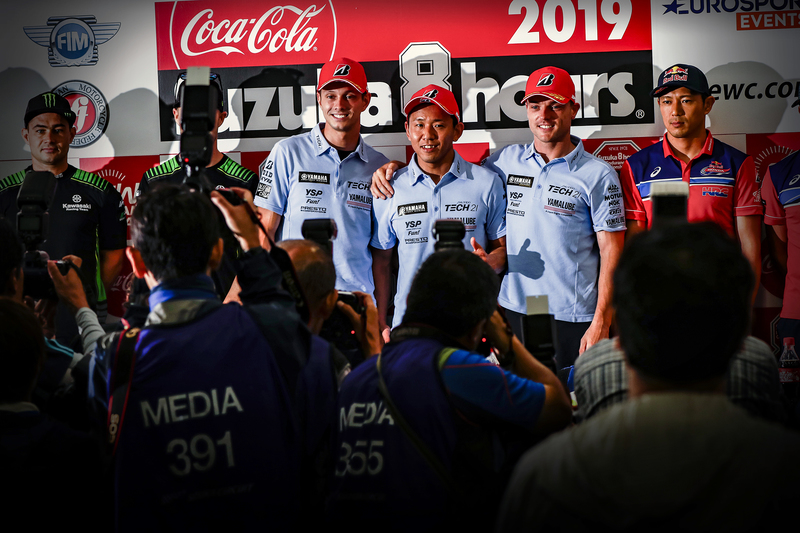 Katsuyuki Nakasuga:
"It's a strange feeling to get pole without having the Top 10 Trial, but the reason we got this pole is the hard work we all put in yesterday in qualifying. But the most important thing is tomorrow's race. We're going to do our best and go for the win."
Alex Lowes:
"it's good to be on pole position, even if there was no action today. We did a good job as a team in qualifying to end yesterday as the fastest and we have to be happy with that. Obviously the most important thing is the race tomorrow. We have good pace, as we've seen throughout all the sessions here, so now we just need to sit down together tonight and come up with the best plan for the race. Winning a fifth consecutive Suzuka 8 Hour for Yamaha won't be easy, but we'll be giving it our best shot."
Michael van der Mark:
"It's a shame we didn't get to ride today because of the amount of standing water on track, as there were many fans who braved the weather to support us. But we will start tomorrow from pole, which is good, but it will be a long race like always. I'm looking forward to it, especially as we will go into the race with a really strong team, with all three of us really consistent. If we can maintain the same pace in the race, not make any mistakes or run into any bad luck, then I think we will be in a good position to fight for the win once again."
Wataru Yoshikawa: Team Manager
"There was too much rain falling for the Top 10 Trial or another qualifying to be held, so I feel bad for the fans who came out to cheer us on today, but I think cancelling the sessions was the right move. Tomorrow's weather looks like it could be a bit sketchy, so we'll see how it goes, but no matter what happens we'll be pushing for another win in the race."
YART Yamaha EWC Team:2'07.309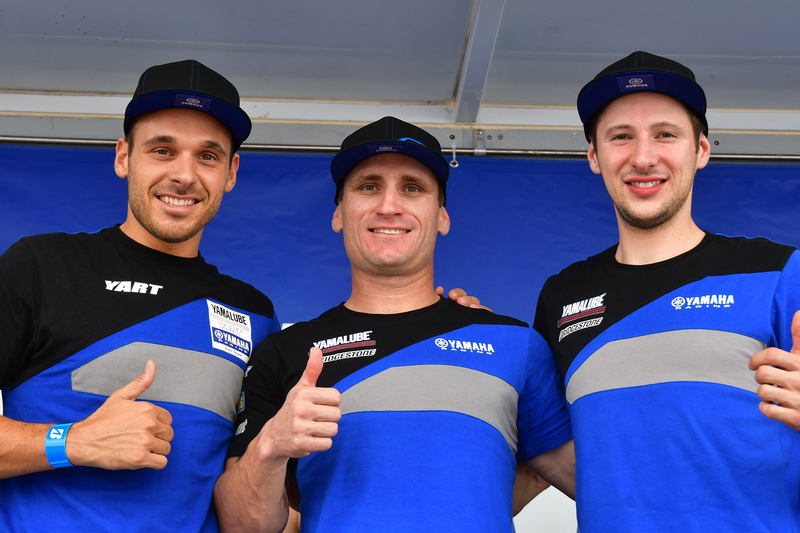 Broc Parkes:
"To be top five on the grid is incredible for us. It wasn't ideal to miss the Top 10 Trial, but in these conditions there's nothing you can do. I'm confident that tomorrow in the race we can do a really good job as a team, but we are still a bit unsure what the weather is going to do. Hopefully conditions will be better than today but, anyway, in the race I think we can be really strong."
Niccolò Canepa:
"While I would have liked to do the Top 10 Trial for the first time, it simply wasn't possible to day because of the weather. All three of us did a fantastic qualifying yesterday and to be starting tomorrow from sixth on the grid is great for us. We have worked really well towards the race and we are ready. Our target is to finish top five tomorrow, which would be amazing because we are not a factory team, but we've been fighting with them all week and I hope we can do so again in the race."
Marvin Fritz:
"Twice I've made it through to the Top 10 Trial and on both occasions, it's been cancelled, so I'm a bit disappointed about that, but there's nothing you can do about the weather. I'm happy to be starting from fifth position on the grid, as this is something we didn't expect coming into this weekend. Now I'm looking forward to tomorrow's race. Still we're not sure what the weather will bring, but we're an experienced endurance team and this will count for a lot if the conditions are changeable during the race. Top five would be amazing, or maybe even better. You never know what can happen in an endurance race!"
Mandy Kainz: Team Manager
"For the race we are quite relaxed. Of course, we are dreaming about finishing on the podium tomorrow, but I think a top five finish is a more realistic target, as long as we don't have any issues in the race. The team and riders have done an incredible job here at Suzuka with improvements coming in every session and, while luck always plays a part in endurance race, if it's on our side tomorrow then I think we can improve once again. We will see."
Qualifying
| Pos. | No. | Team | Machine | Time(Avg.) |
| --- | --- | --- | --- | --- |
| 1 | 21 | YAMAHA FACTORY RACING TEAM | Yamaha | 2'06.619 |
| 2 | 10 | Kawasaki Racing Team Suzuka 8H | Kawasaki | 2'06.633 |
| 3 | 33 | Red Bull Honda | Honda | 2'07.106 |
| 4 | 634 | MuSASHi RT HARC-PRO. Honda | Honda | 2'07.183 |
| 5 | 12 | YOSHIMURA SUZUKI MOTUL RACING | Suzuki | 2'07.187 |
| 6 | 7 | YART Yamaha Official EWC Team | Yamaha | 2'07.309 |
| 7 | 1 | F.C.C. TSR Honda France | Honda | 2'07.478 |
| 8 | 090 | au-Teluru SAG RT | BMW | 2'07.916 |
| 9 | 95 | S-PULSE DREAM RACING-IAI | Suzuki | 2'08.311 |
| 10 | 19 | KYB MORIWAKI RACING | Honda | 2'08.758 |