1989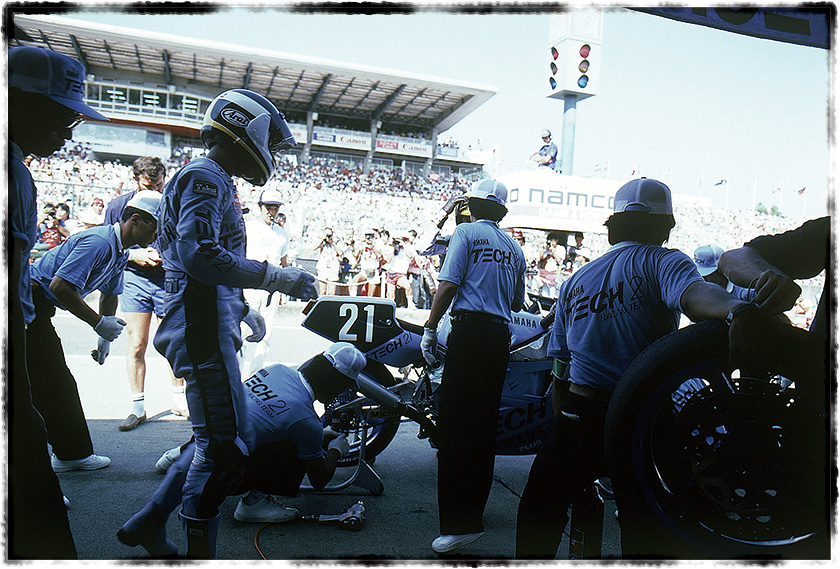 Looking Solid in 2nd, Fate Intervenes Yet Again...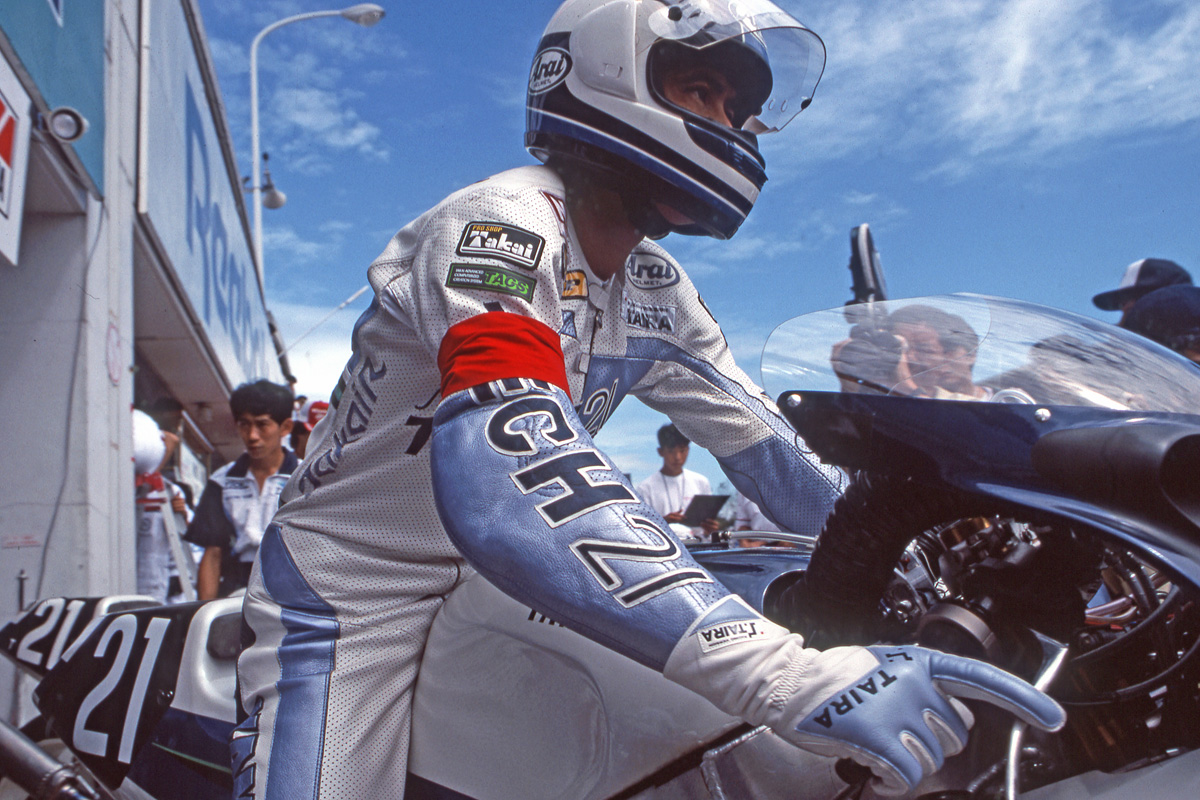 In 1989, Tadahiko Taira and John Kocinski paired up to form the #21 Shiseido TECH21 Yamaha Team. The factory YZF750's livery got a facelift that set it well apart from what fans had seen at the past four Suzuka 8 Hours, with a white base colour accented by a combination of blue, black and green lines. Though the team was lapping at a solid pace in 2nd, a similar fate was in store as they once again failed to make it to the chequered flag.
American racer John Kocinski would go on to become the 250cc World Champion in 1990, but in 1989 he was still considered by most to be one of Kenny Roberts' protégés. At the 1987 Suzuka 8 Hours where the TECH21 team took their first win, Kocinski had paired up with fellow countryman Cal Rayborn and rode to an impressive 3rd on a YZF750 for Team Lucky Strike Roberts. But the long-awaited win by the TECH21 team effectively stole the headlines and drowned out Kocinski's solid podium performance in his first attempt at the grueling race. However, Kocinski's star was only just beginning to rise. After building up experience doing one-off rides in the World Championship and All Japan races, he took his first 250cc GP victory at the 1989 season-opener at Suzuka. The 21-year-old's outright speed and racecraft tickled Japanese fans' curiosity; how would he ride a now well-developed YZF750 together with Taira at the 8 Hours?
The #21 Shiseido TECH21 Yamaha team was joined on the grid by the previous year's winning pair of Wayne Rainey and Kevin Magee—again on the #3 Team Lucky Strike Roberts machine—while Michael Dawson and Kunio Machii also returned, riding the #9 Nescafe RT Yamaha YZF750. Put simply, Yamaha had brought out the big guns to try for a third consecutive 8 Hours win, and trying to put a stop to this was the Honda factory effort spearheaded by 1987 500cc World Champion Wayne Gardner and Tadahiko Taira's teammate from the previous year, Mick Doohan.
The race was a battle of attrition, with prominent teams dropping out of contention one after another with crashes and bike trouble, and Yamaha's factory teams were no exception. Rainey and Magee had a sudden engine issue coming down the main straight and were forced to retire with 94 laps completed, and a crash brought a premature end to Gardner and Doohan's race. Around this time, Taira and Kocinski were running in 3rd before Doohan's crash bumped them up to 2nd, and from that point, they set about reeling in Honda France's endurance squad of Dominique Sarron and Alex Vieira in the lead. But while Kocinski was out on track on lap 163, the #21 YZF750 had a technical issue that resulted in the TECH21 team not being able to take the chequers once again. Soon after, a mechanical issue also befell Dawson and Machii's YZF750, signalling the end of the Yamaha factory chances for a Suzuka hat-trick. Sarron and Vieira took the win in the end, with top Yamaha honours going to the privateer team of Australian Peter Goddard and Shingo Kato, who finished on the podium with 3rd on an FZR750R.
It was the TECH21 team's fourth retirement out of five tries at the 8 Hours, and Taira—the undisputed face of the team—had yet to make it to the finish after lining up four times. The Japanese fans' wish to see him win—or simply finish the race—was once again intensified. But after year after year of misfortune, some began to wonder if the three-time All Japan champion would ever see the chequered flag at the 8 Hours.
---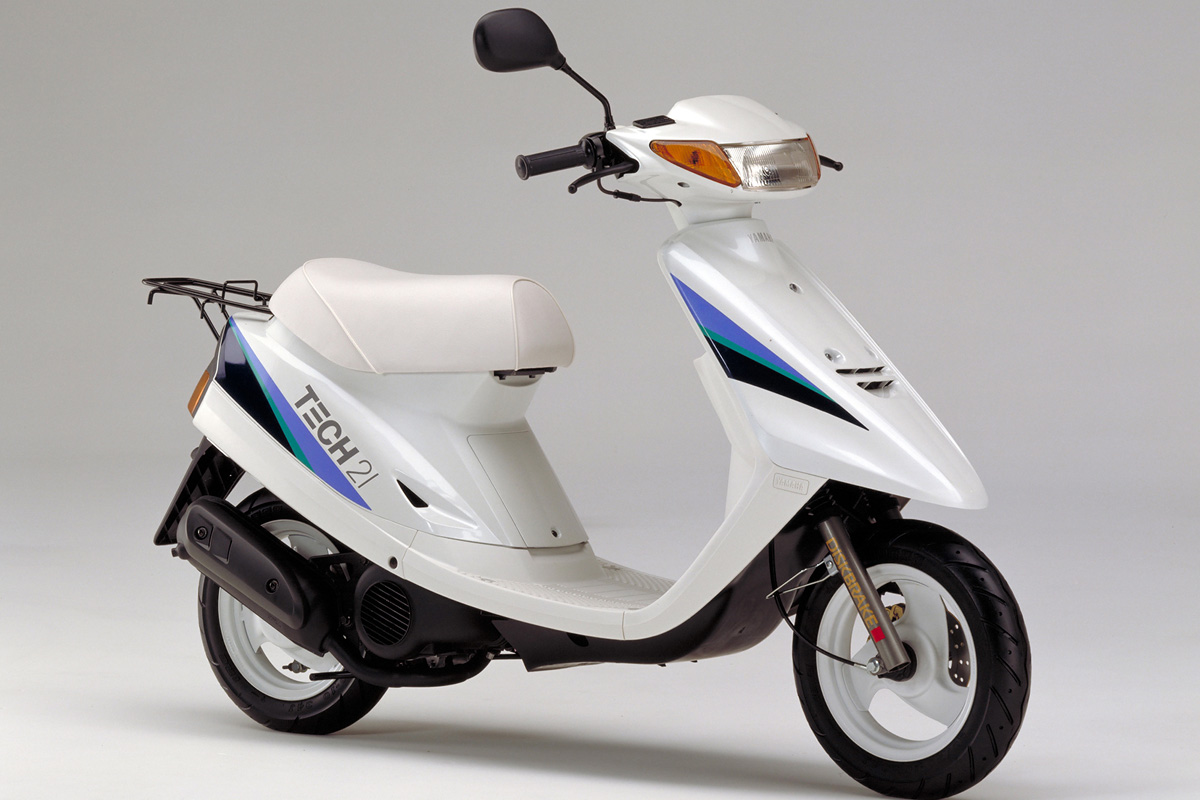 On July 30, 1989, Yamaha released a variation of the New JOG Sport scooter featuring TECH21 colours.
---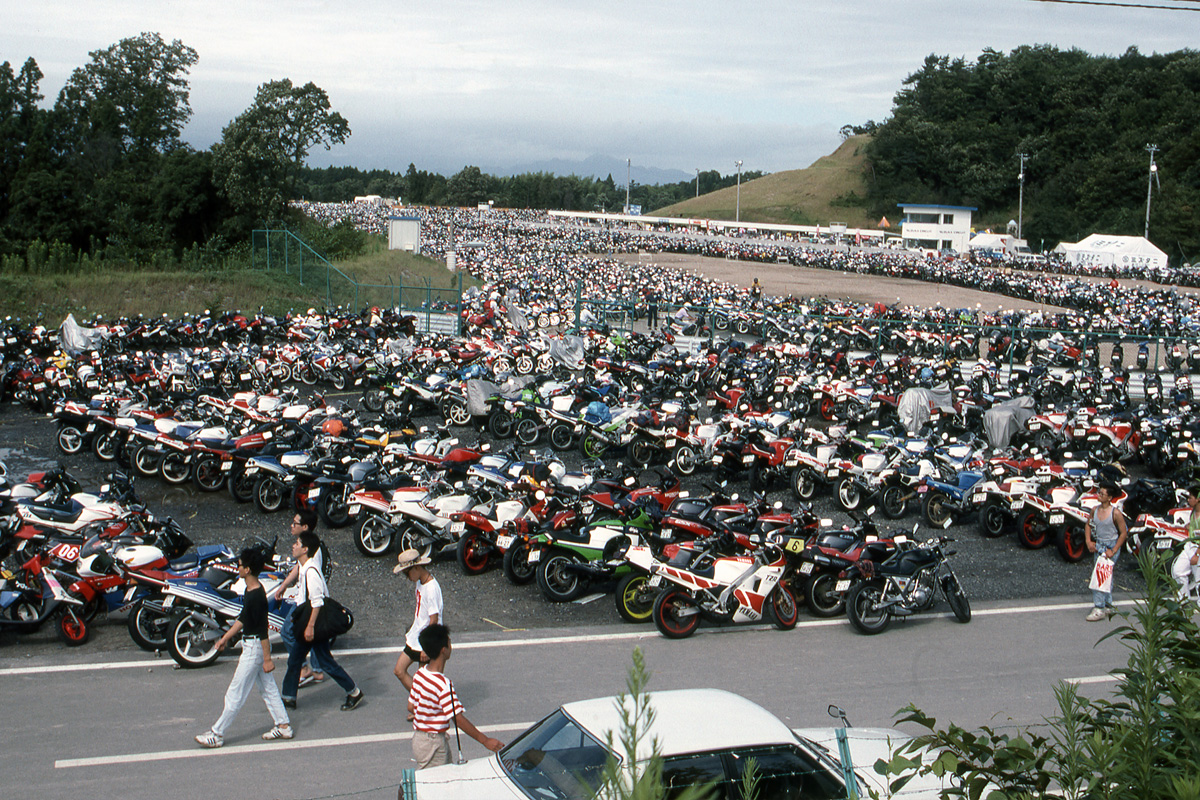 The motorcycle parking lots at Suzuka Circuit were packed to the limit, a sign of the race's popularity at the time.
---
---
---