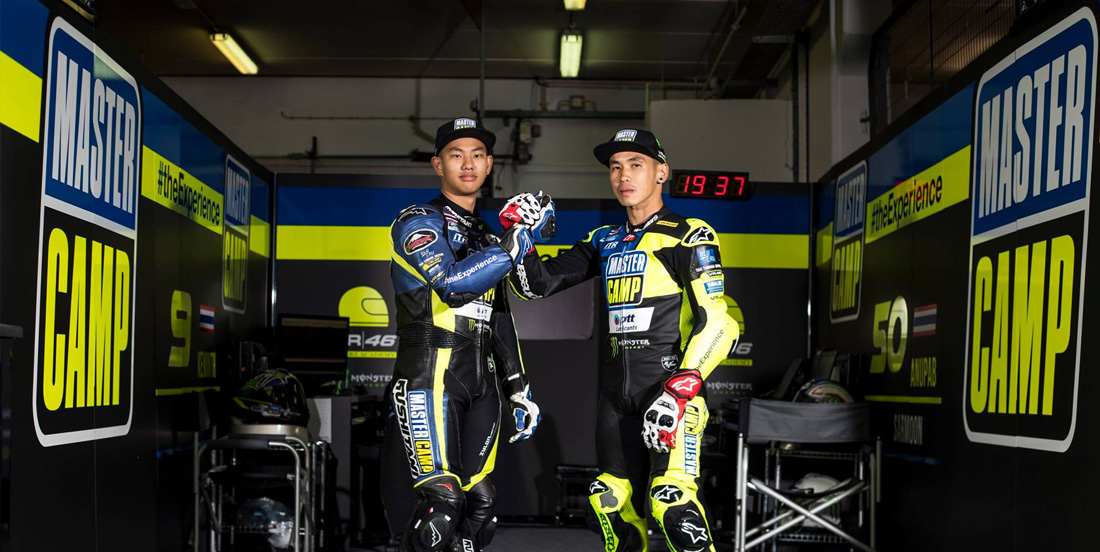 April 10, 2019
VR46 Master Camp Team Preps for First Season in CEV Moto2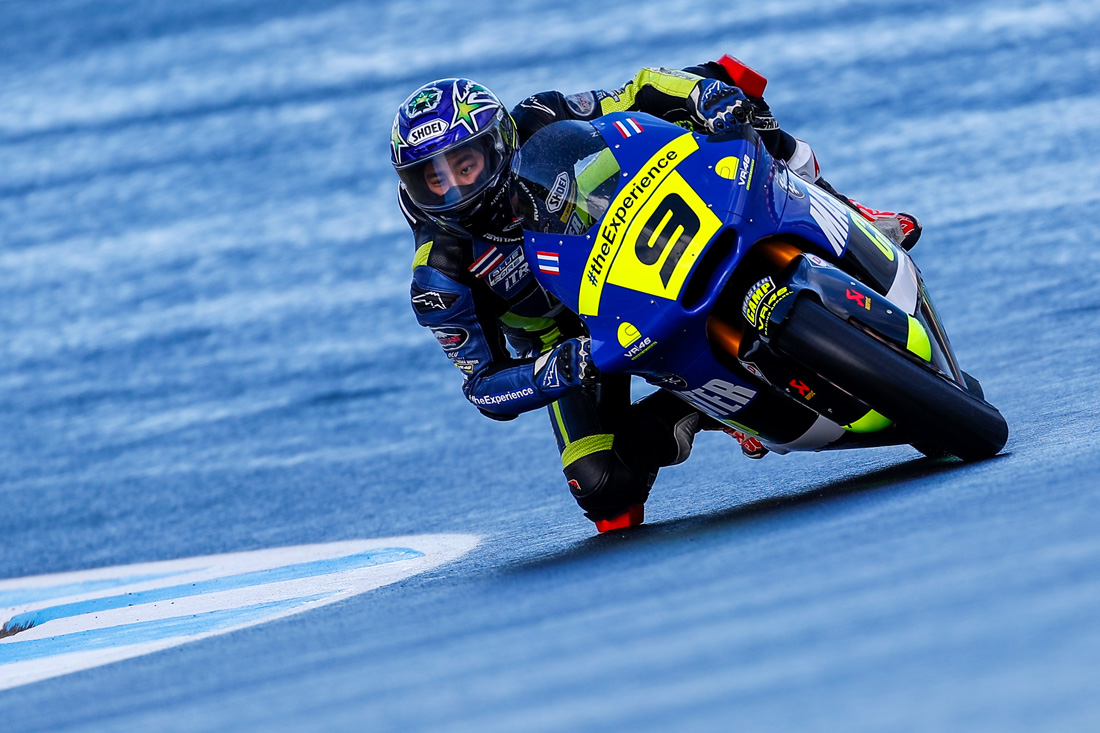 It was a difficult debut for the VR46 Master Camp Team in the FIM CEV Repsol Moto2 Championship, which started in Estoril last weekend. Two races were scheduled for this class at the Portuguese circuit, both characterised by adverse weather, with rain, wind and cold creating difficult conditions that didn't help the two Thai riders of the VR46 Master Camp Team let their full potential shine through.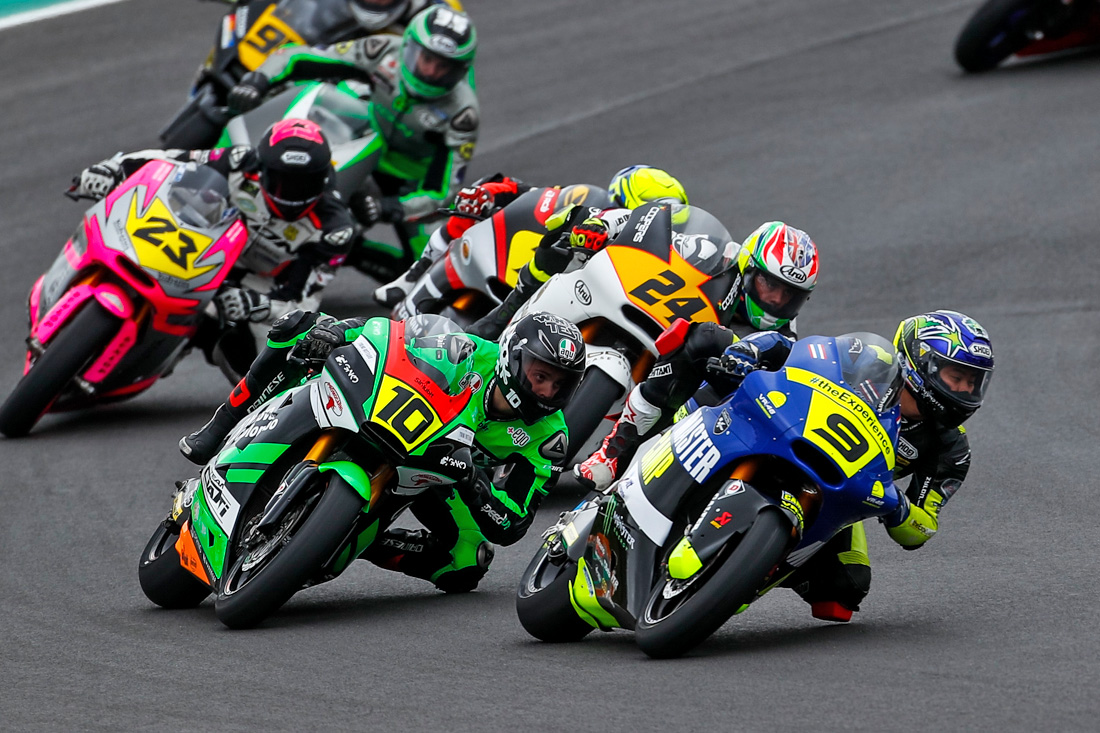 The weekend was complicated, starting with the qualifying. Still, Keminth Kubo managed to snatch a 13th place, while Anupa Sarmoon had to start from 27th position.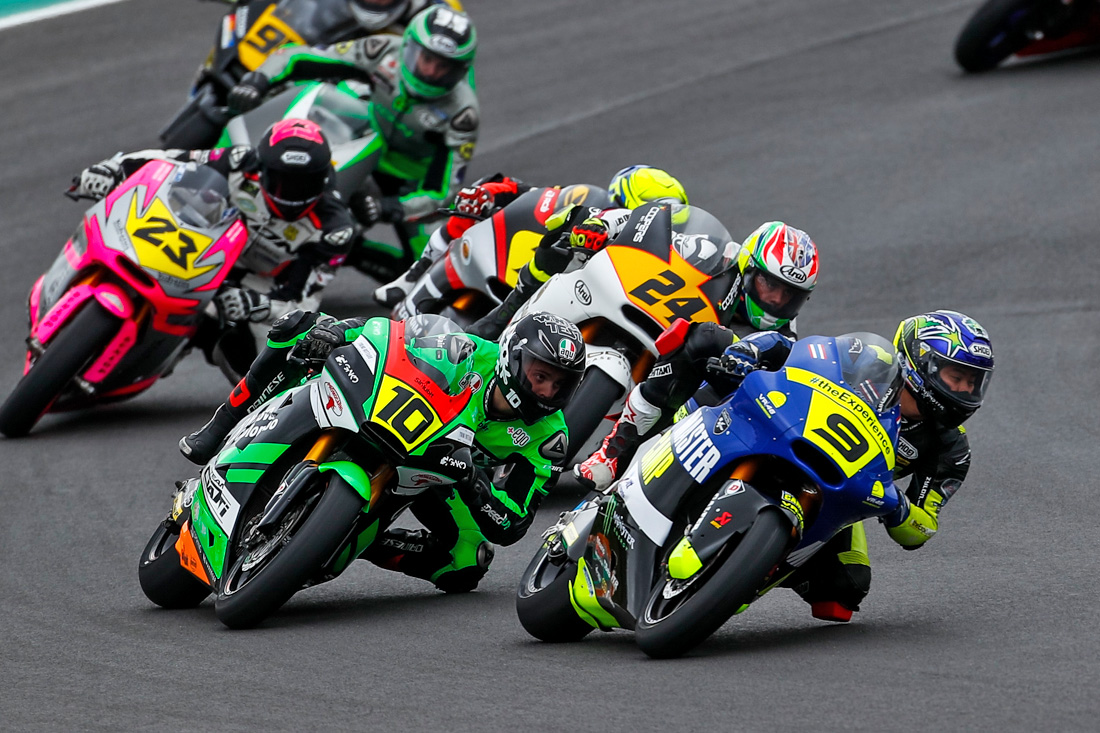 Despite suboptimal grid positions, both riders started well in Race 1, recovering many positions. For both, though, a slip soon compromised their plans, especially those of Kubo. He was forced to retire from the race when he was in seventh position, in the middle of a battle to enter the top-5. For Sarmoon, on the other hand, contact with fellow rider came when he was lying in 13th place, yet he managed to rejoin the race and finish in 20th position.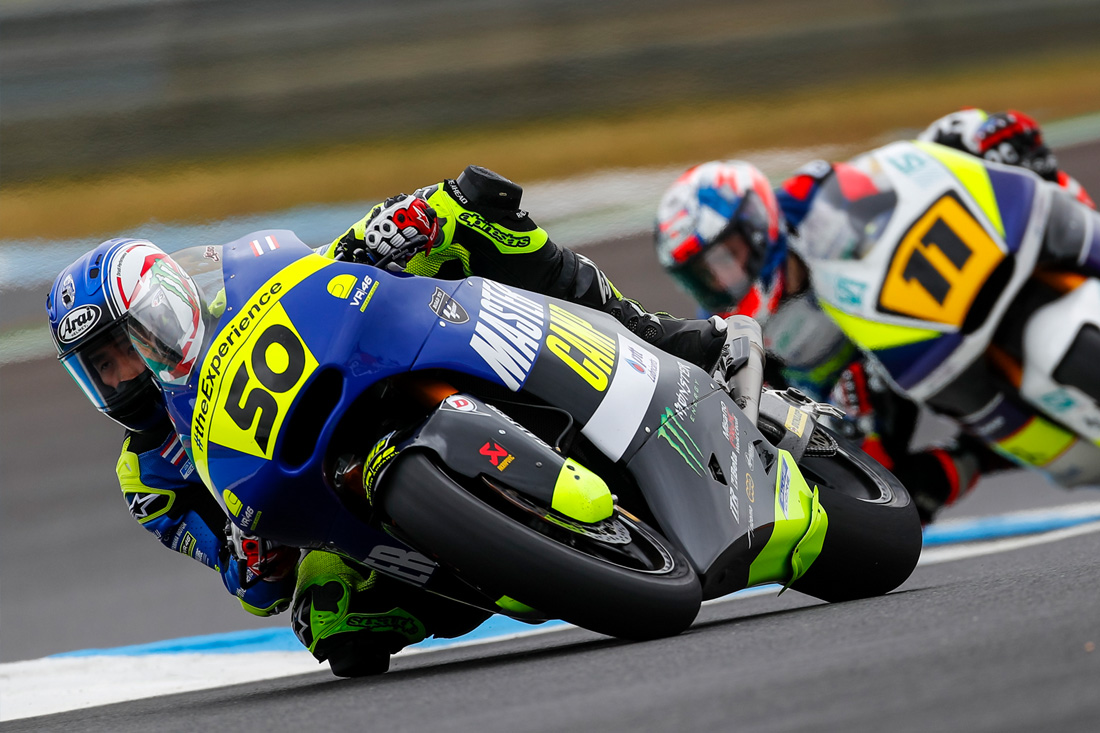 In Race 2 the track initially presented mixed wet conditions but was to dry out later on. The team's choice fell on slick tires. It was a good race for Sarmoon, who managed to come from 27th on the grid all the way up to 13th place, earning his first points in the FIM CEV Moto2 Championship. However, the complicated debut for Kubo continued. He fell victim to on-track contact with another rider very early on, causing the front fender of Kubo's bike to break. The damage seriously compromised his race, but he still managed to persevere and cross the finish line in 19th place, despite the adversities.
Standings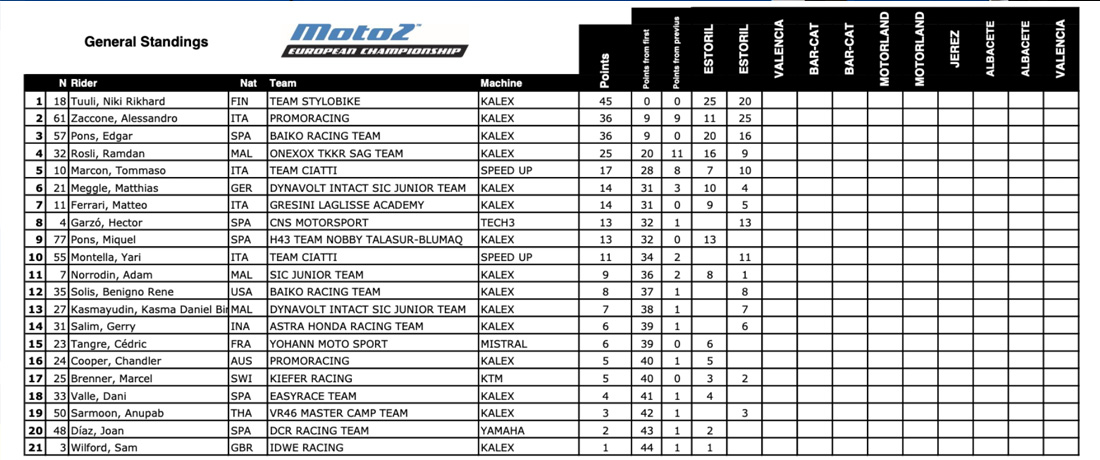 Comments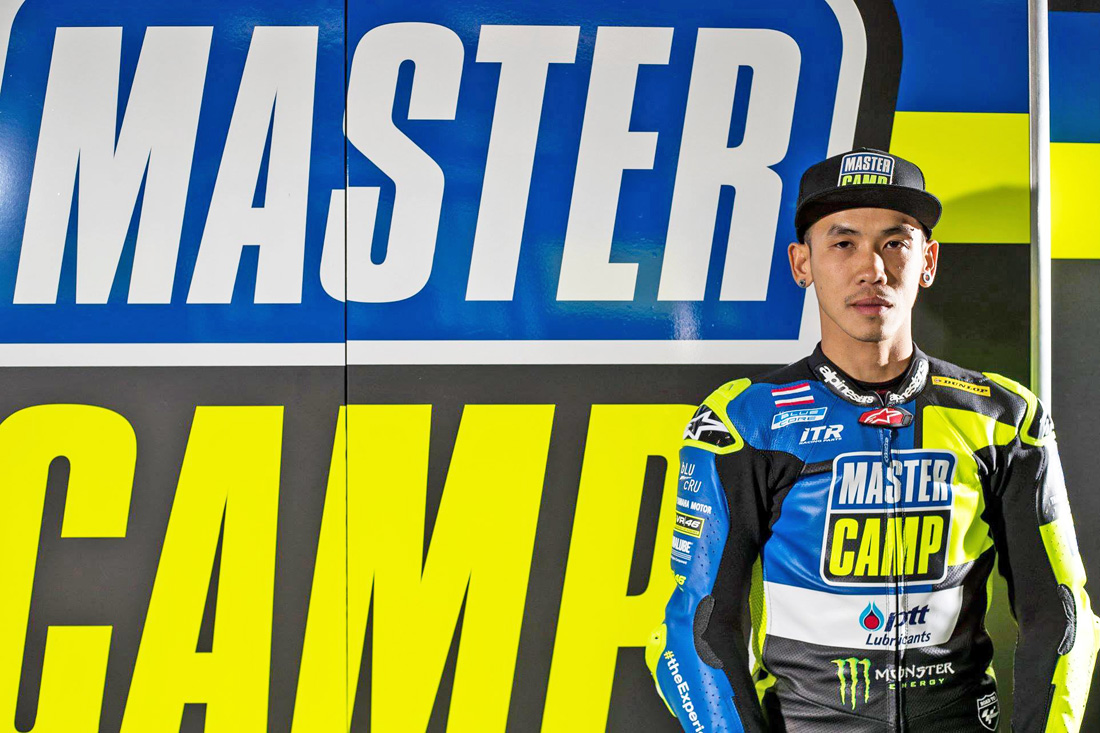 Anupab Sarmoon
"Sunday, we had two races. Race 1 took place in really poor weather conditions and I fell because another rider crashed and took me down with him. I picked up the bike as fast as I could, so I could rejoin the race and I finished in 20th place. In Race 2, I started from 27th place again and went on to push really hard and this time I finished in 13th position. I'm very happy about that race result and about the progress I made on Sunday. I would like to say "Thank you" to my team and my mechanics, as well as my fan club."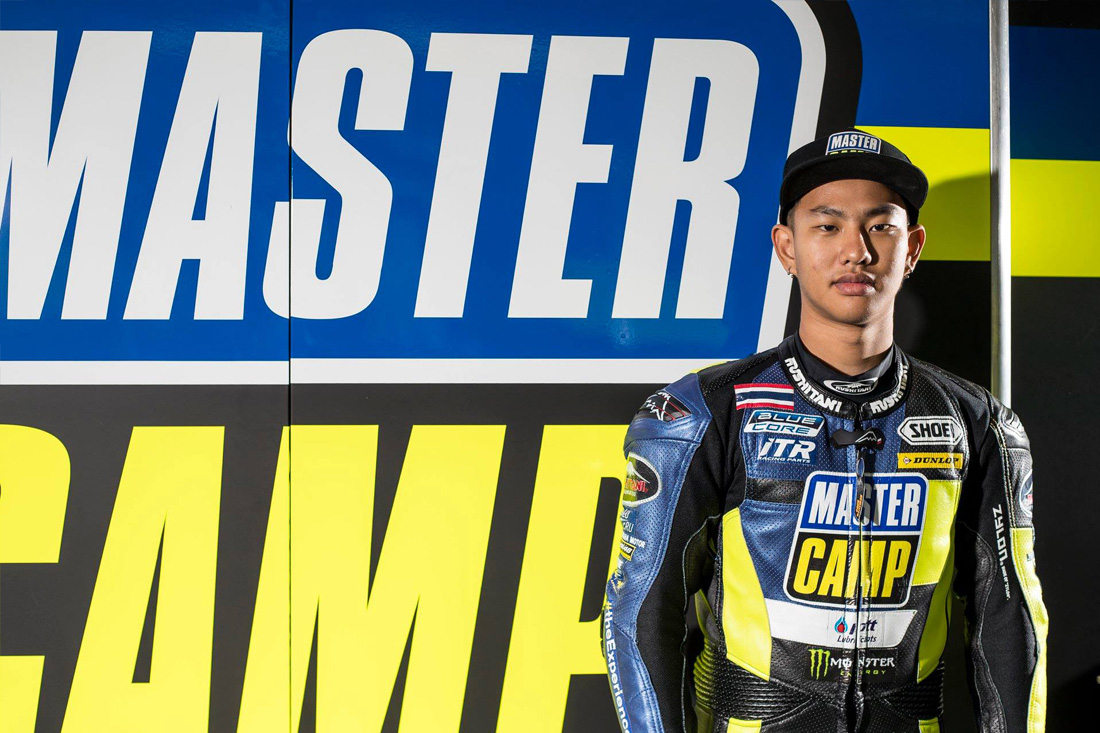 Keminth Kubo
"Sunday was a really hard day. In Race 1, I was able to start well and push to seventh position. I tried to follow the front riders. I think had a good pace during the race for several laps, but then I made a mistake and crashed. It's a shame because - though the conditions were different from the days before and the bike wasn't 100% adjusted to it - I felt like I was riding well. In Race 2 the other incidents happened. I didn't have a good start and clashed with another rider on the first lap on the T-corner. A rival tried to overtake me and touched my front tyre. My bike was a bit damaged, but I didn't know how bad it was and just tried to keep pushing to gain further positions, but my bike's speed was down. I just tried to finish the race, and it wasn't a really good race, but I still tried my best and I am proud of pushing through it and of the experience I gained. Finally, I want to thank everyone in the VR46 Master Camp Team. At the next race in Valencia I will try to get them the best result possible"
Luca Brivio - Team Manager
"It was a very difficult weekend, partly because of the adverse weather conditions that characterised it. The results, at the end, are not very positive, but we improved many things with the team and the riders. Considering the difficult conditions, we're quite satisfied. We try to take the positives and continue to work, to improve, already starting from the next race in Valencia, where we hope the conditions will be more favourable."