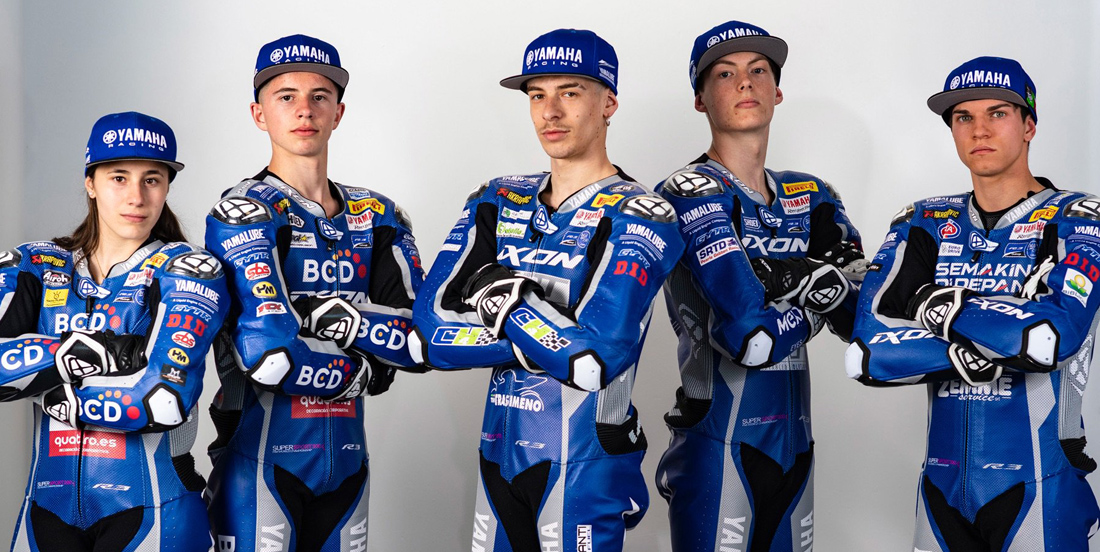 May 08, 2019
VR46 Master Camp Gets Three-Year Extension and Five European Riders to Join 7th Edition
Yamaha Motor Co., Ltd. is proud to announce that it has signed a new three-year agreement with Valentino Rossi's VR46 Riders Academy to continue its partnership and holding the Yamaha VR46 Master Camp, a training programme to discover and develop young riding talent. Beginning this year, Master Camps will be held biannually in Italy over the next three years for six in total.
This 7th edition of the Camp will be the first to be held in May, and will collaborate with the R3 bLU cRU Challenge initative run by Yamaha Motor Europe N.V. for developing and nurturing young racing talent. Five racers from the World Supersport 300 (WSSP300) championship were selected to join, hailing from Italy, France, the Netherlands and Spain, with Spanish racer Beatriz Neila becoming the first female to attend a Master Camp.
Each rider will go through a roughly weeklong duration of training and learning in Italy at the VR46 Riders Academy's Motor Ranch and local racetracks under the guidance of the VR46 Riders Academy's staff and riders, a number of whom are contesting the MotoGP World Championship.
Yamaha began work in 2015 to establish the infrastructure for young prospects to step up through the ranks of motorcycle racing in order to discover and develop talented riders who can flourish on the world stage. The Yamaha VR46 Master Camp programme was created in 2016 as part of these efforts. The 32 mostly teenage participants so far race in various championships primarily with the YZF-R25 and YZF-R3 and hail from 13 countries in all: Australia, Brazil, Canada, Finland, France, Indonesia, Italy, Japan, Malaysia, the Netherlands, Thailand, Ukraine and the United States.
VR46 Master Camp graduates can be seen actively racing in classes all over the world. This season, Thai rider Apiwat Wongthananon is currently contesting the Asia Road Racing Championship's new premier ASB1000 class while Galang Hendra Pratama from Indonesia and Brazil's Eliton Kawakami are racing full-time in the World Supersport 300 (WSSP300) series. Further, Keminth Kubo from Thailand and Kasma Daniel Kasmayudin of Malaysia are making their full-season debuts in the CEV Moto2 European Championship this year.
Comments
Lin Jarvis
"We are very happy to host Yamaha Motor Europe's WorldSSP300 bLU cRU riders for a second time. Yamaha Motor Europe is dedicated to supporting both its bLU cRU riders competing in the top classes, as well as their younger talents. The bLU cRU challenge is an initiative that allows the talents to grow and make them jump to a higher tier.
Because these five riders are already receiving professional support from Yamaha, we know the level will be high right from the start, so we feel confident that the new students will be able to handle the redefined programme and have fun as they train alongside the VR46 Academy riders. Understandably, they will be very excited to try all the racing diciplines and motorized vehicles, but we hope they will also take the fitness tips to heart, as health and stamina are vital to a successful motorsports career.
This edition of the Master Camp looks to provide them with all the tools they need to finish the WorldSSP300 champioship in a strong way. I would like to thank VR46 and the Yamaha VR46 Master Camp sponsors - Descente, Oakley, Saucony, Alpinestars, Pirelli, Yamaha Motor Italy's Marine Division - for making this event possible and helping to make the dreams of future racing stars come true."
Valentino Rossi
"It is incredible that the Yamaha VR46 Master Camp is already starting its seventh edition! Sincerely, it's great that we have been able to make this programme successful and that we are able to train so many talented young riders. It is a pleasure to welcome these five 2019 WorldSSP300 bLU cRU riders to my hometown, Tavullia.
Because the Master Camp will celebrate its 'fourth birthday' this year, we wanted to make some adjustments to the activities and do something special. Over the last three years we've seen what works and doesn't work, what the riders do and do not enjoy, and we've taken all their feedback onboard. I'm sure that the new programme will be very interesting to them and also a lot of fun! It will be hard work, but if they enjoy the training they will learn and adapt faster and be more disciplined in adding the training skills to their usual training regime after they leave the VR46 Motor Ranch, so fun is important.
I would like to thank Yamaha, VR46, and the sponsors and partners, who have helped organise the whole Master Camp project. Helping young racers has been a project of mine since 2014, when I started the VR46 Riders Academy. Seeing young riders progress really is a great reward and also a great motivation to keep pushing and enjoying racing."