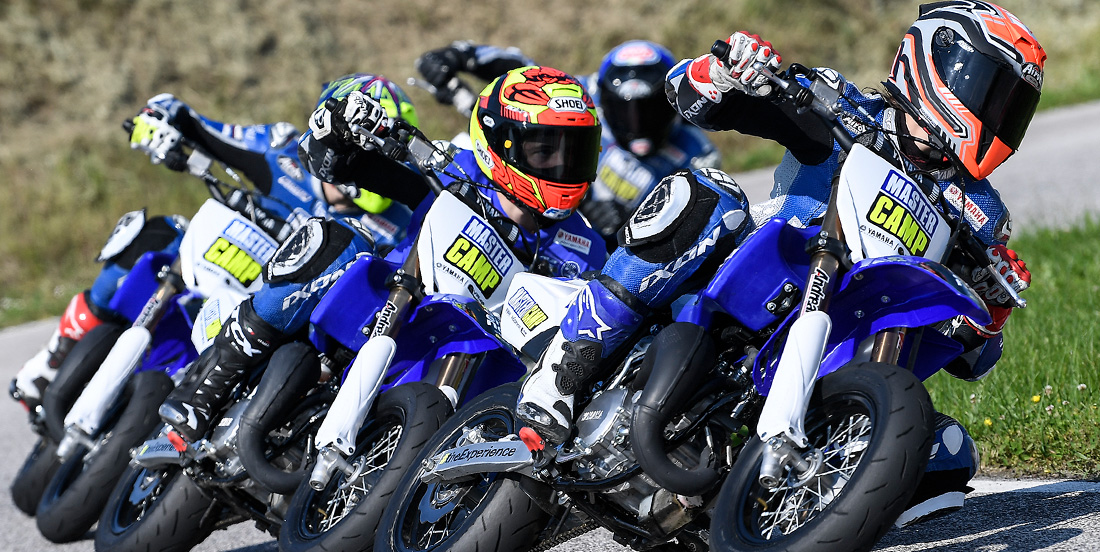 May 26, 2019
The Master Camp Riders Go into Overdrive on Day 3
The third day of the 7th Yamaha VR46 Master Camp was a whirlwind of racing activity that saw the five riders return to Valentino Rossi's Motor Ranch in the morning and finish the day off with a riding session at the Galliano Park MiniGP track with the VR46 Riders Academy's Niccolò Antonelli.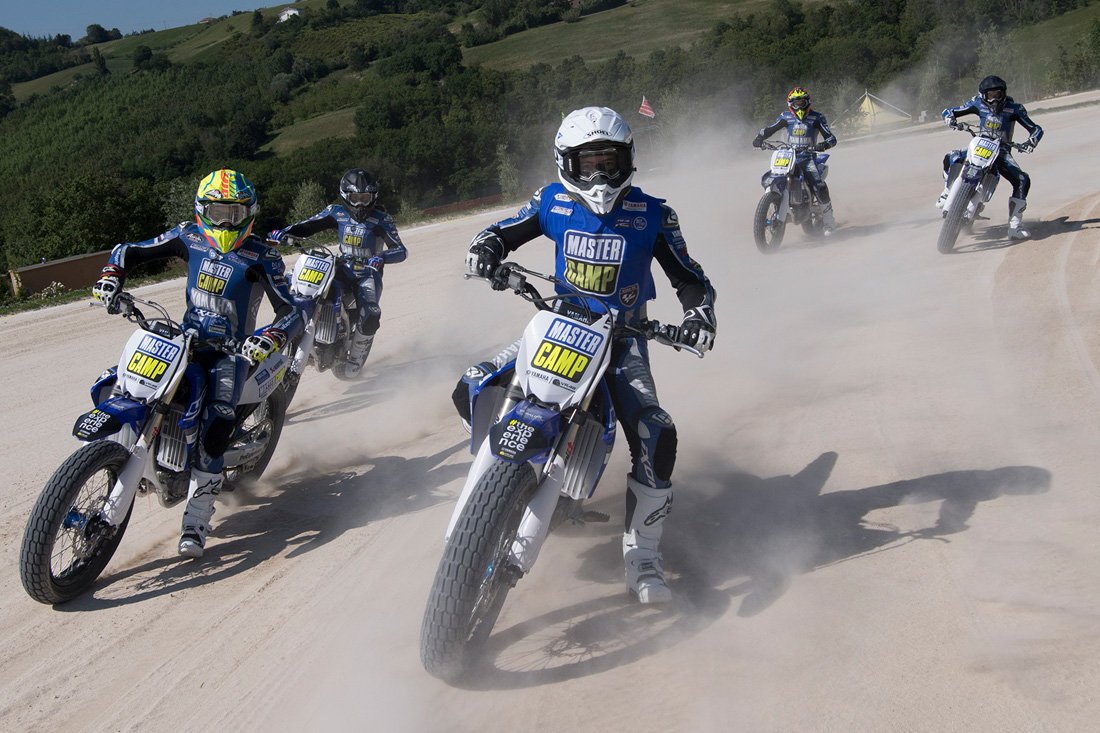 The Netherlands' Finn de Bruin (18), Italy's Kevin Sabatucci (20) and Jacopo Facco (19), France's Andy Verdoïa (16), and Spain's Beatriz Neila (17) needed little time to get up to speed on the third day. The riders reunited with flat track expert Marco Belli to further build on their control when sliding the bike and were quick to pick up the pace after a few practice laps.
Noticing the great progress the riders had made, Belli suggested to end their flat track training in style with an Americana race. It was a close battle, but in the end it was Sabatucci who took the chequered flag ahead of Verdoïa, with Facco taking third.
After the morning session at the VR46 Motor Ranch, the six students' efforts were rewarded with a lunch at the Ristorante e Pizzeria da Rossi in Tavullia, but soon the young hopefuls had to rush to their next appointment.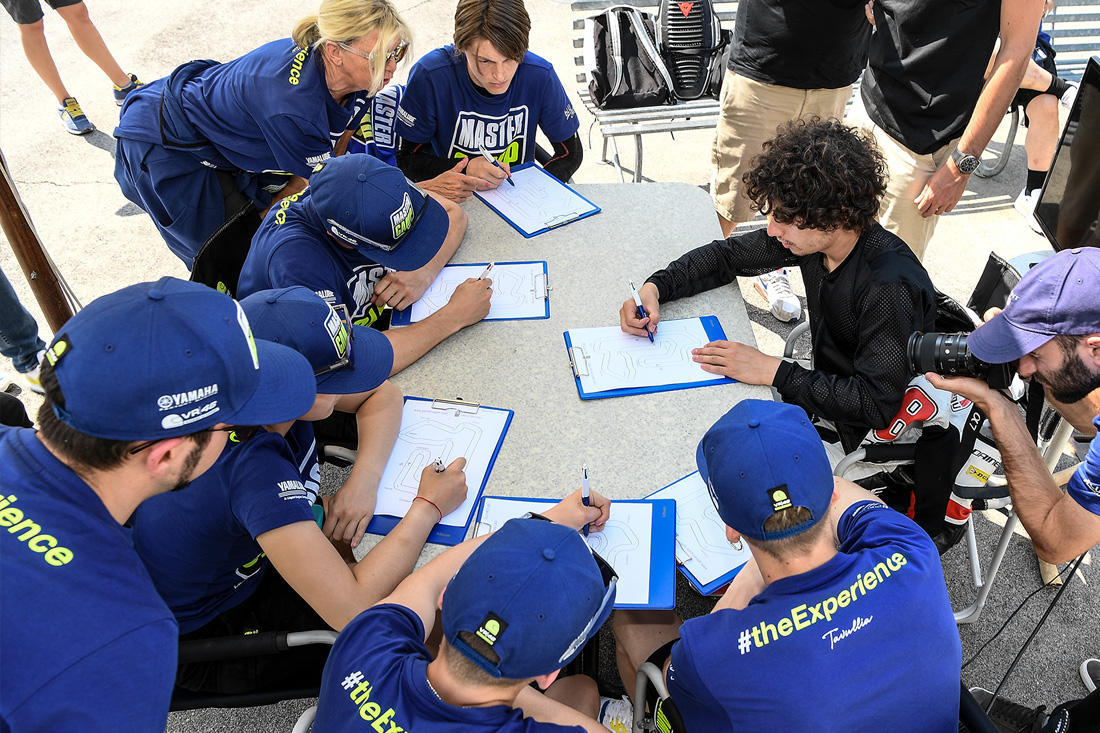 They hopped into their van and hurried to the Galliano Park MiniGP track, where six YZ85s waited, nicely lined-up. The riders were soon asked to join a rider briefing on the track's lay-out with yesterday's instructor Niccolò Antonelli, before they could change into their leathers and rev up the 85cc-engines.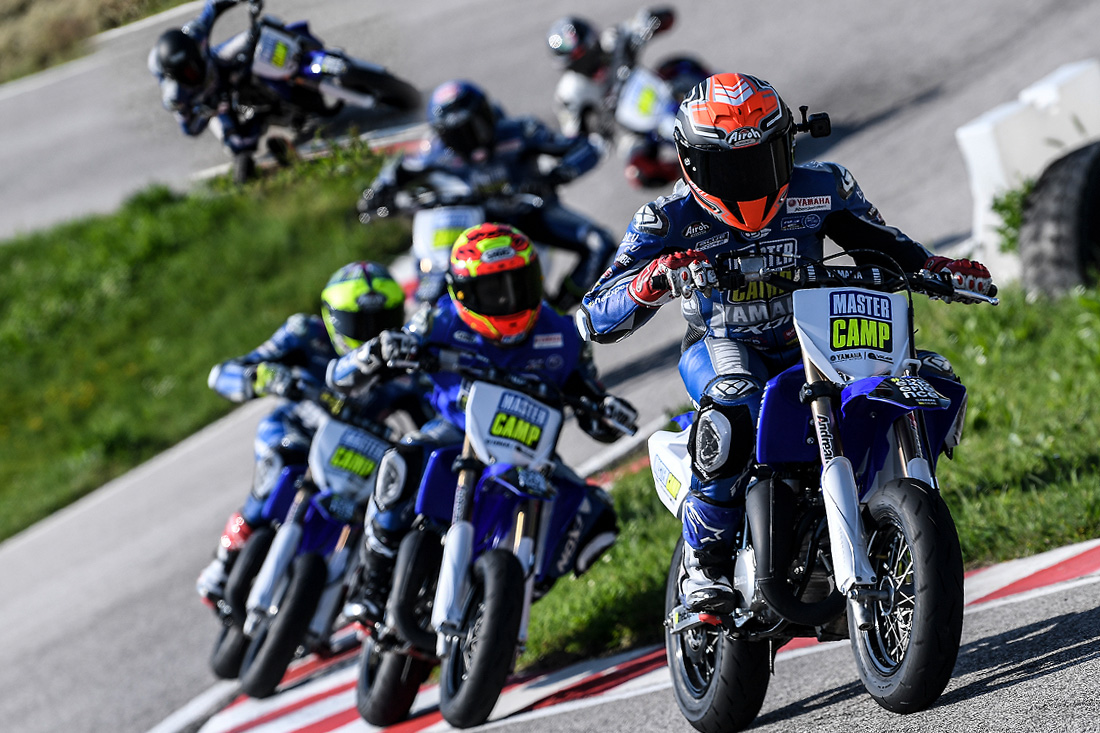 As Galliano Park is quite twisty and technical, the riders needed a few laps riding behind Niccolò, but they quickly got the hang of it and started to have fun during a couple of free practice runs. The timing showed the young talent made great improvements as they began to make the connections between what Antonelli explained and what they had learned yesterday at the VR46 Motor Ranch and at the Autodromo di Modena. Facco set the fastest time, ahead of Verdoïa in second and Sabatucci in third place. De Bruin was the rider that improved the most, finding 1.6s over the course of the afternoon.
The proud teacher of the day stated, "I rode a lot with them on the Galliano Park track on Day 3, to help them learn the right lines - or at least the lines that I think are good, because even I can improve here. Still I saw them make a lot of progress, and when they were riding behind me, they really understood. I showed them the lines and also some places where they could overtake, and they learned from it and maybe even picked up a bit of my riding style. Especially Fin, the Dutch guy, learned a lot and made a big step, so I'm really happy about that, and I hope they all enjoyed the riding experience with me."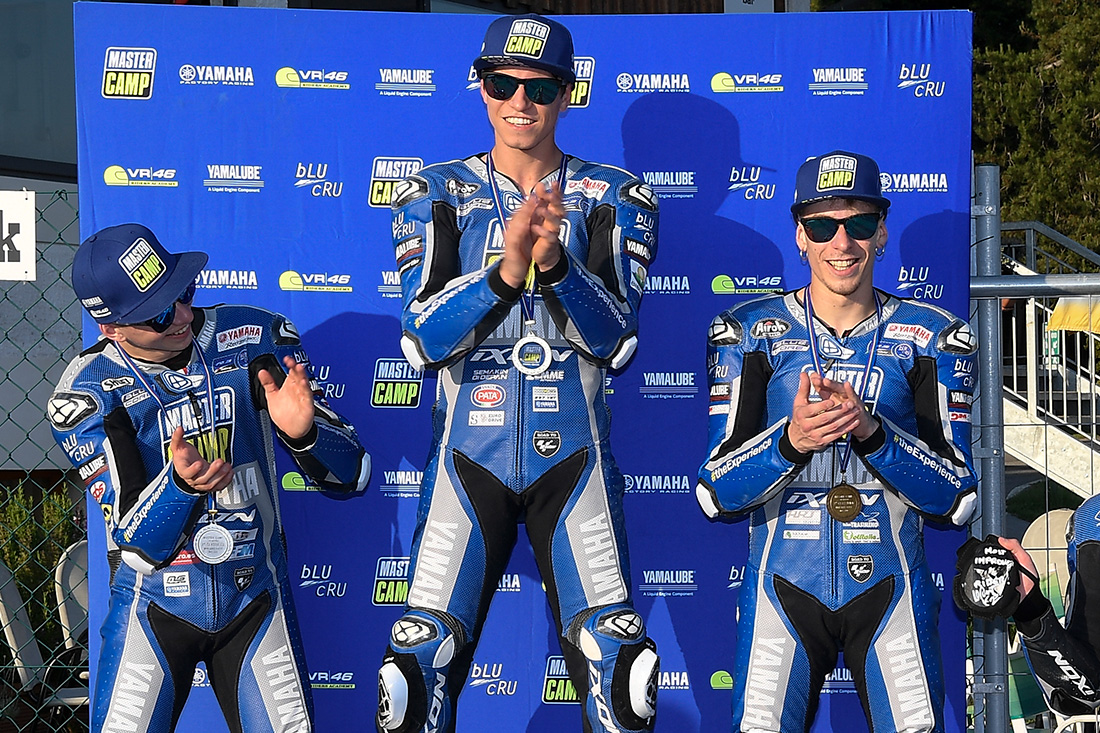 Comments
Finn De Bruin
"Day 3 was a challenging day. We started off at the Ranch for the last flat track training. This was very difficult for me, because I needed to regain confidence on the bike and that took me some time. It was getting better and better, but I'm not that happy about it. After this we went to Galliano Park for the MiniGP, which was also difficult for me, because it was my first time on a minimoto, and also riding a small track like this. I found it hard to improve my lap times, so I went up to Antonelli and asked him 'What can I do better?'. He told me how to brake going into the corner and explained what to do. He said: 'Come on, let's go onto the track', and then we rode one-on-one and that was very nice, I learned a lot from it. After this one-on-one training I kept improving and in the last session it was nice, so I want to thank Antonelli for this experience."
Kevin Sabatucci
"On Day three we did a quite a long trip. We had a great experience going to the VR46 Motor Ranch again and after we rode on the entire track, we did an Americana race. I won, which I'm really happy about! But I couldn't enjoy it for long, because we went on to the Galliano Park, which is quite a technical track, to ride the YZ85. I want to thank the riders riding with me, because they really pushed me, and all the people that made this event possible."
Jacopo Facco
"We had a really fun day at the Ranch, and I learned a lot! I practised what I learned in the past few days and also really enjoyed the activities at Galliano Park. I really like this track, because - though it's small - it's quite technical and demands a lot of concentration. The YZ85 bikes are a lot of fun to ride. In the end I set the best combined practice time, so I'm very happy about this!"
Beatriz Neila
"It was an amazing day! In the morning we went to the VR46 Motor Ranch again, which I enjoyed a lot. Riding at the Ranch of Vale gives an amazing feeling, so I was really happy. I want to thank him for the opportunity, as well as our teacher Marco Belli, who teaches us so enthusiastically. In the afternoon we went to Galliano Park to ride the MiniGP bikes. It was a very fun afternoon, because we learned to ride another track, so thanks to Yamaha and VR46 again. I can't wait to find out what they have in store for us on Day 4!"
Andy Verdoïa
"The Day 3 experience I had was really good. In the morning we did an Americana race and it was very nice. I had such a hard fight with Kevin for the win, so that was something I really enjoyed! In the afternoon we rode on the Galliano Park track with the 85cc bikes. It's a technical track, but we got to ride around it with Niccolò Antonelli. He gave us some tips on how to be faster in the corners and that was great. The track actually is also quite good for physical training because of the fast direction changes. We did a little qualifying session and in the combined times I finished second, so I'm happy."