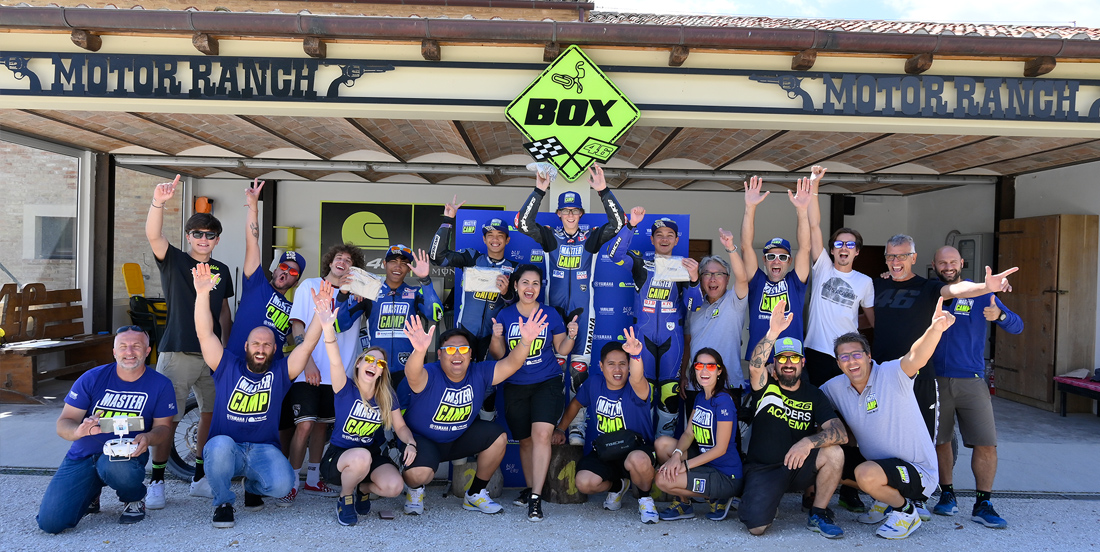 September 09, 2019
Students Graduate from Eighth Yamaha VR46 Master Camp
The Yamaha VR46 Master Camp riders did their various coaches from the last five days proud, graduating from the eighth edition of the programme with flying colours, both at the VR46 Motor Ranch and at the VR46 Headquarters.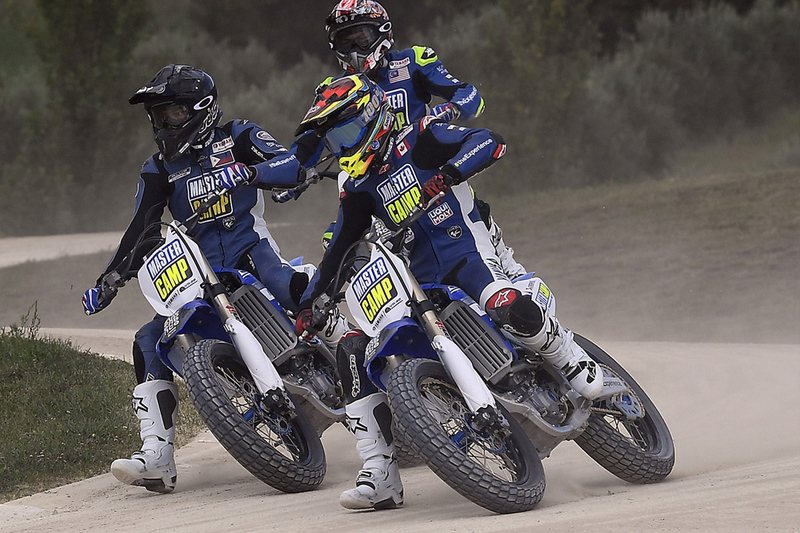 The Yamaha Motor Thailand's Sawapol Nillapong (16) and Suttipat Patchareetorn (18), Yamaha Motor Malaysia's Muhammad Alif Ashraf Bin Tahiruddin (16), Yamaha Motor Philippines' McKinley Kyle Paz (18), and Yamaha Motor Canada's Jake LeClair (18) started the fifth and last day of the programme with mixed feelings. Fittingly, they headed back to the place where it all began, the VR46 Motor Ranch, where they could show flat track instructor Marco Belli just how much they had improved. Moto2 rider Marco Bezzecchi was present as co-coach.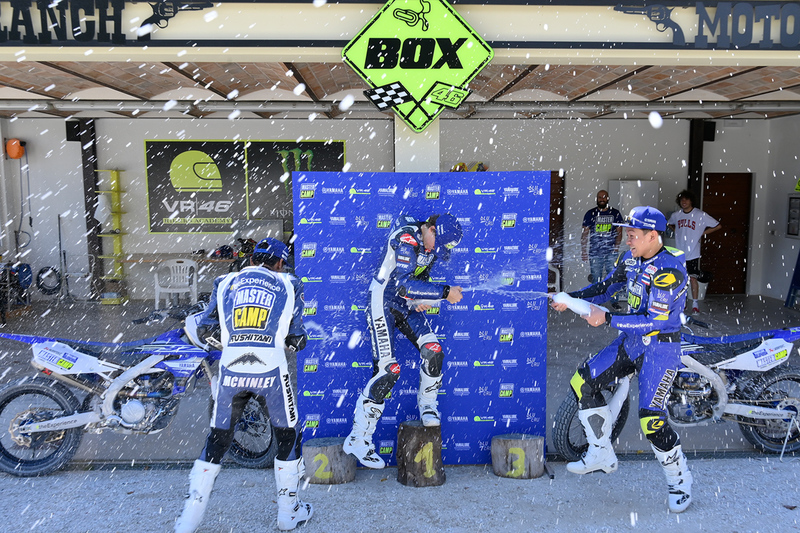 Knowing they would have to say goodbye to their YZ250F bikes soon, the riders went all out one last time. They decided it was best to part with the VR46 Motor Ranch having a last race, which was won by LeClair.
The students were also given a tour of the VR46 building that houses both the company's commercial outlet, including a huge storage room, as well as the race department, that oversees all VR46 Academy riders. The tour ended in Valentino Rossi's office, the place where VR46 and Yamaha first discussed the Master Camp programme in 2013, for the traditional graduation ceremony.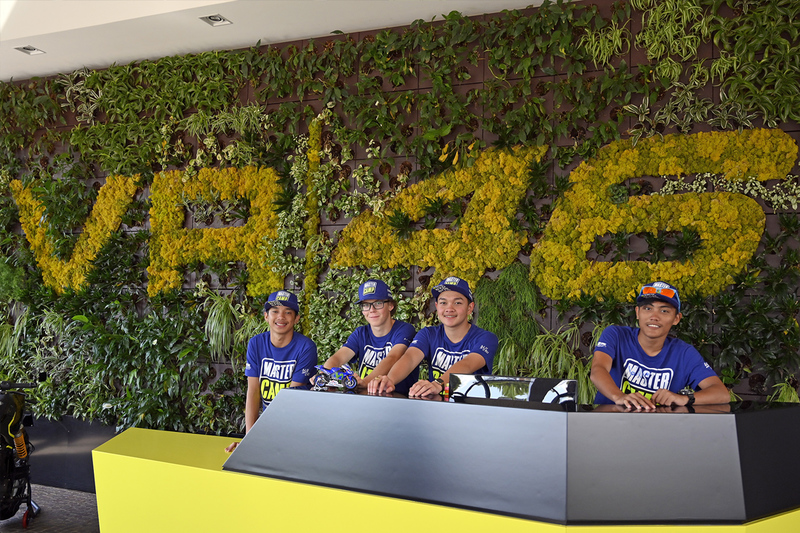 The festivities were led by VR46 Riders Academy Director Alessio 'Uccio' Salucci and Yamaha Motor Racing's Marketing & Communications Manager William Favero. The riders viewed a summary video of the last five special days, before being handed their official Yamaha VR46 Master Camp Certificate of Attendance and the medals earned in Day 4's Misano Superpole (won by Tahiruddin) and Day 5's Flat Track activity. Of course, the Master Camp wouldn't part from the riders without presenting them with some extra gifts from VR46.
"At the start of the week five days always seems long, but when you're having fun they go by in the wink of an eye", said Salucci. "I checked in on this group regularly, but they seemed to have it all under control. Every time I visited sessions at the Ranch, at the beach, and in Misano, the riders were both impressing the instructors and having fun with the training activities - and really that's all we can ask for.
"It's been a very productive week, I think the riders have learned a lot, and now the next step is in their own hands. I wish them all the best and hope they will be able to use their new knowledge and skills well in their future training. Maybe we can meet at the track again in the future."
The Yamaha VR46 Master Camp team want to sincerely thank Yamaha, Valentino Rossi, VR46, the VR46 Riders Academy riders and instructors, and the programme's partners Saucony, Descente, Oakley, Alpinestars, Pirelli, Yamaha Italy's Marine Division, Joe Amarena Sunset Beach, and Capitaneria di Porto di Pesaro, for their contribution to this project, which gave the five Master Camp students the opportunity to take the next step in their racing endeavours.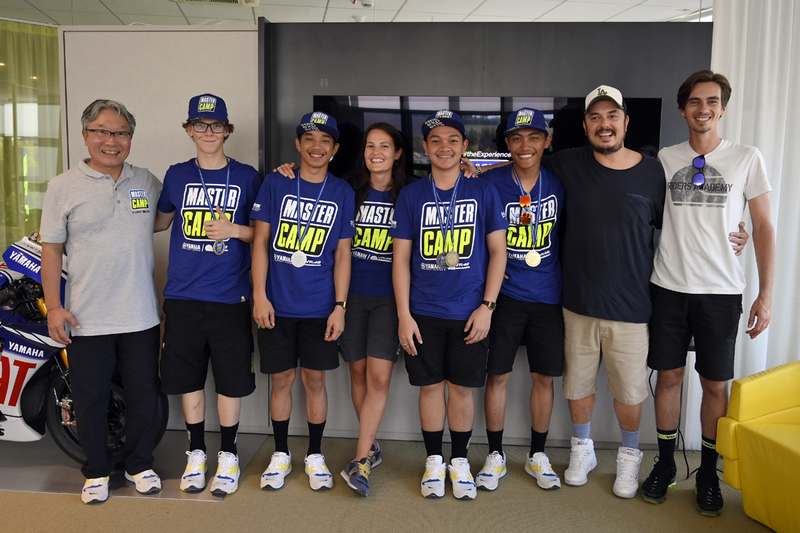 Comments
William Favero
"We are more than satisfied with the progress and results we saw here this week. We had told the riders at the start of the Master Camp what it means to be one of our riders: we provide them with the skills and the means required for them to take the next step in their careers, but in return we expect them to behave like professional riders. This means they had to listen carefully to the explanations, not take unnecessary risks, be respectful to the staff, and take on board all the information - and there is a lot! This programme is really a boot camp - a lot happens in a short amount of time, and on top of that these riders also found themselves in a foreign country with a different culture. It's a big ask, but these riders have proven themselves to us every day. All of them definitely belonged here. The instructors all said the same thing: 'they are fast'.
"I want to thank these five talents for their enthusiasm, and on behalf of the Yamaha VR46 Master Camp team want to sincerely thank all those who helped make this event possible: Yamaha, Valentino, VR46, the VR46 Riders Academy riders and instructors - including Carlo Casabianca, Alessandro Marcianò, and Marco Belli. And I would also like to highlight the fantastic support we get from Oakley, Alpinestars, Pirelli, Saucony, Descente, Yamaha Italy's Marine Division, the Capitaneria di Porto di Pesaro, and the owner of Joe Amarena Sunset Beach, without whom this project wouldn't have been possible.
"We were especially honoured this week to have VIPs attending the programme - a Master Camp first! We want to thank Mr. Tanaisiri Chanvitayarom, Managing Director of the Buriram United International Circuit, and Mr. Opaskornkul Theerapong, Thai Yamaha Motor's Motorsport Manager, for joining us this weekend. They were impressed with the structure of our training regime, which we have fine-tuned over the last four years, and our efforts have consistently been rewarded by former Master Camp students' successes on track.
"Many former Master Camp riders have taken steps in their racing careers after taking part in the programme, proving that the Master Camp is a winning format. The most recent example would be Kevin Sabatucci, who participated in the seventh edition of the Master Camp in May and went on to win his first WorldSSP300 race in the UK. Personally, I can't wait to see what the eighth edition Master Camp students will do in the future!"
Jake LeClair
"Overall, the Master Camp was a lot of fun. There were a lot of different activities riding-wise, even off track, such as the WaveRunner event, which was fun and different, and I really enjoyed it. Everybody at the Master Camp is so friendly. I also want to compliment the staff on how everything was organised. Even every meal was delicious. It was the complete package, it was fantastic, I loved it, I had a lot of fun!"
Mckinley Kyle Paz
"I will always treasure this five-day training experience. Being coached by your idols is really an inspiration for a young rider like me, who dreams to take part in the MotoGP championship someday. I will never forget everything I learned, and I will do my best to be a rider like my ultimate idol, Valentino Rossi. I want to thank Valentino, VR46, all the VR46 Academy riders, Yamaha, and all the Master Camp staff for making this programme possible, because it really makes a difference! I hope to be able to meet you all again in the future."
Muhammad Alif Ashraf Bin Tahiruddin
"My participation in the Master Camp programme has been an incredible experience for me as a young rider, but also for me as a person. For this I must thank all the people who helped me and followed my progress during this exciting week: the instructors, the riders, and all the supporting staff from VR46, the bLU cRU team, and the Yamaha staff. I also wish to thank Yamaha for making all this possible.
"The activities during this week have been diverse and were designed to test my riding skills and to correct my mistakes, but it is also true that it was a lot of fun. I enjoyed being involved in the motocross practice on the flat track and trying a WaveRunner for the first time in my life.
"I realised this week that my main point of improvement is my posture and I believe I have been able to make it a lot better. The instructors have been very competent and very patient. Reviewing the video with Marco Belli has also been very fruitful.
"From a more personal point of view, I had a glimpse of Italy, enjoyed the Italian food, and interacted with new people. Obviously the most emotional experience of it all was to meet Valentino, my all-time idol. I go back home more mature and hopefully as a better rider."
Sawapol Nillapong
"I'm so happy to have come here, it's been like a dream come true, or maybe even better, because some of the things that happened this week I wouldn't have dared to dream. I feel so thankful to have been given the chance to get to know new friends and to experience this adventure with them.
"The Master Camp needs to be taken seriously, but it has also been so much fun. I've learned a lot of new things and I promise I will use this knowledge and experience wisely in my future races. I would love to say thank you again and again and again to Yamaha, VR46, and all the riders and instructors who helped us. It's been amazing!"
Suttipat Patchareetorn
"My overall thoughts at the end of the Master Camp are that I'm really happy and have been really happy throughout my stay. I feel so thankful that I was able to come here and join this group, meet new people, and learn new things. I've tried to study the new techniques and ride in a different way, and I was given the opportunity to try, for me, new racing disciplines. I think mostly I feel very inspired and grateful for meeting my new friends."