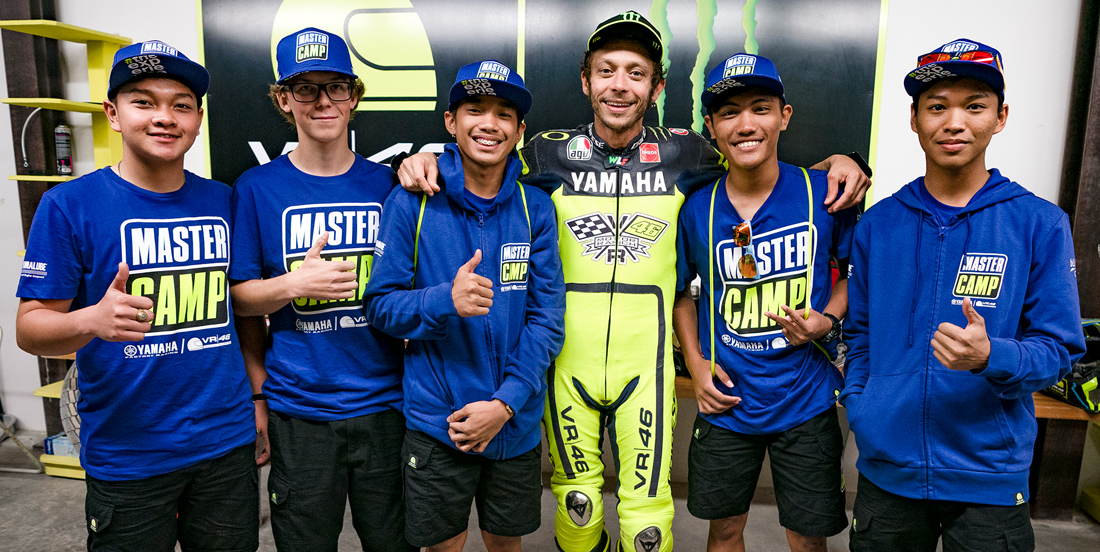 September 08, 2019
Master Camp Riders Master the Misano World Circuit and Meet Rossi on Day 4
The eighth edition Yamaha VR46 Master Camp students raised their level yet again yesterday, taking on the Misano World Circuit Marco Simoncelli in the morning and working up a sweat at the Fisio Gym in the afternoon. However, it was the evening event that will stay with the riders the longest. They received a special invitation to sit in on Valentino Rossi and the VR46 Academy riders' training at the VR46 Motor Ranch as they prepared for next week's Misano GP.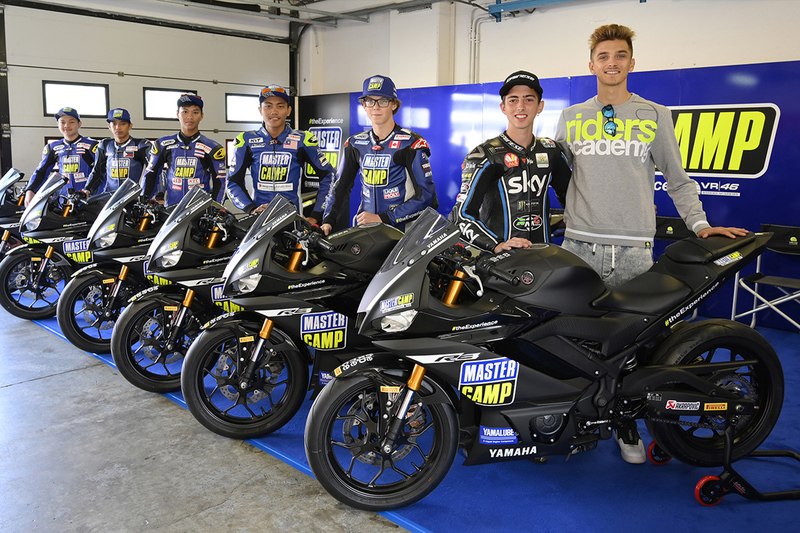 Yamaha Motor Thailand's Sawapol Nillapong (16) and Suttipat Patchareetorn (18), Yamaha Motor Malaysia's Muhammad Alif Ashraf Bin Tahiruddin (16), Yamaha Motor Philippines' McKinley Kyle Paz (18), and Yamaha Motor Canada's Jake LeClair (18) hopped on the bus even more eager than usual in the morning, because there were Pirelli-fitted YZF-R3s waiting for them in Misano.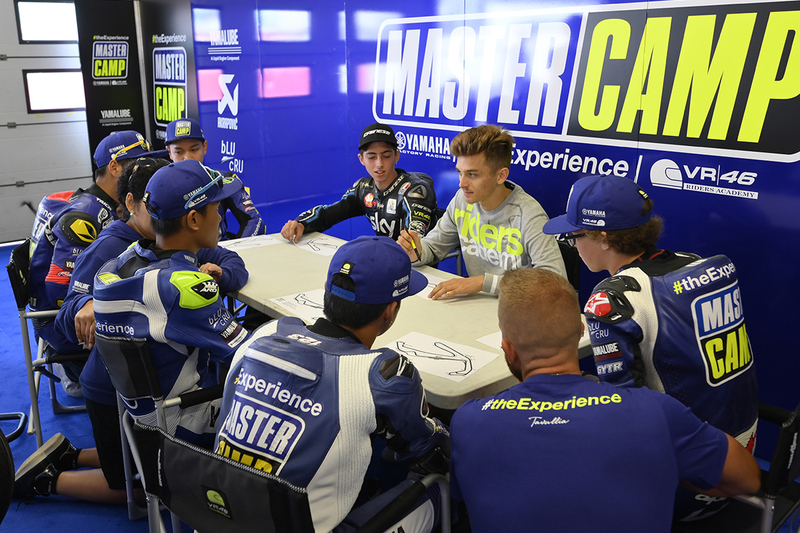 VR46 Academy and Moto2 rider Luca Marini had prepared circuit maps and a quick rider briefing to get the students started. Due to MotoGP regulations he was not allowed to ride with them as he will be attending the Misano GP, also held at the Misano World Circuit Marco Simoncelli, within 15 days' time. But this didn't keep him from standing on the sideline, ready to observe and give tips, whilst CIV rider Lorenzo Bartalesi took over his instructor position on track, riding with the Master Camp students.
"First of all, it was also an interesting experience for me, because I learned to ride a bike that I've never tried before", said Bartalesi after the training. "The Master Camp group is a very nice team and the riders are really strong and all of them are highly skilled. I had fun riding with them!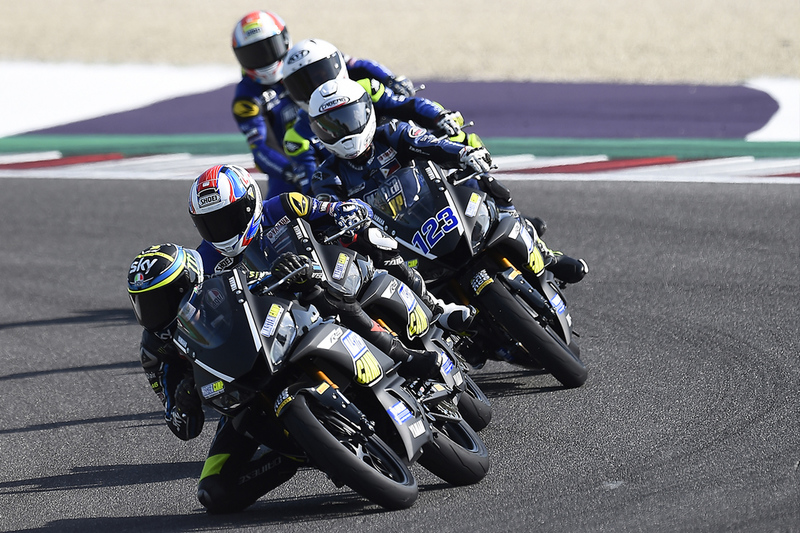 "It's quite difficult to learn how to face this type of track, but once you know, you really have a lot of fun riding at the Misano circuit. The Yamaha YZF-R3 is also very good, you can have fun on it, because it allows you to approach the corners very fast. The Pirelli tyres also helped. I had never ridden on those tyres before, but they really excel when you exit the corner and when you accelerate on the straight."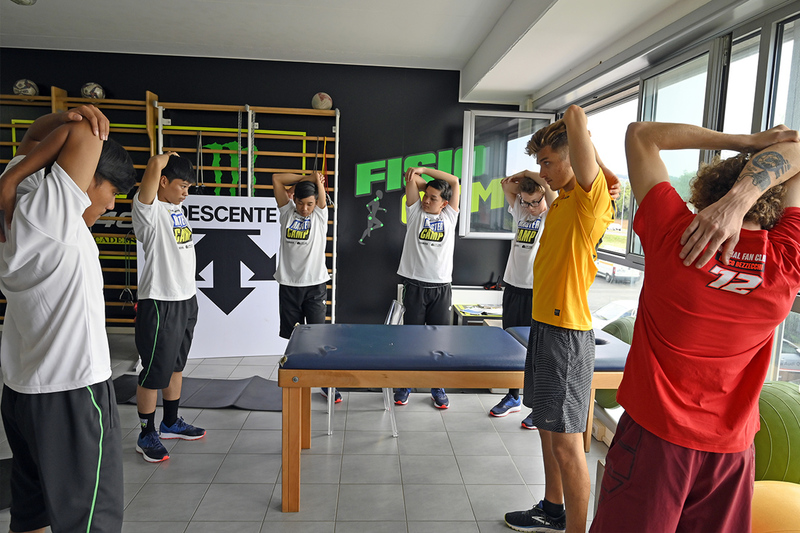 After the past intense days of riding, the students - joined by Marini and also Moto2 rider Marco Bezzecchi - headed to the Fisio Gym to make sure their bodies were still in top form. Little did the students know that there was a surprise in store for them afterwards.
The riders were brought to the VR46 Motor Ranch in the evening for a special main event: to see Rossi and the VR46 Academy riders in action.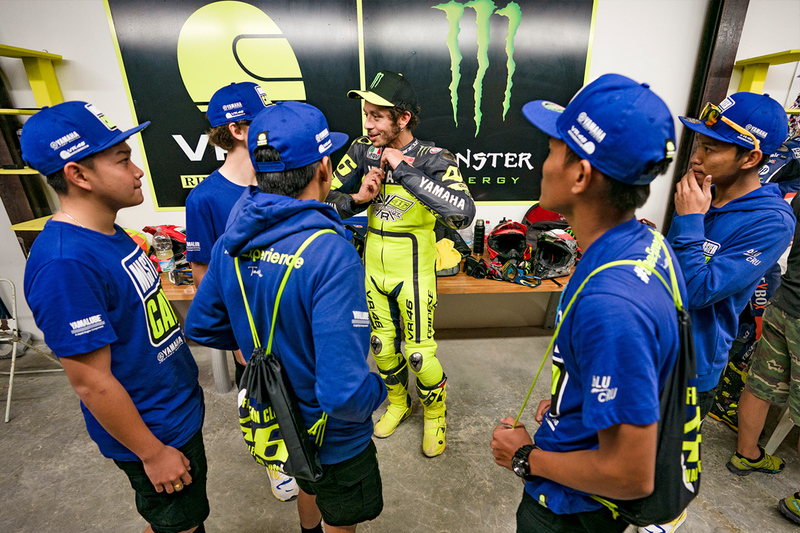 The students did not only get to watch their hero - taking a close look at his superb flat track riding style - but Rossi also made time to say hello to them and posed for photos.
"It was a great pleasure to be able to show the Master Camp riders how we usually train", said Rossi at the end of the day. "Actually, our way of training is very similar to theirs, but I think they still were able to learn something and enjoyed the evening at the Ranch.
"All the feedback from the Master Camp instructors has been very positive. They told me that the riders are listening well to the tips they're given and that they are using the information in a good way. They have been working really hard these last four days, so to get to spend their penultimate night all together at the Ranch is a nice reward. They could just relax and enjoy the experience."
Comments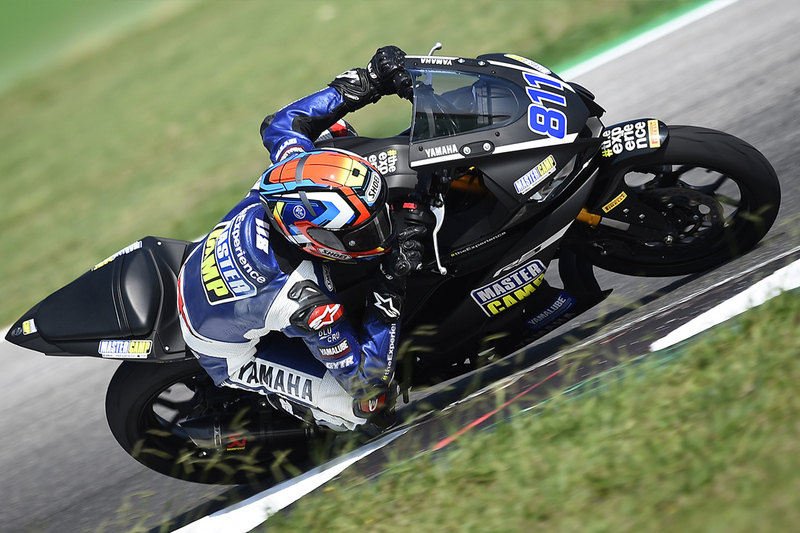 Jake LeClair
"The Misano World Circuit was exactly as I expected, it was super nice and smooth, zero bumps. It's nice and wide, and very open, nothing like what I'm used to at home. It's mostly fast and has a lot of different styles of turns. It's a better track than any I've ridden at home, and I've enjoyed it a lot, it was a lot of fun. I rode a 2018 YZF-R3 last year, but this year I'm on a YZF-R6, so it was difficult switching back to the R3 for the Master Camp and to break deep again. You can really go on the gas mid-turn with an R3, whilst with an R6 you have to wait a bit longer. It took a couple of sessions to get used to it, but I got better with time.
"In the afternoon we did a bit of cardio and some stretching at the Fisio Gym, just to help your body adjust to the full-on training schedule, which is something to take home with me.
"In the evening we met up with even more VR46 riders and met Valentino at the Motor Ranch. It's been great to see what we've learned from Marco Belli being put into practice. On Day 5, we get to have another go, and this experience makes me extra excited to go out there again, but it's also bittersweet, because it will be our last time visiting the VR46 Motor Ranch and the final day of this programme..."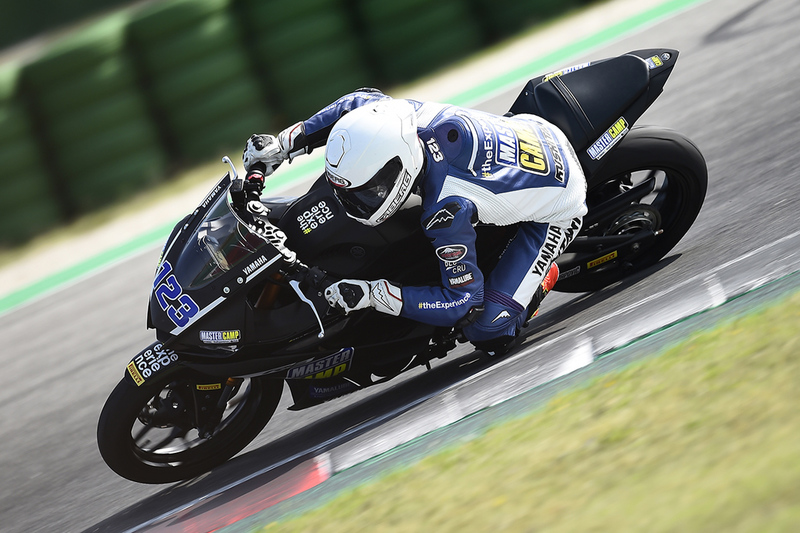 Mckinley Kyle Paz
"Riding the new YZF-R3 is very nice. I actually did very good laps on it during the practice and I was very amazed that I was going so fast so quickly. It's just very unlucky that I crashed before the super pole due to some bad moves, but other than that it was a great experience.
"I surprised myself at the gym in the afternoon. I thought that I would be very tired already from riding in Misano, but I guess the days of training at the Master Camp have made me stronger already, because I felt fine. I'm really starting to sense the change this programme brings: I'm getting stronger and I'm riding faster at the track, and this will make me more competitive in my upcoming races in the ARRC.
"The best part of the day, however, was meeting Valentino Rossi at the VR46 Motor Ranch and watching him ride. It's such a special opportunity, to see him and the VR46 Academy riders in action from up close, and comparing their riding styles in a place where only a few people can come. It's inspiring, and I will never forget it."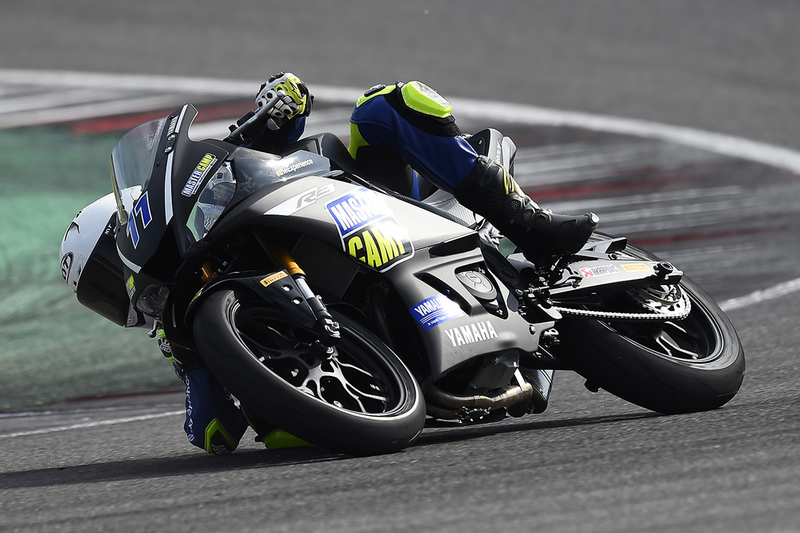 Muhammad Alif Ashraf Bin Tahiruddin
"I'm so happy to have tried the circuit of Misano - it is like a life dream come true! Especially because it's the circuit that will be hosting the next MotoGP round in just one week's time. It's at this circuit that all those great riders will have their amazing races and battles, and I was there - a circuit that not many people can enter and run. It's been a really fantastic experience.
"To meet Valentino Rossi in the evening, my idol, was one of the best things that could have happened to me! I had hoped that we would have an opportunity to say 'Hello' and that I could tell him I'm a big fan of his, but to be part of such an exclusive event, I would have never expected that! I'm still so thrilled!"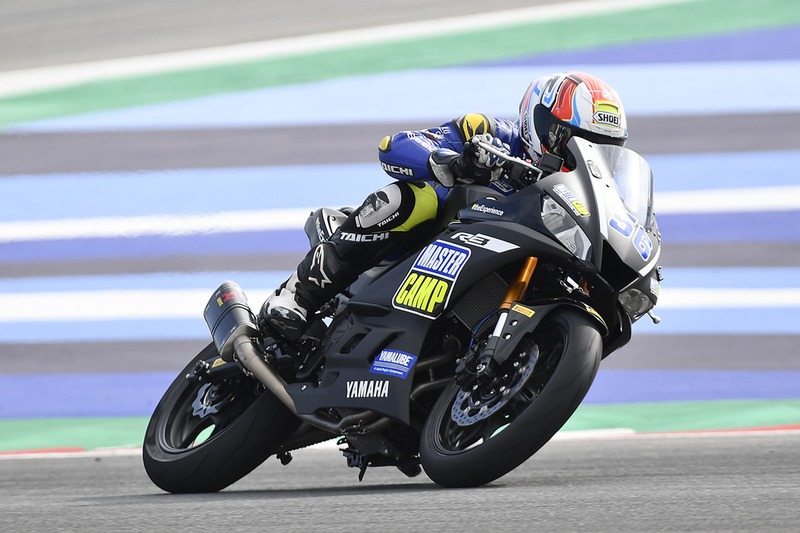 Sawapol Nillapong
"In the morning we rode at the Misano World Circuit and I felt so happy to ride the YZF-R3 bike there. It was my first time there, of course, but I would love to go back again, because the track is so much fun and I learned so much! I will be watching next week's MotoGP even more closely, because I now know exactly how that circuit is run.
"I have no words for the surprise event at the VR46 Motor Ranch. I didn't expect it until we drove up to the place. It was the first time seeing the Flat Track by night, which makes it look really impressive, almost like a stadium. Then we greeted Valentino and the VR46 Academy riders and we took a photo with Rossi - this was such a great moment, because I'm such a big fan of his. I was hoping to get a chance to meet him, and in the end I did! It's a dream come true!"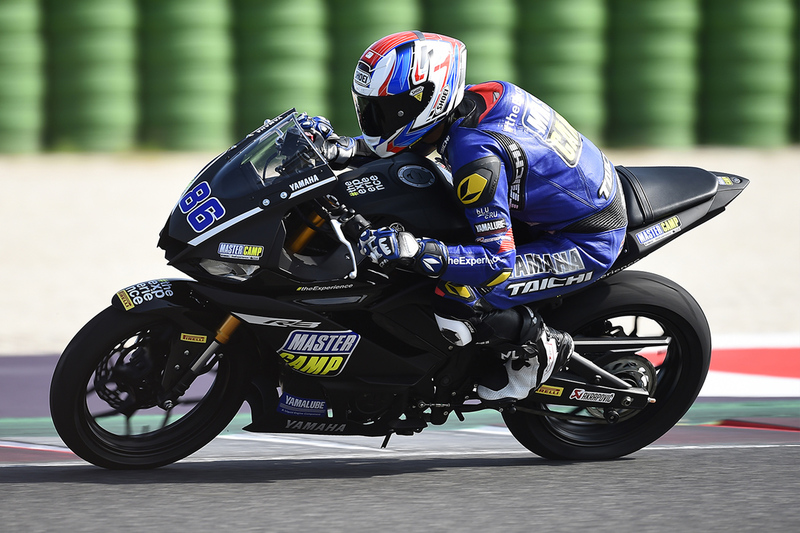 Suttipat Patchareetorn
"I can now say that I have officially visited and rode at the Misano World Circuit. In Thailand we don't have circuits like this, and I felt so happy on Day 4 to have the chance to ride at this amazing track. Before we started, we had a good look at the circuit map and discussed the best way to ride on this type of circuit with Luca Marini. Then we got to go out on track on our YZF-R3s and rode with Lorenzo Bartalesi. I was paying close attention to how he was riding and I will put the techniques I picked up to good use when I start riding again at home.
"The evening at the VR46 Motor Ranch was an amazing experience. We've trained at the Flat Track by ourselves, but now we got to see how Valentino Rossi and the VR46 Academy Riders ride there. I could see the things we worked on back in their riding style, and meeting Valentino is something I will never forget."