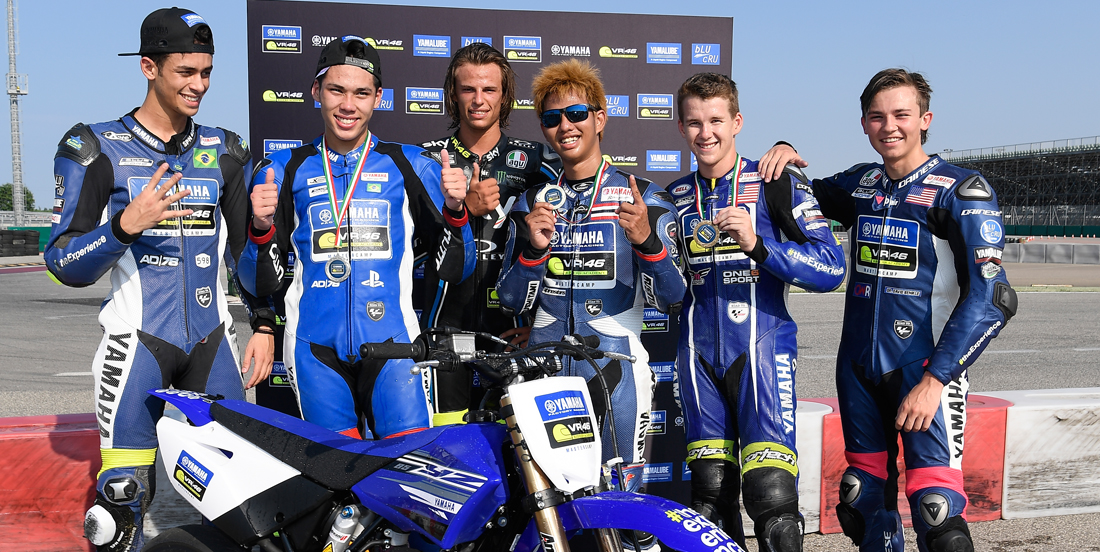 July 29, 2018
The Master Camp Students Get Acquainted With Minigp Bikes On Day 2
The new Yamaha VR46 Master Camp riders met the fifth edition's second day challenges head-on. They went training with VR46 Rider Academy's Francesco Bagnaia and Andrea Migno in the morning, and had a match-off against Nicolò Bulega at the Misanino KCE World Circuit Marco Simoncelli on brand new Yamaha YZ85s in the afternoon.
Tavullia (Italy), 28th July 2018
Still buzzing from the experience they gained yesterday, the Yamaha VR46 Master Camp students were full of energy at the start of Day 2. USA's Cory Ventura (aged 16) and Jackson Blackmon (aged 17), Brazil's Eliton Kawakami (aged 18) and Bruno César (aged 18), and Thailand's Keminth Kubo (aged 19) returned to the Fisio Gym in the morning, whilst in the afternoon they ventured out on new territory: the Misanino KCE World Circuit Marco Simoncelli.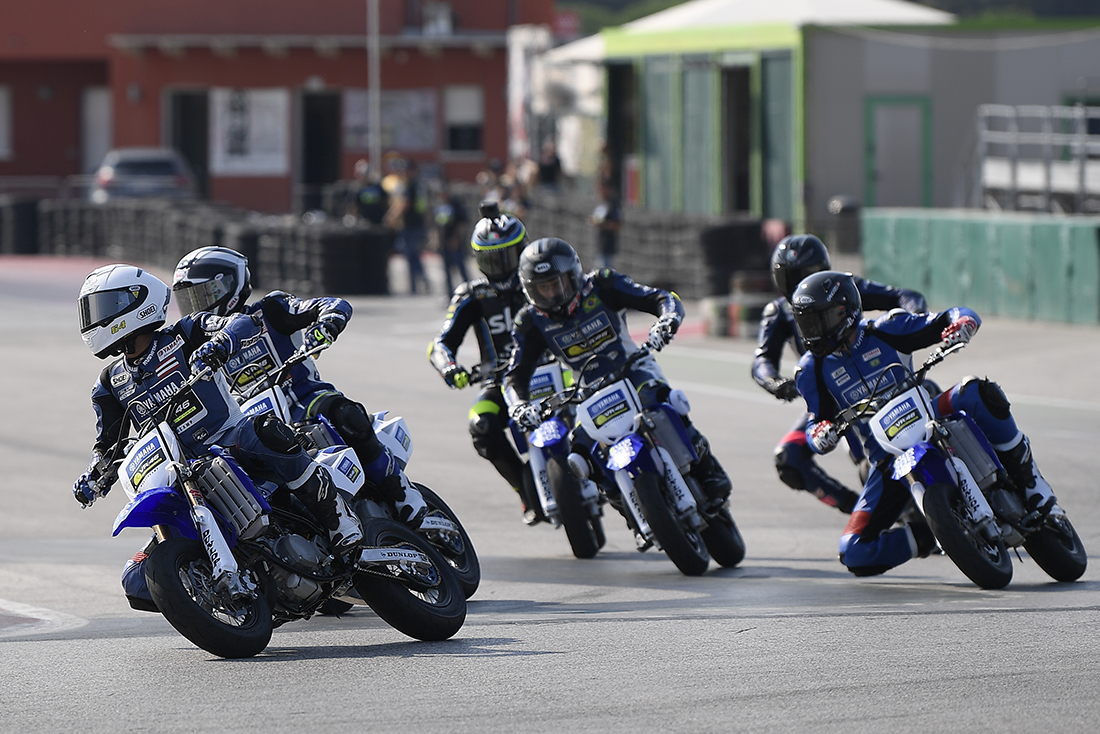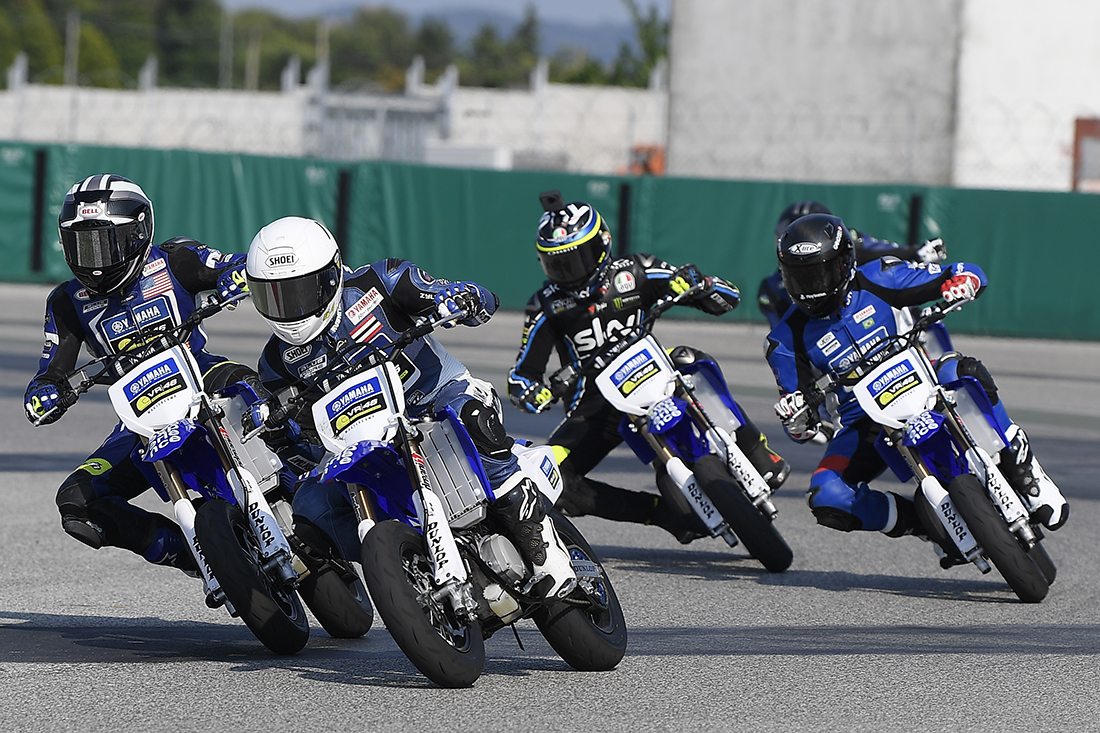 The youngsters left the hotel early to meet up with Moto2 rider Francesco Bagnaia and Moto3 rider Andrea Migno, who came to help them work on their stamina. They went out for a run at a local running track in scorching hot conditions, but the Master Camp protégés managed to keep up with the VR46 Academy riders.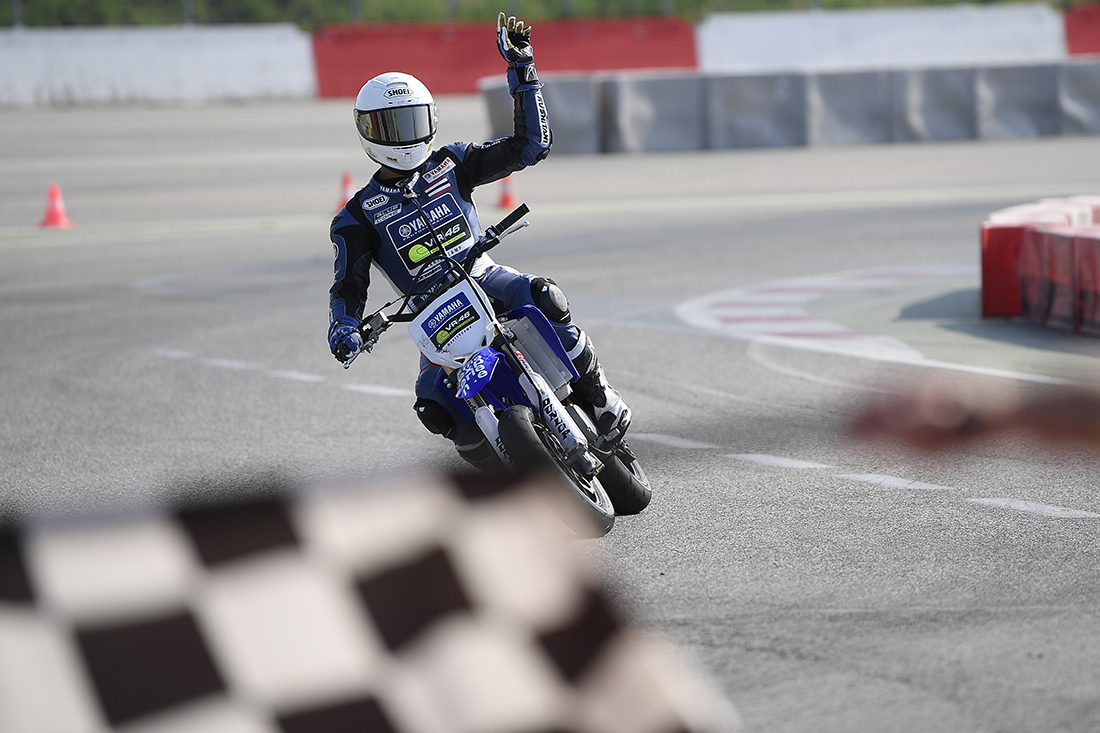 After the cooling down session to help the riders' muscles relax, Nicolò Bulega took over the coaching role in the afternoon, when the young talents hit the kart circuit next to the Misano World Circuit. MiniGP racing is a serious business at the Master Camp. Bulega carefully explained all the right lines and the correct gear changes around the track, before the students were allowed to test their brand new YZ85 bikes for the first time.
After a few outings on track, the riders' level was increasing so fast that Bulega thought they were ready to up the level of excitement even further. They decided to do two short races, whilst being cheered on by flat track expert Marco Belli, who came as a spectator.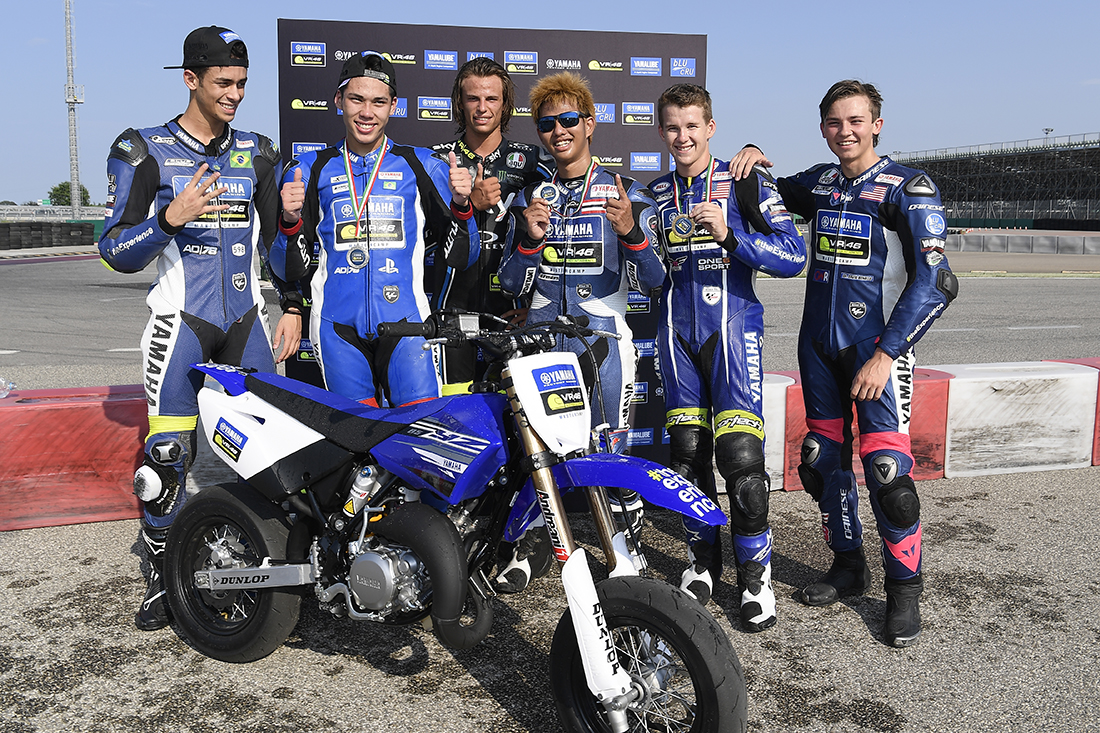 The first Master Camp MiniGP race was won by Kubo, ahead of Kawakami and Ventura in second and third place respectively. The second race showed the same top two results except this time César snatched third place. However, the combined standings still had Ventura take third place on the podium.
Bulega was excluded from the race results, but said he very much enjoyed the challenge of riding against the Master Camp riders:
"It was a great day of training. We did a lot of laps with this new Yamaha YZ85 bike, which is really nice to ride. It's like a motard, but with a small engine, so the riding position is a little different from the previous MiniGP bikes that were used at the Master Camp. The guys were really fast today, especially Kubo. I pushed like it was a Moto3 race, it was so much fun."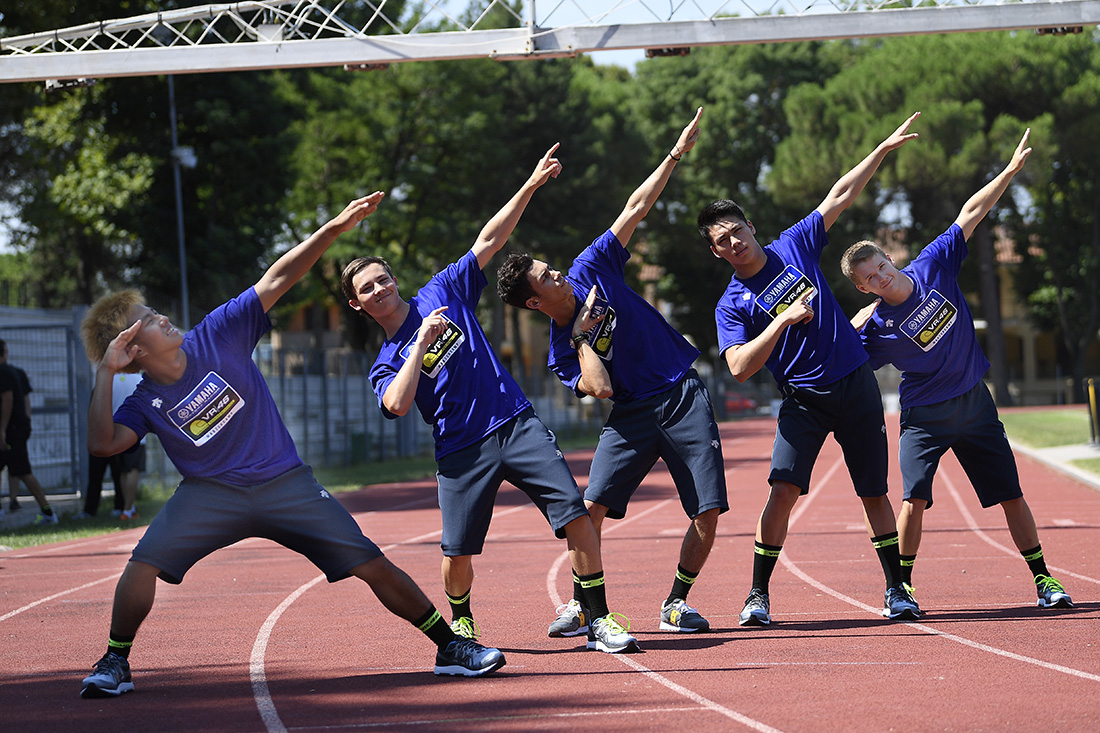 Comments
Cory Ventura
"Today was a great day. We started off with a little gym workout and did a little run, it was awesome. Then we went out to the Misanino kart circuit and rode Yamaha YZ85s, and I had an absolute blast. I struggled a little bit, but it was just so much fun that I pushed through it and just kept on going to secure third place in race 1 and in the combined results. "
Jackson Blackmon
"Today has been another great day in Italy. Starting in the morning at the gym, we got to see a little bit more of what the VR46 Academy riders do, so that was great, because we learned some more about how they're training. Then we came out to the Misanino kart track to ride Yamaha YZ85s and it was a lot of fun, although it was also tough. I'm not quite used to this bike and this type of riding, but it was still very enjoyable. I definitely learned a ton and I can't wait to see what we'll get tomorrow. "
Eliton Kawakami
"I'm so happy about the experience we had on the second day. This was my first time riding a two-stroke motorcycle, aboard the Yamaha YZ85, so I had some difficulties. Luckily, we were given quite a bit of time to do some training and I was developing step by step and lap by lap. I didn't do as well as I could have on qualifying, but in the first race I launched off the line very well and gave the maximum. I went full gas and was able to take second place. I was a little more disappointed about the outcome of the second race. I was in fifth position after the start and had to recover places during the race, but I still came second at the chequered flag and also took second place overall and I'm happy about that. "
Bruno César
"I'm happy with my result today at the gym and also at the Misanino kart track. I had some difficulties at the beginning of the MiniGP session, because it's my first time riding on a two-stroke bike. I used the practice session to get some training and adapt my riding to the motorcycle. When I set a good time in qualifying I secured third position on the starting grid, but I had a crash in race 1 and I had to make up for a lot of lost time. I also had some problems in the first corner during the second race. I was in last place and had to make up a lot of ground again, but I kept focused, so I wouldn't make any more mistakes. That way I managed to secure third place and finish fourth in the overall results. "
Keminth Kubo
"This morning we went to the gym again. It was good, but also hard, because they run very fast, which isn't easy for me. In the afternoon we went to the Misanino kart circuit and I was feeling the pressure. I was worried, because I didn't know how to ride a MiniGP bike at this track, but I finished the first practice sessions in first and second place, so I started to gain confidence. I learned a lot from Bulega, which helped me adapt to this bike and develop my riding skills. I qualified in pole position. I was so excited on the first lap and I was trying to ride better, but soon Bulega came from behind and overtook me. After that I tried to stay as close to him as possible, because I knew he is very fast. I stuck to him and won amongst the Master Camp riders. I was worried about the second race, because we reversed the starting order. This meant I had to overtake many riders, but in the first corner I was already in second place. I tried to learn from the first race and tried to ride in the same way as Bulega did during the second race. Ultimately I scored a double win, so I feel very happy and pleased that I was able to learn this skill. I hope that I can develop these techniques further in the future."