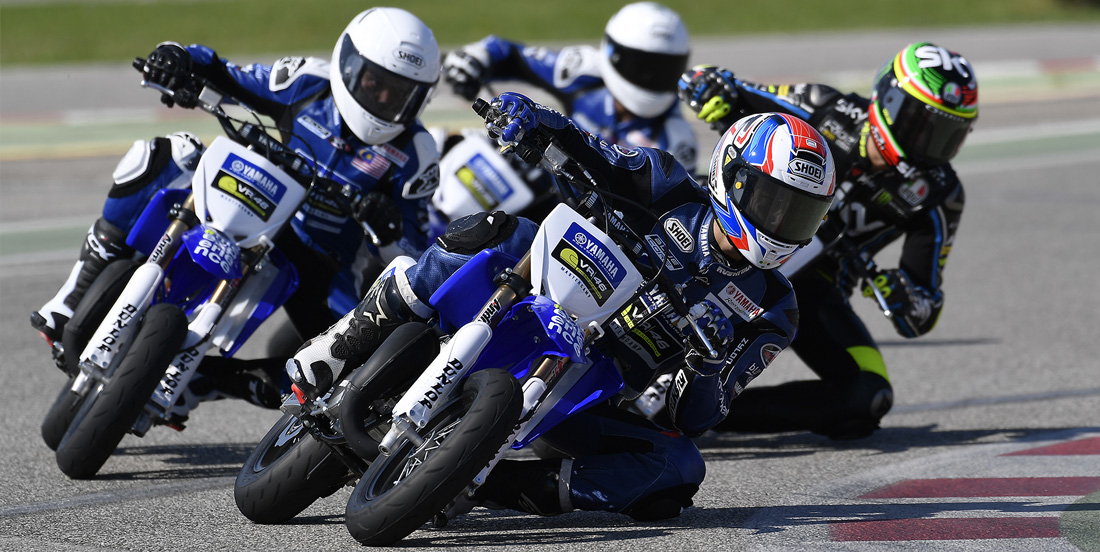 September 13, 2018
Sixth Edition Master Camp Students Make Flying Start to the Programme
Yesterday the students got a first taste of what it's like to be a Yamaha VR46 Master Camp rider. The four youngsters started the first day of the programme with a MiniGP and Go-Kart session at the Misanino KCE World Circuit Marco Simoncelli, followed by their first flat track riding Master Class at the VR46 Motor Ranch with expert Marco Belli.
TAVULLIA (ITALY), 13TH SEPTEMBER 2018
The sixth Yamaha VR46 Master Camp riders felt proud to officially kick off the sixth edition of the programme yesterday at the heart of Italian motorcycle racing on the Adriatic coast. The first day of training gave the students the opportunity to showcase their talents in three racing disciplines: MiniGP, Go-Kart and flat track.
Malaysia's Muhammad Aiman Bin Tahiruddin (16) and Nazirul Izzat Bin Muhammad Bahauddin (18), Indonesia's Muhammad Faerozi Toreqottullah (15), and Japan's Shota Yokoyama (16) had to get up early, but none of them minded as they knew what was in store. They had the Master Camp YZ85 bikes waiting for them at the Misanino KCE World Circuit Marco Simoncelli, and the riders couldn't wait to get started.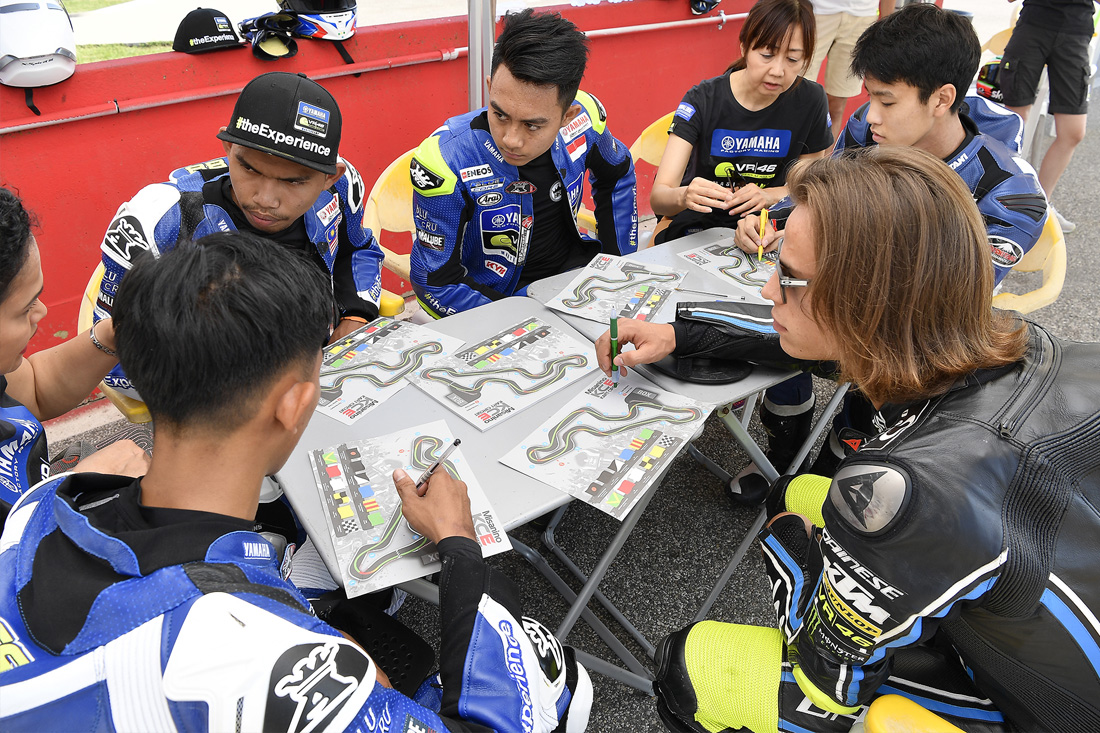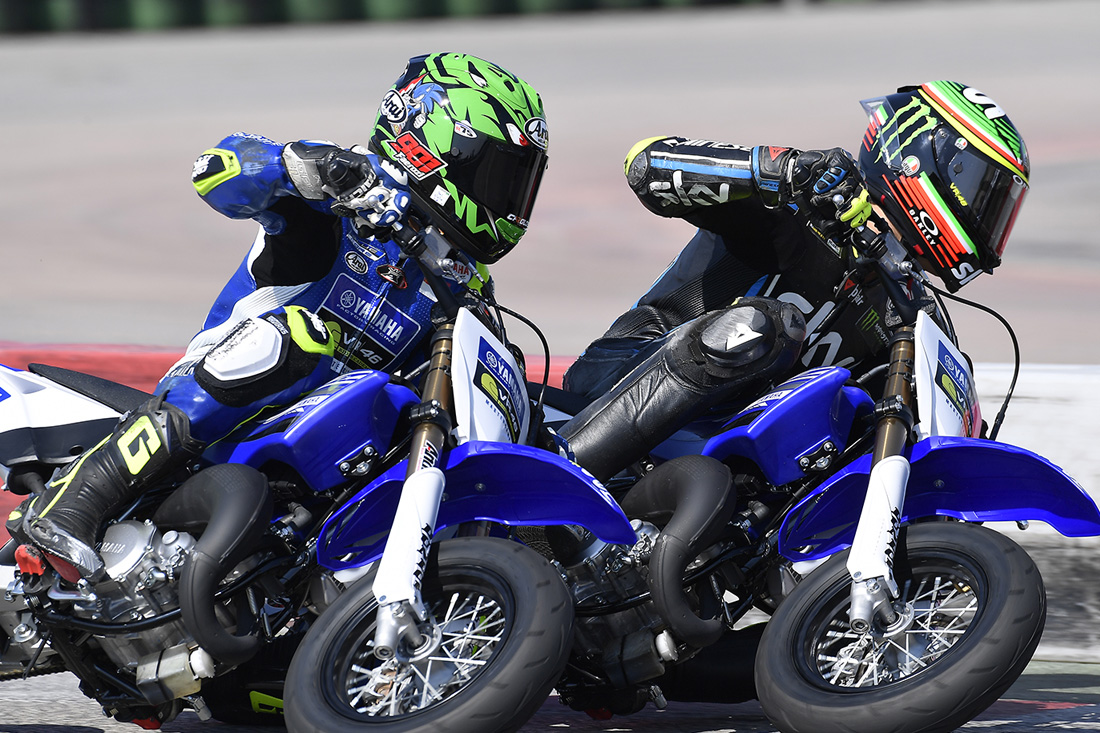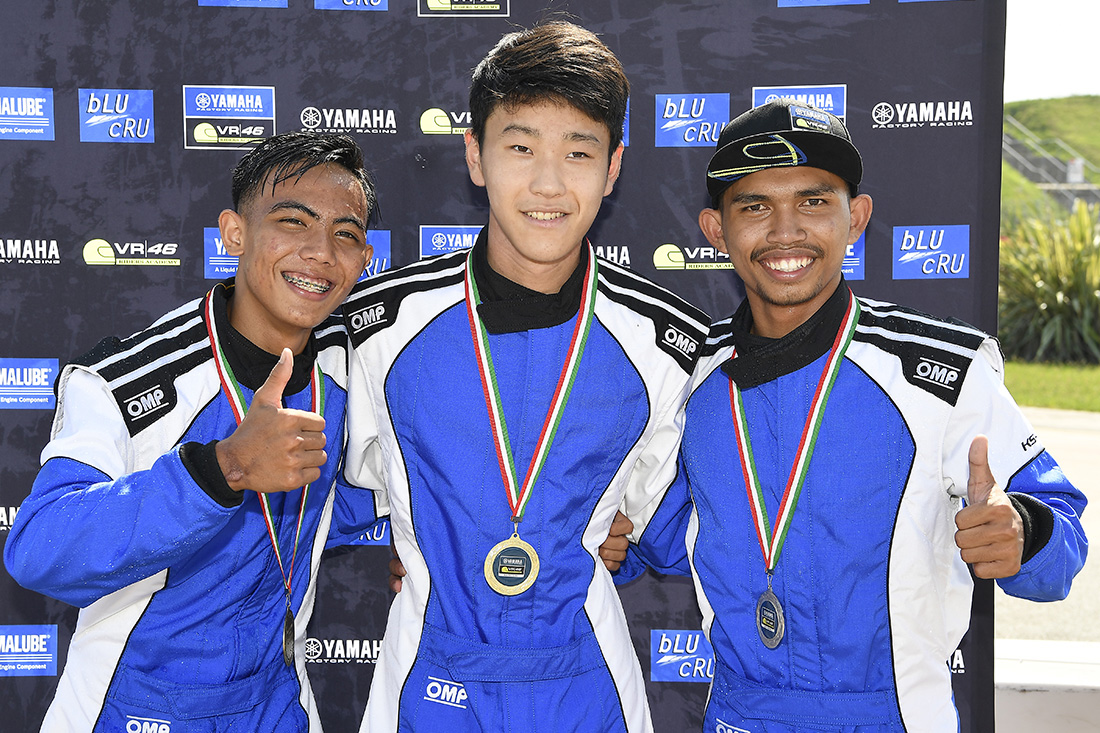 After a quick first couple of laps to get to know the circuit, Moto3 rider Nicolò Bulega gave the new arrivals a quick rider briefing and demo, showing his expertise. It didn't take the protégées long to get up to speed, and things got heated in the traditional MiniGP race. There was nothing between them at times, but ultimately it was Shota who took first place amongst the Master Camp riders, ahead of Izzat and Aiman, who finished in second and third position respectively.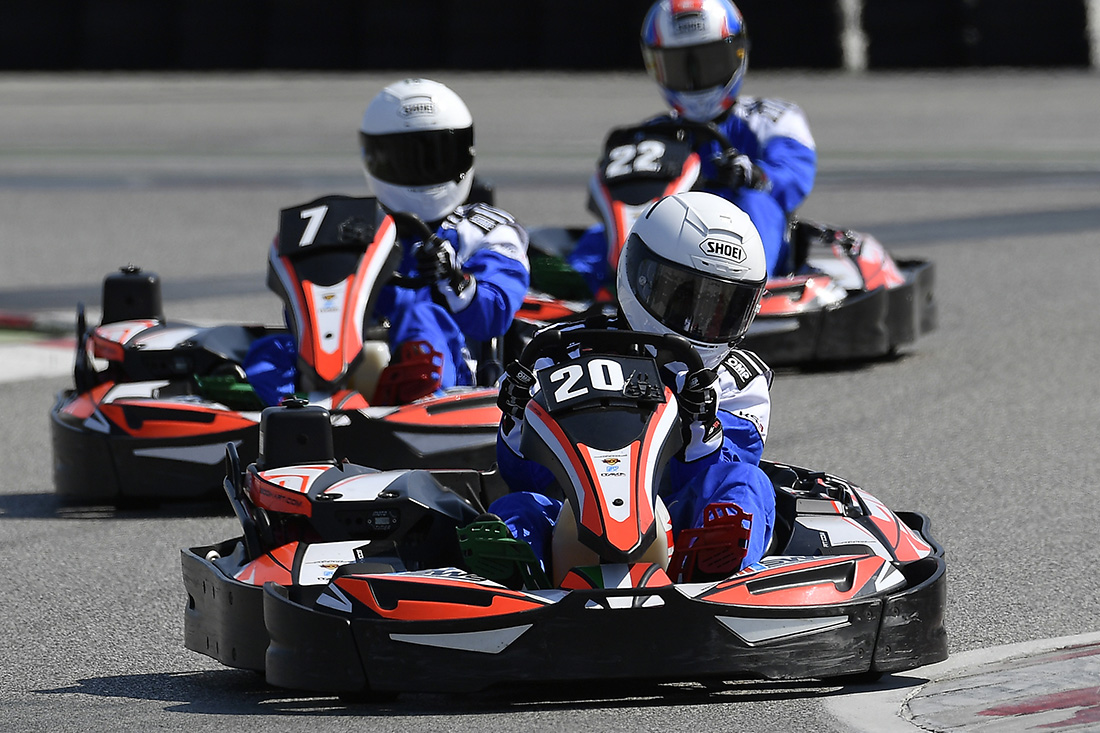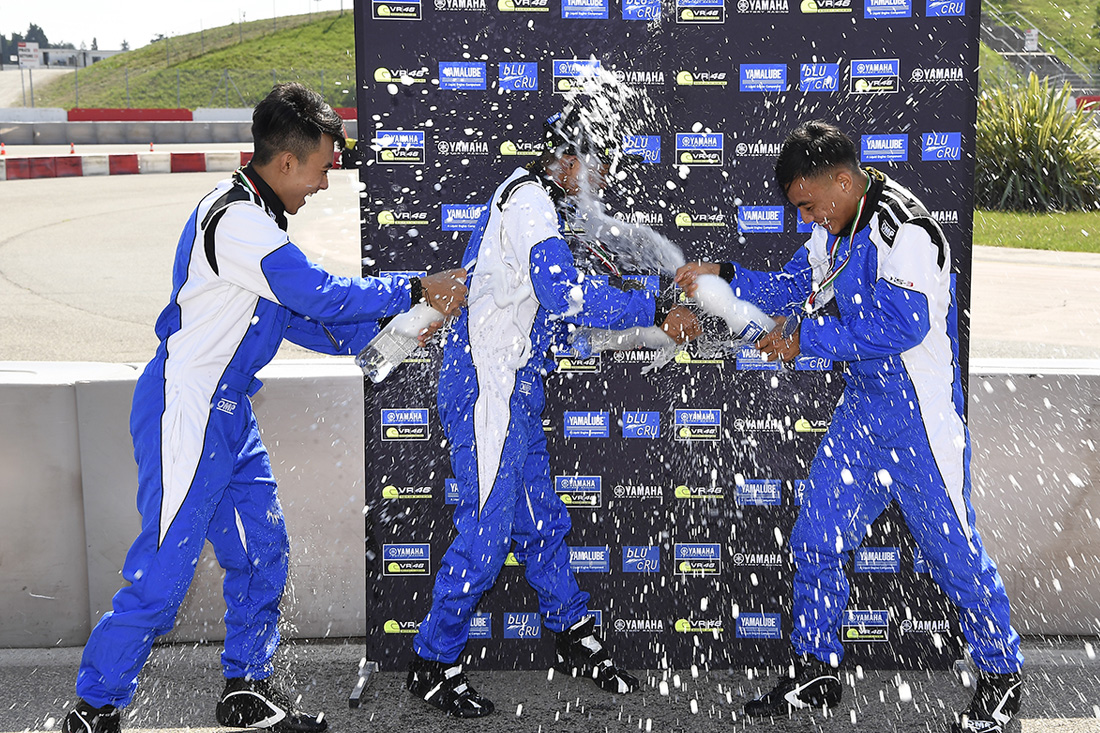 After an hour break, the MiniGP session was followed by a Go-Kart session, with special kart suits and using go-karts provided by Birel Art and TM Racing. The fresh recruits soon got used to the switch to four wheels and found a good rhythm, so it was time for another race. This time it was Aiman who took the chequered flag ahead of Izzat and Faeroz.
Before heading to their final riding session of the day, the riders had to 'refuel'. A nice meal at the Bar, Ristorante e Pizzeria Da Rossi in Tavullia was just the ticket.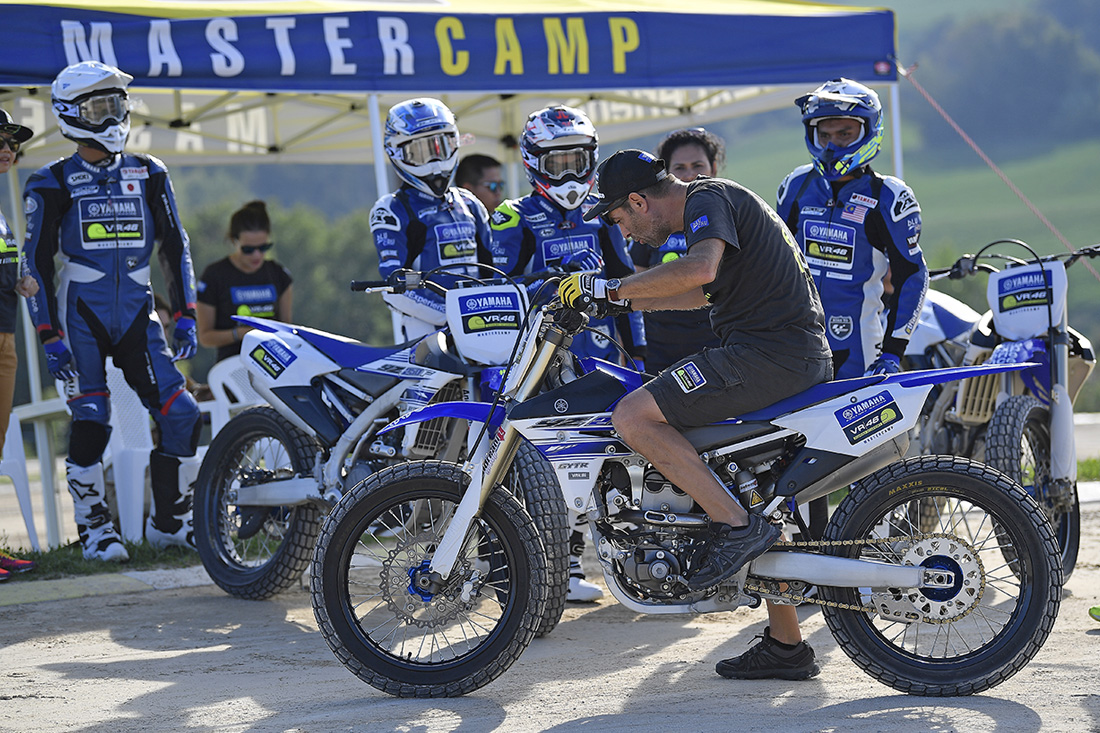 When the young riders arrived at the VR46 Motor Ranch, three-time English Flat Track Champion and two-time American and European Flat Track Champion Marco Belli was waiting for them. He told them all they needed to know about the correct riding position and all the points they would be focusing on during their very first flat track session.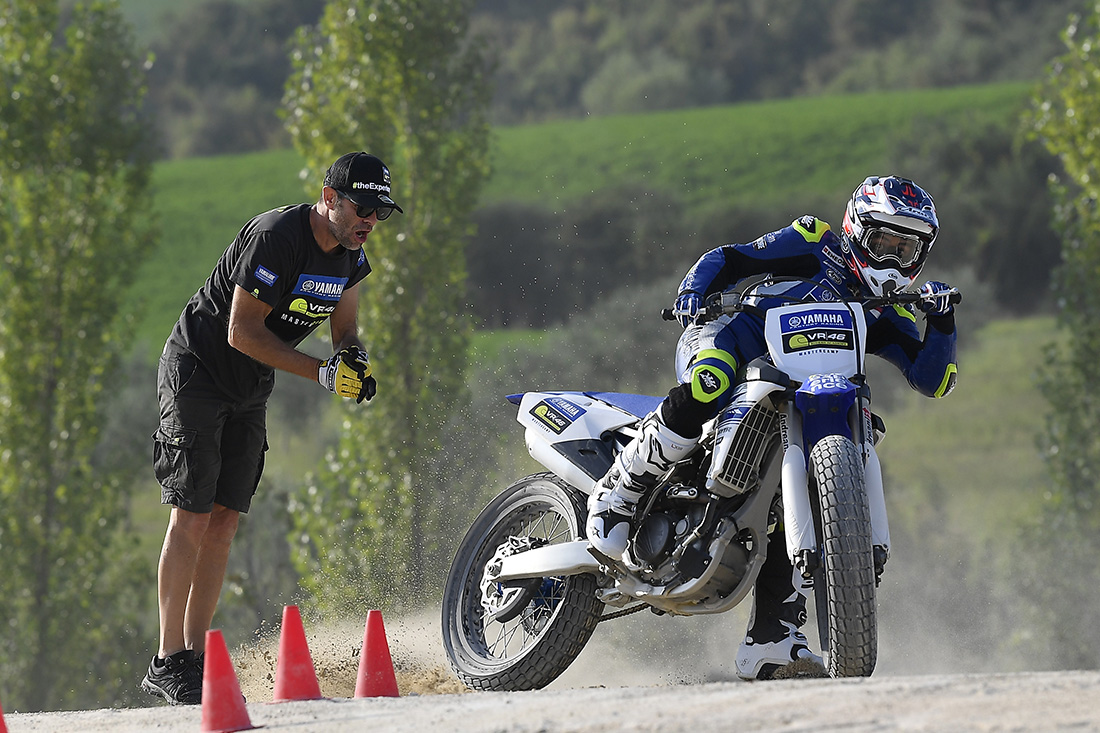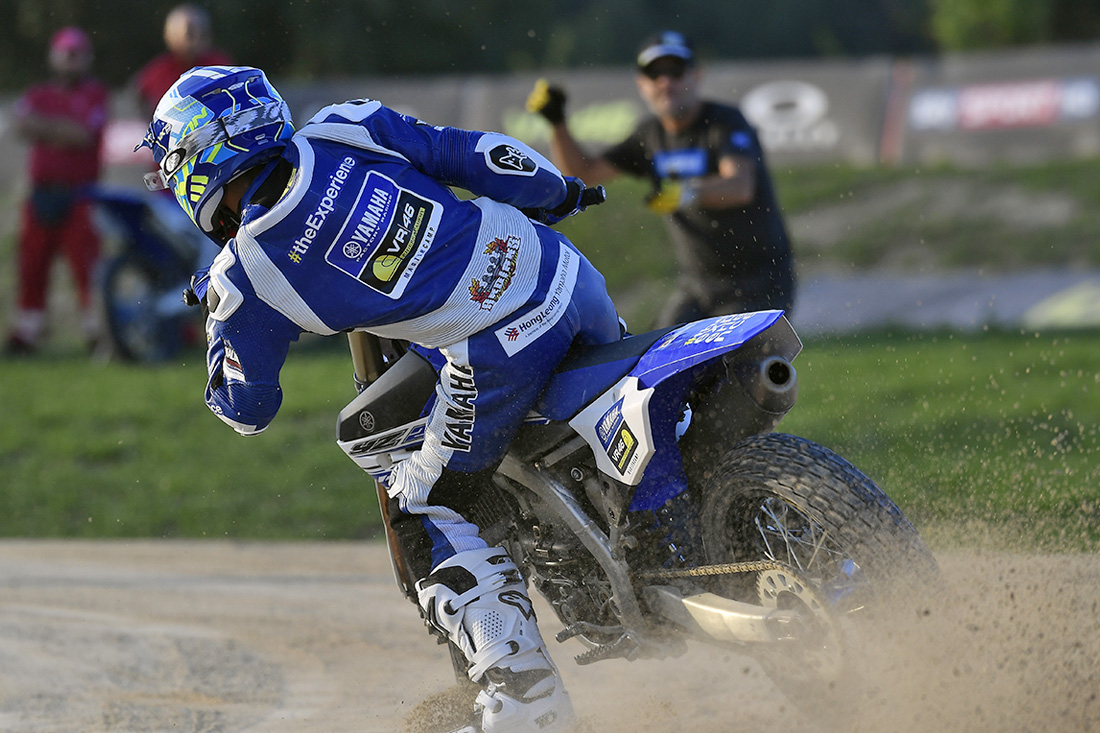 It was then time for the riders to hop onboard their YZ250F bikes and learn by doing. The students practised dirt bike control, slaloming between traffic cones, and sliding through the corners. Belli saw them progress so fast that he decided that - even though he originally wanted to focus on the basic techniques - the riders were ready to take on parts of the oval.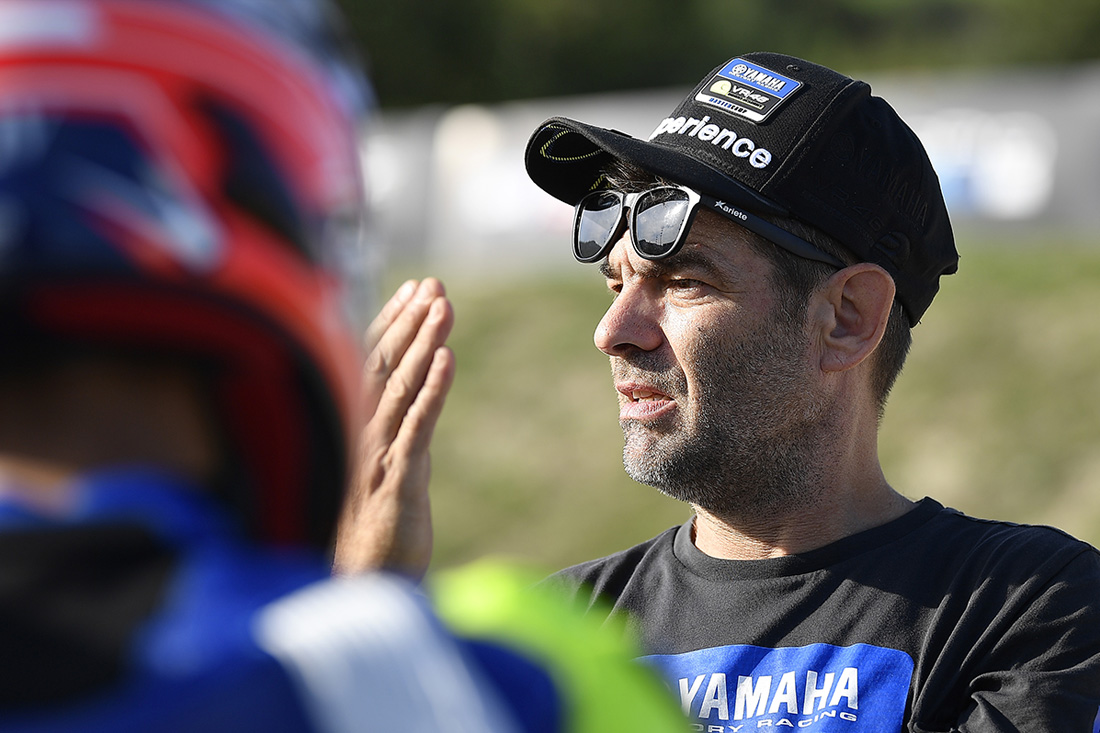 The first day is all about letting the new students get to know the bikes", explained Belli. "The VR46 Motor Ranch is a great venue to practise and learn a lot, because we use this training session to work on the riders' feeling and their sensitivity to it.
"Our usual Day 1 programme consists of slaloming between cones, practising the correct body position, and create a better understanding of the relation between the bike, the tyres, and the dirt. We had a longer introduction programme scheduled for the first flat track session, but because of the riders' level of skills we skipped a couple of the usual drills, so we could already use the two ovals.
"We saw some good progress. We will work a lot again on Friday, when we have our second flat track session, and I think we can already start using the full track quite soon, so all in all it was a really good first day."
Comments
Muhammad Aiman Bin Tahiruddin
"I'm very happy to have been given this experience. The MiniGP and Go-Kart session were a lot of fun, and I was so happy to gain experience and secure a Master Camp medal in both races. I think I learned a lot, especially watching Nicolò Bulega ride the MiniGP bike was very interesting and helpful. The flat track was all new to me. It was a challenge at first, but I'm sure I can improve in the next flat track session."
Nazirul Izzat Bin Muhammad Bahauddin
"It was the very first time for me to ride a MiniGP bike. This was my first introduction to this discipline, so I had to learn how to ride the YZ85 bike from scratch, but I really enjoyed it. I received tips from Nicolò Bulega on how to move my body and that was very helpful. I've tried Go-Kart racing once before. In this discipline the body movement and head movement are also key focus points, allowing you to look ahead. The flat track is very new to me and it was difficult to find the right lines, it's very different from motocross in Malaysia. I will try to remember what I learned, but one riding session at the VR46 Motor Ranch wasn't enough - I look forward to the next time and I will try to do my best!"
Muhammad Faerozi Toreqottullah
"The MiniGP session was very important for me, because I learned a lot about how I can improve my riding style. The Go-Kart helped me realise how you have to use your upper body, which was very interesting. We also spent time learning the basic techniques of flat track riding, opening the throttle in a controlled manner, body position, and keeping your balance. It was a lot to take in, all in one day, but it was a lot of fun!"
Shota Yokoyama
"It was the first time for me to try the YZ85. The feeling of the bike was a new experience for me, but you can have a lot of fun on it. During the MiniGP session I understood the purpose of this training exercise: improving body movement. At the end of the morning I felt I really gained something from this training. I would like to try this type of training again to further improve and apply it to my races at home. As for the flat track, this was new to me. At first, I tried to get used to the bike and then I moved my body position forwards. I then understood what was needed, I had it all in my head, but putting it into practice was difficult. At the end I think I still learned a lot. I will try to do even better on the next flat track training session on Friday. As for the Go-Karts, four-wheels training was a first for me also, but ultimately I think it helped my two-wheels career as I was able to better understand how grip works and how it feels."