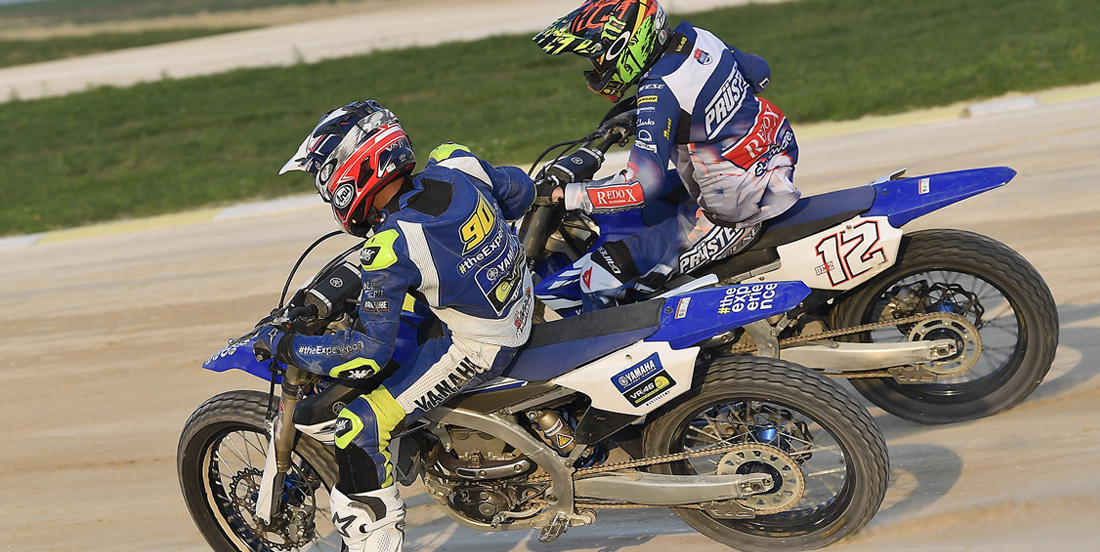 September 15, 2018
Master Camp Riders Level Up at the VR46 Motor Ranch on Day 3
The sixth-edition Yamaha VR46 Master Camp riders went on to explore another new racing discipline on Day 3. Soft cross training with Stefano Manzi at the VR46 Motor Ranch filled the first part of the day, before they were able to improve their flat track skills again with the help of expert Marco Belli and VR46 Academy riders Marco Bezzecchi and Lorenzo Baldassarri.
Tavullia (Italy), 15th September 2018
Malaysia's Muhammad Aiman Bin Tahiruddin (16) and Nazirul Izzat Bin Muhammad Bahauddin (18), Indonesia's Muhammad Faerozi Toreqottullah (15), and Japan's Shota Yokoyama (16) had no problem keeping up with their teachers during two intense training sessions at the VR46 Motor Ranch. They started Day 3 of the sixth Yamaha VR46 Master Camp with a soft cross session aboard YZ125 bikes, guided by Stefano Manzi at the sand track that runs through parts of the flat track. In the afternoon they had the chance to further improve their flat track skills as they tried the entire track lay-out for the first time, riding with expert Marco Belli and VR46 Academy riders Marco Bezzecchi and Lorenzo Baldassarri.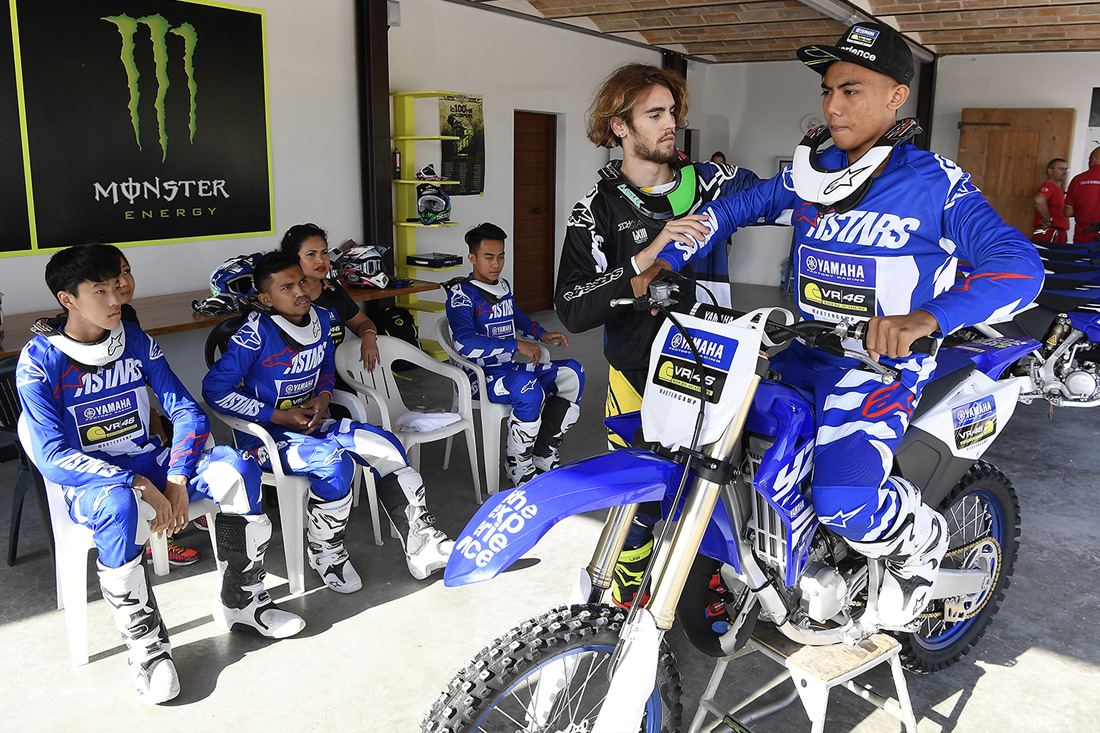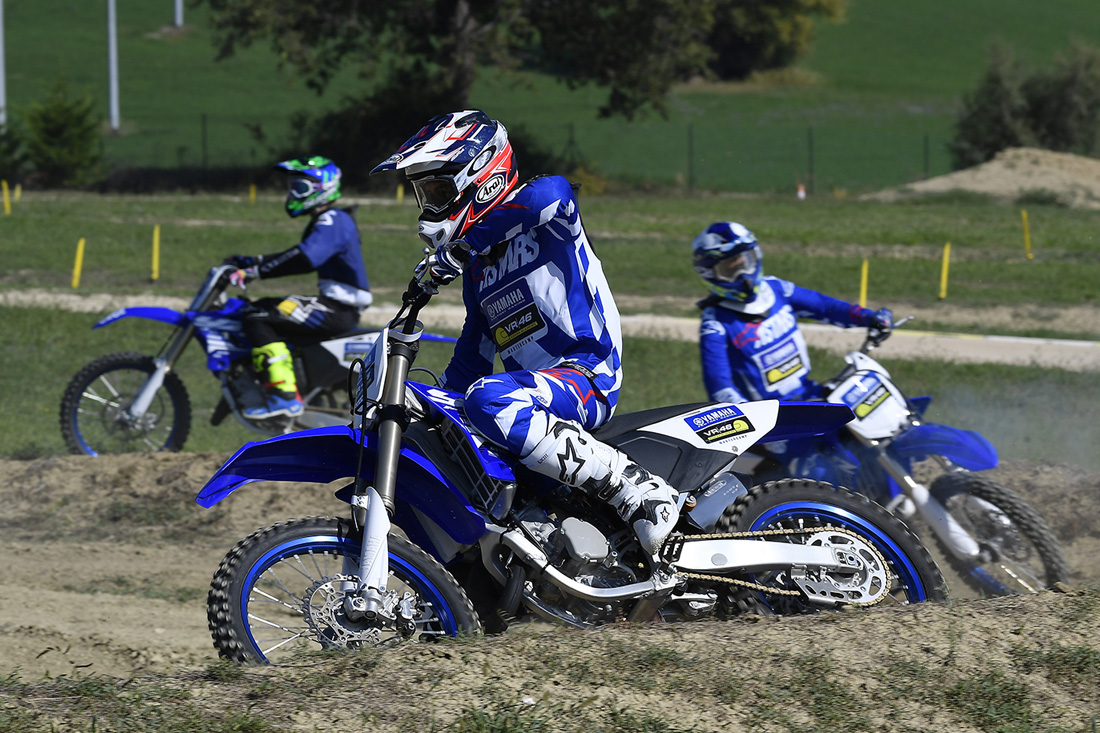 The riders had a long Day 2, but the prospect of trying soft cross with Manzi had them buzzing with excitement on the morning of the third day. Before could put on their Alpinestars gear and any track action could take place, the Moto2 rider explained the correct body position and shared safety tips. Once the students were given the time to ride on the soft track it became clear their level was high, but thanks to Manzi's help they still made further progress.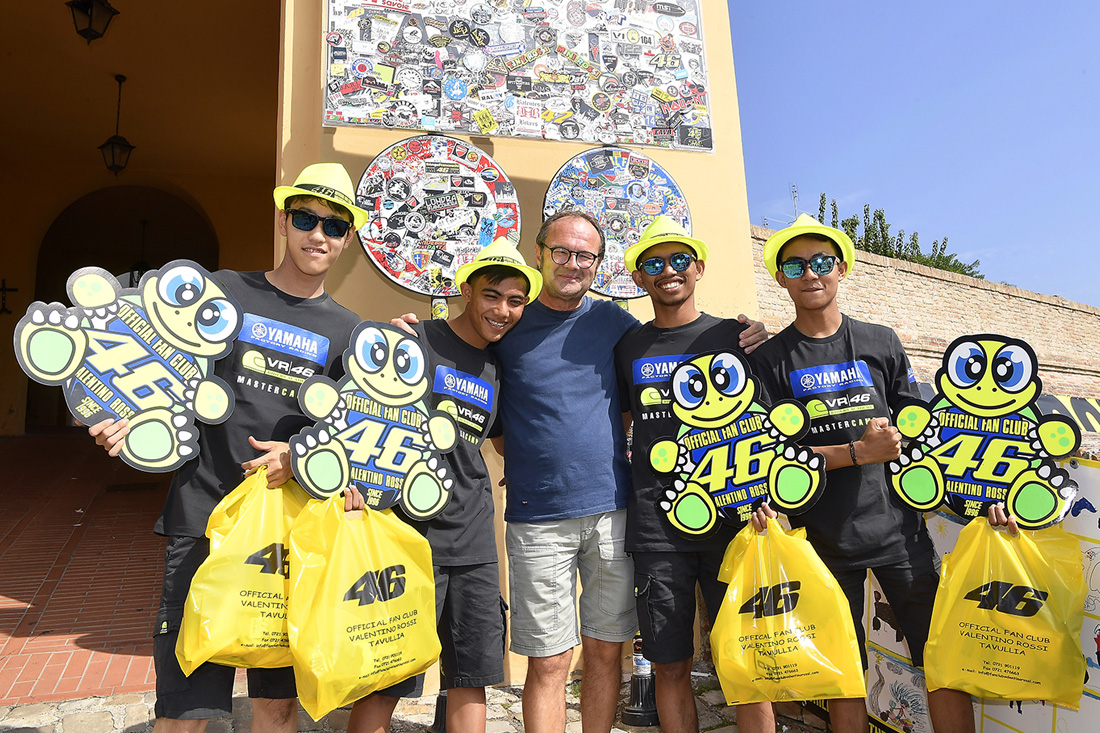 The hard work left the Master Camp riders hungry, so they headed to Tavullia, where there was a surprise in store for them. They met up with Official Fan Club Valentino Rossi Tavullia Vice President, Flavio Fratesi, who asked the riders to head over to the VR46 fan club headquarters to sign up as members. After completing the registration process, they received the VR46 Fan Club membership card and were showered with gifts.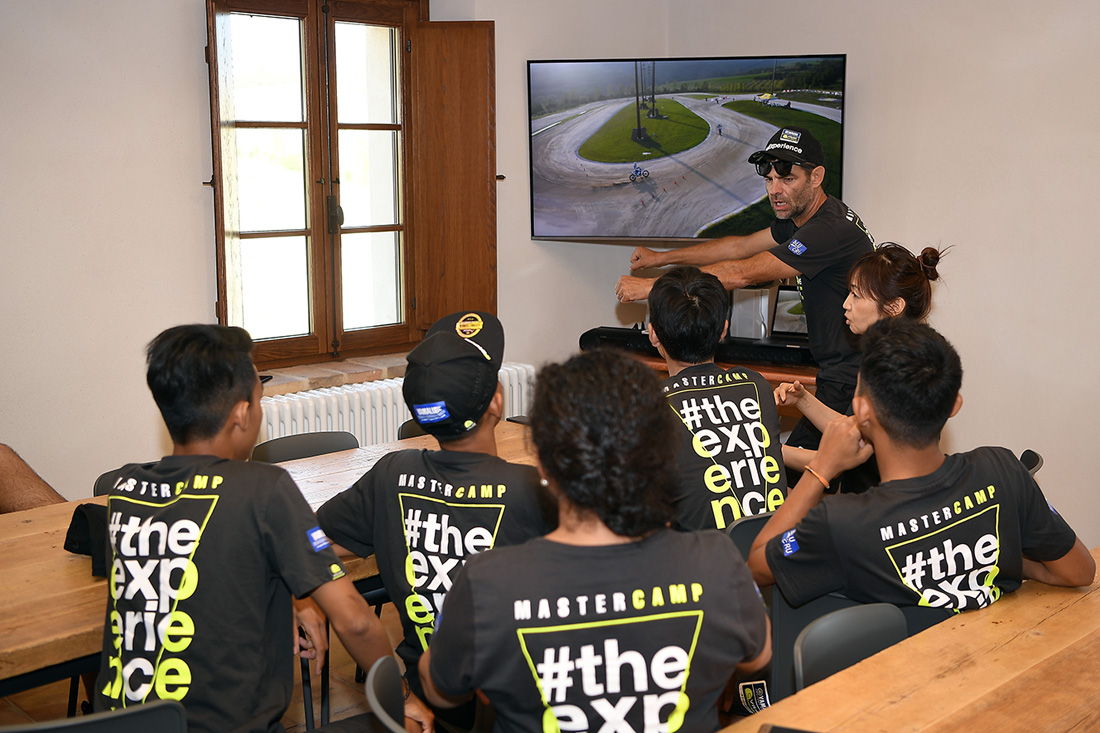 With a bag full of VR46 fan club presents, the riders made their way back to the VR46 Motor Ranch for their second riding session of the day. They were especially invited by Marco Belli to attend a private training session, to learn the theory behind the techniques. They viewed video footage of the students' Day 1 flat track action, so they could go over points of improvement.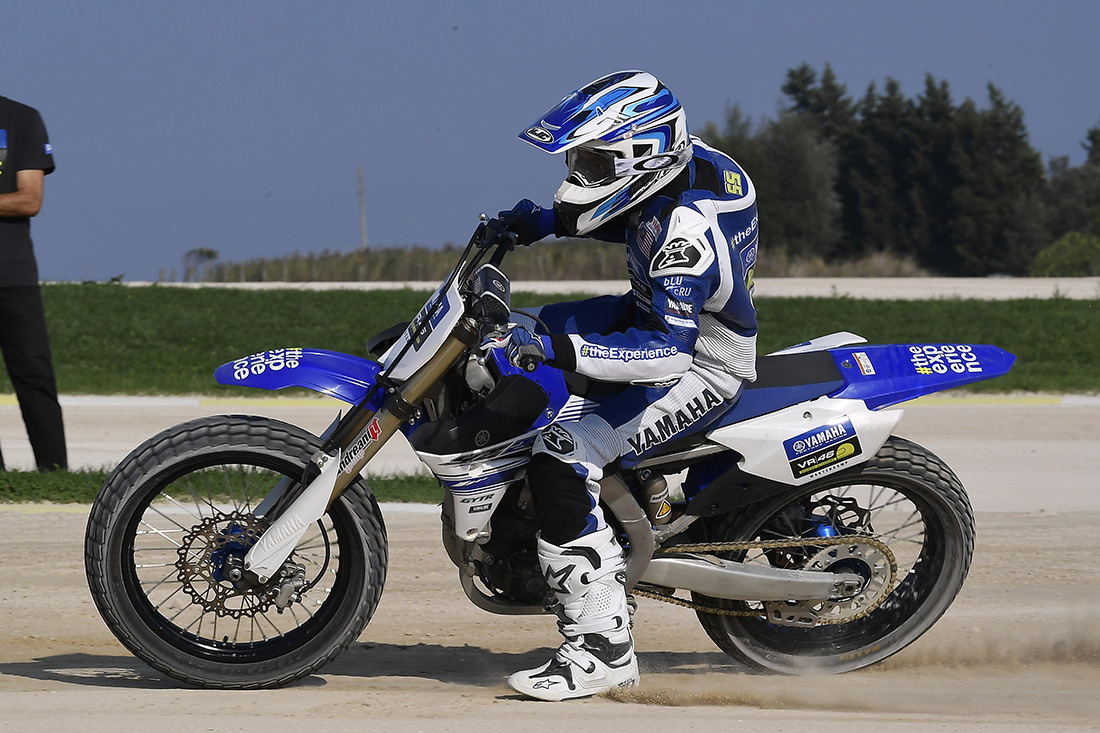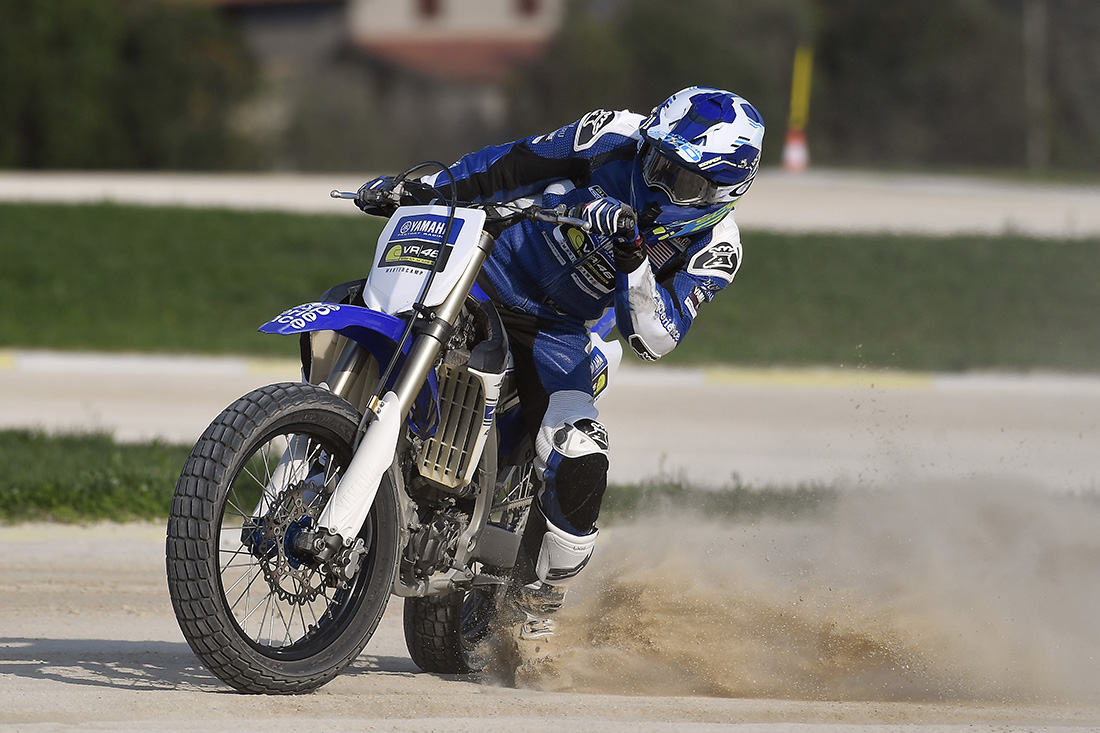 It was then time to get aboard their YZ250F bikes. After quickly getting reacquainted with the flat track, the young riders were soon allowed to try first the big oval and later also the entire track lay-out, when they were joined by Moto3 rider Bezzecchi and Moto2 rider Baldassarri. The VR46 Academy riders rode in front to show the techniques they had discussed before the session, whilst Belli observed the students' riding style and progress from the back of the group.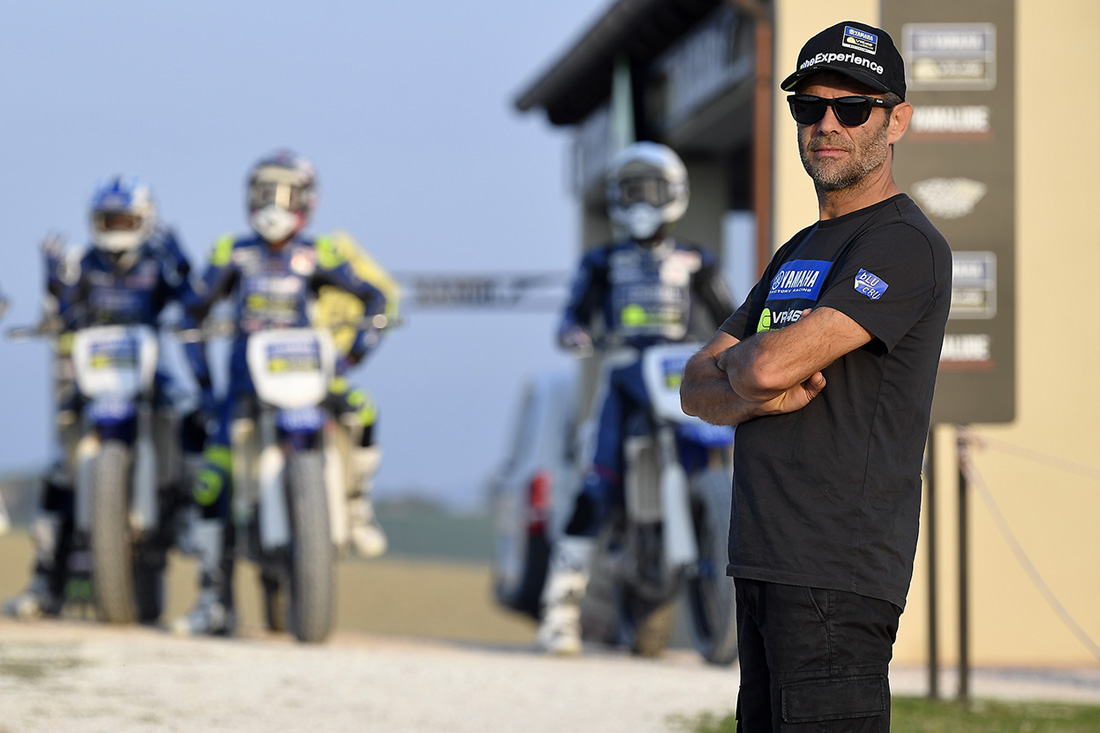 The system worked, as the riders all made big steps forward, which was clearly noticed by trainer Belli:.
"We finished a good second day of practice at the flat track. We already saw that the guys had good level on Day 1, so we started Day 3's session wasting no more time on the drills, we went directly out on the track. However, when we went out on the big oval the riders got a bit over-enthusiastic, so we decided to take them back to the little oval for a short while to show them how to proceed and to get them back in the right position, and also mindset, before using the entire track.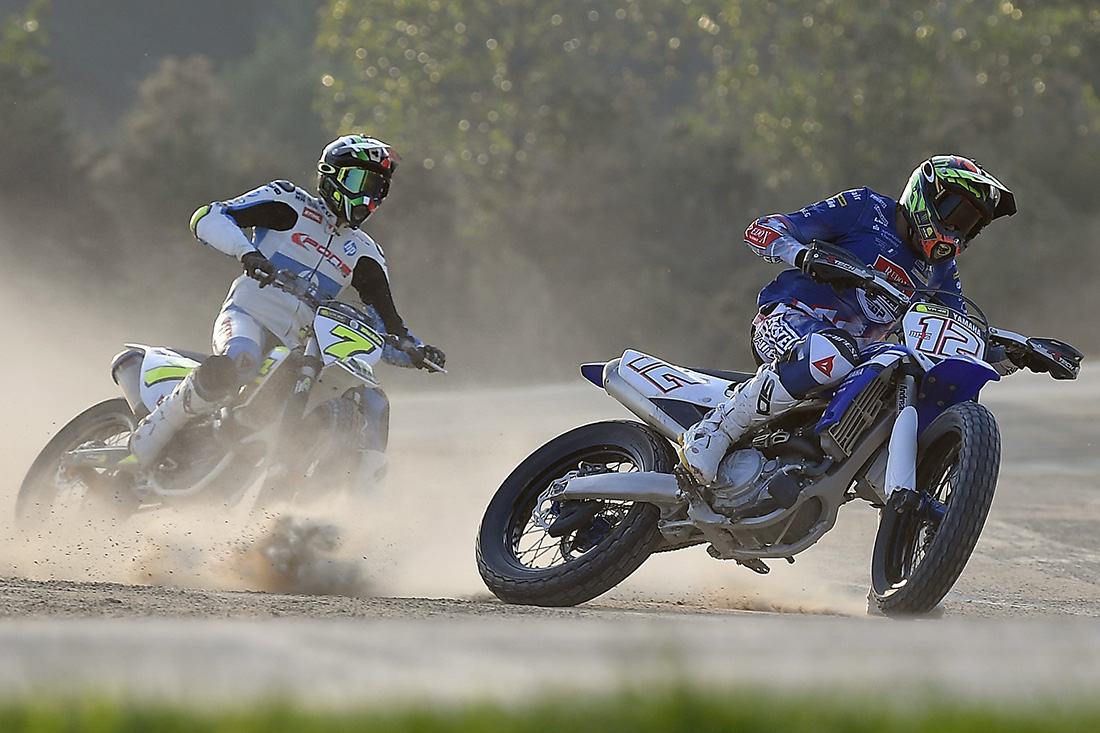 The riders were lucky that they were helped by two riders from the VR46 Riders Academy, Bezzecchi and Baldassarri, and had the chance to ride the track with them. This was really good training for the students. They learned a lot by following, not only about the lines on track, but also about how to manage themselves on track when doing a long run.
"The riders completed five laps each time they went out, which comes down to about a 15-minute long stint. This is a long time for these young guns, but I'm really happy. The VR46 Academy riders also told me that the level of this group is good, so that makes me proud, and now we focus on our last flat track session on Sunday."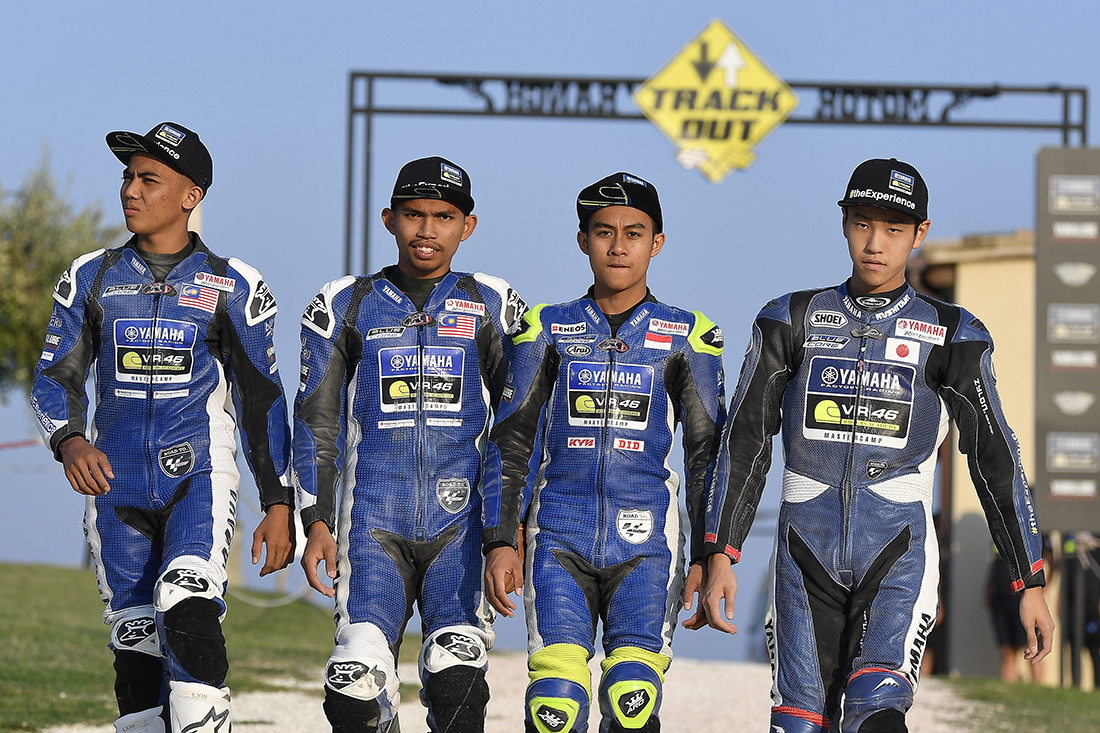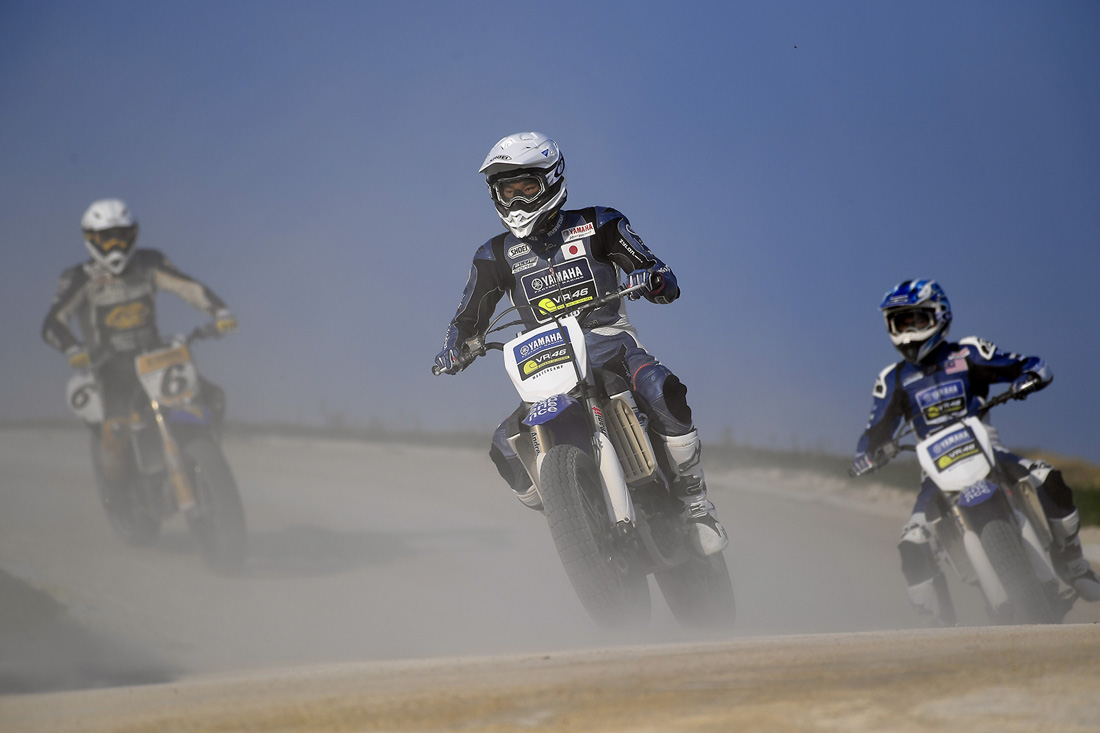 The YZF-R3 was new for the students, so they needed a few laps to find the right lines and brake points on the track. However, they quickly got the hang of it and started to have fun on their bikes until the Superpole session, which was serious business. Ultimately, it was Faeroz who clocked the fasted time, whilst Shota came second. Izzat came third after a crash prohibited him from completing his flying lap.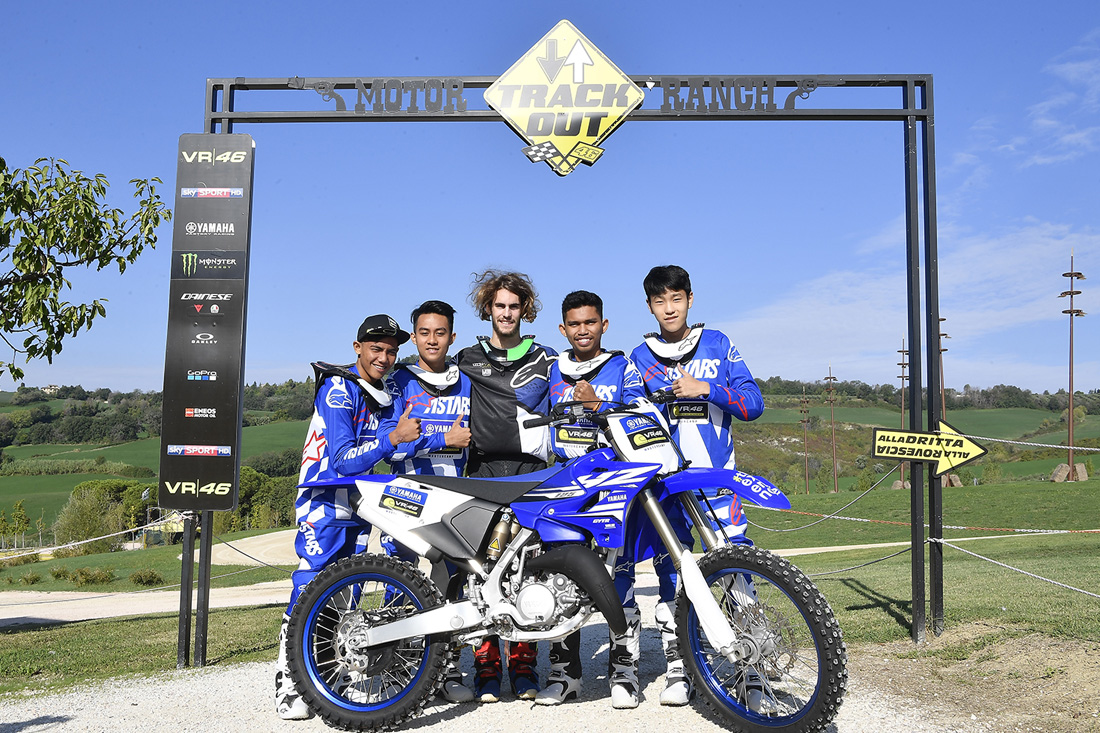 Comments
Muhammad Aiman Bin Tahiruddin
"Soft cross was a great experience, I like it a lot. I had an easier time in the morning than I did in the afternoon. I tried to do my best on the flat track, but it doesn't come easy to me. I'm studying hard in order to get better at it. I still enjoyed it, though. I'm constantly looking for improvements: not just body position, also mentally, so I'm going to continue working in this way and give my all on the last two days of the Master Camp programme."
Nazirul Izzat Bin Muhammad Bahauddin
"I'm already used to riding soft cross in Malaysia, but there are some differences. The landscape and the track here, for example, are going uphill and downhill, whereas in Malaysia our soft cross tracks are completely flat, but it was still OK for me. I was improving and getting better as the session went on. I tried to become faster on flat track as well, and I got to know the track surface and find the correct body position a lot better. We also went to the fan club and it was impressive. I'm very happy and I want to say thanks to Marco Belli, the VR46 Academy riders, and the Master Camp team for these opportunities."
Muhammad Faerozi Toreqottullah
"Day 3 was awesome at the Master Camp. In the morning, we had a short session of soft cross, but I feel that I've learned a lot from Stefano Manzi in that short time. We did a few exercises on the bike on the full soft cross track and I liked it very much - I had a lot of fun. During lunch we went to the VR46 official fan club. It was unbelievable, I have no words to describe being a part of Valentino's fanbase and I even got an ID-number. It was absolutely awesome to ride at the Ranch for a second time. I preferred riding the bigger oval, americana, and the full track with VR46 academy riders Baldassarri and Bezzecchi, because I understand better how to do it now, with good pace and technique. We learned step by step and improved our skills. I'm happy with what I achieved and I hope to continue learning on Day 4."
Shota Yokoyama
"It was my first time riding on a motocross bike and at the beginning it was difficult for me. But from halfway through the session onwards I started to gain more confidence and by the end I was really enjoying it. In the afternoon we tried flat track and I'm very pleased, because I was able to do what I wasn't able to achieve on Day 1. Flat track isn't an easy racing discipline. It's hard to learn how to do right and left corners using good technique. At first, I couldn't understand how to find the right position on the bike but watching the video footage with Marco Belli really helped me a lot, so now I look forward to continue the training programme."