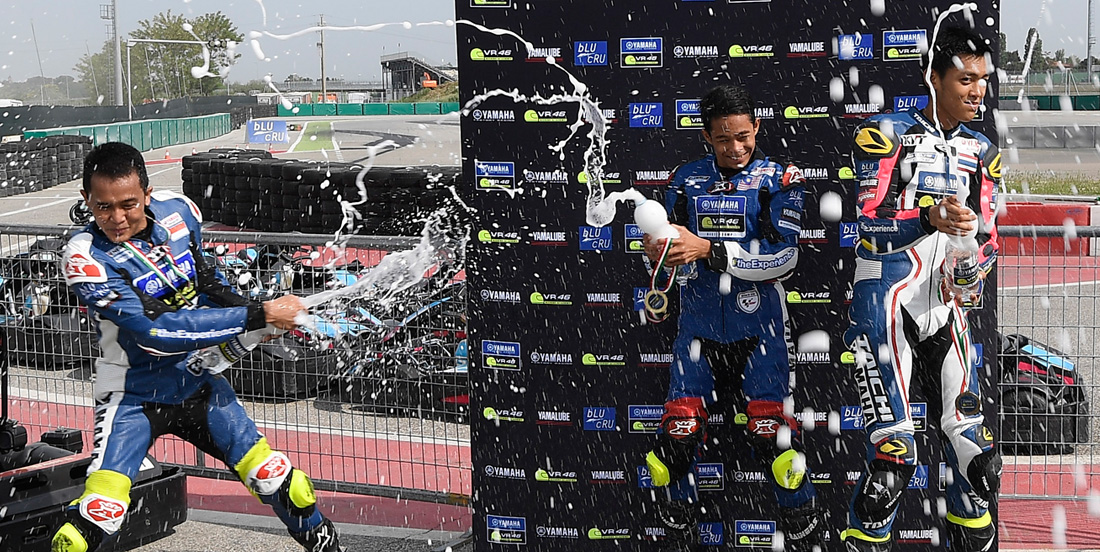 May 12, 2017
The Master Camp Students Speed up on Second day
The second day of the Yamaha VR46 Master Camp had a lot more action in store for Peerapong Boonlert (Thailand, 18), Anggi Setiawan (Indonesia, 18), Shota Ite (Japan, 15), Muhammad Akid bin Aziz (Malaysia, 18), Brandon Demmery (Australia,19) and Tomas Casas (Canada, 17) than they dreamed of.
In the morning they were taught how to train on a racing simulator with Andrea Migno and Luca Marini, the afternoon was filled with Francesco Bagnaia teaching the Master Camp riders how to pick the perfect line whilst MiniGP racing at the Misanino KCE World Circuit Marco Simoncelli. The young hopefuls ended the training with a karting session.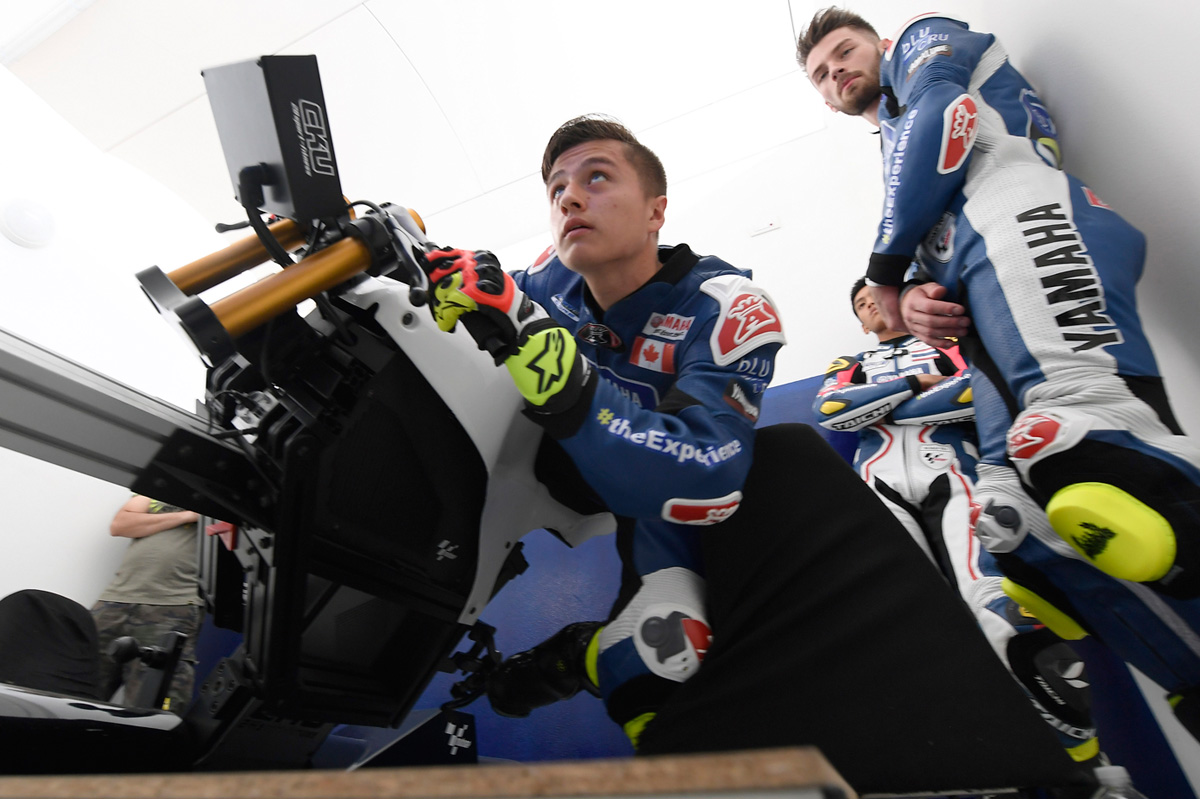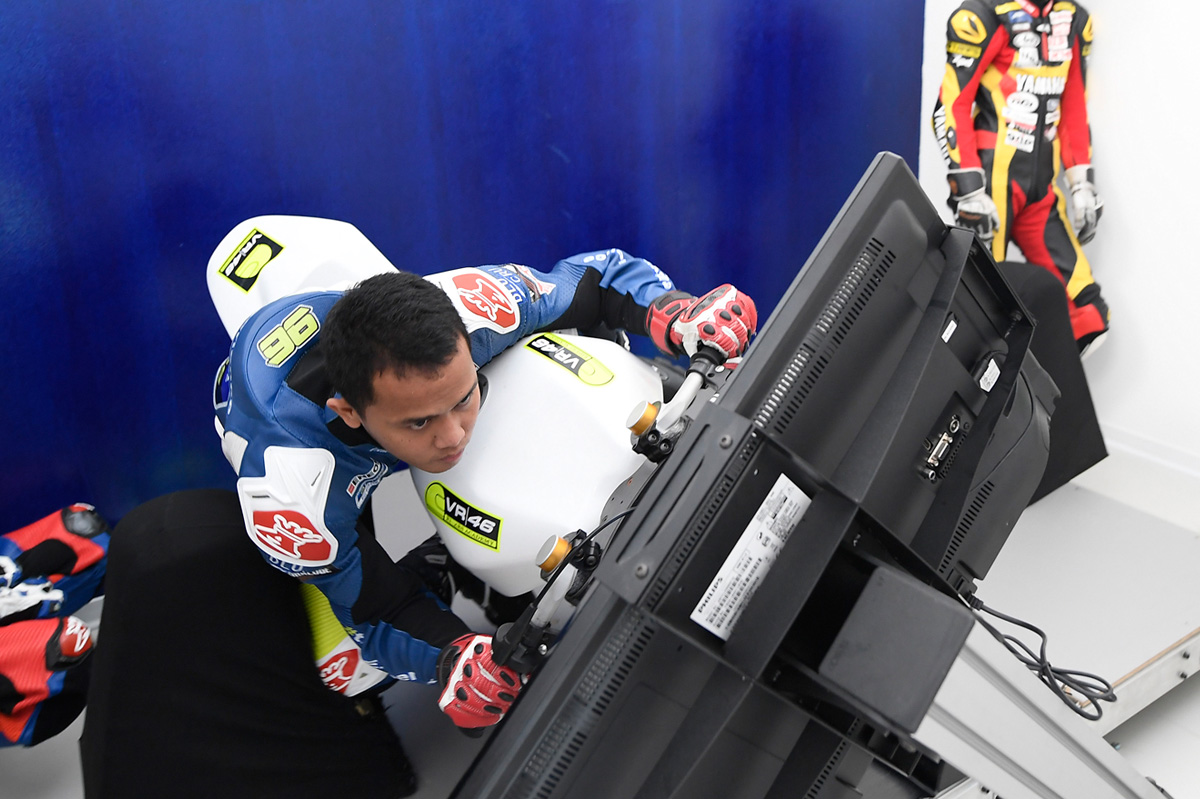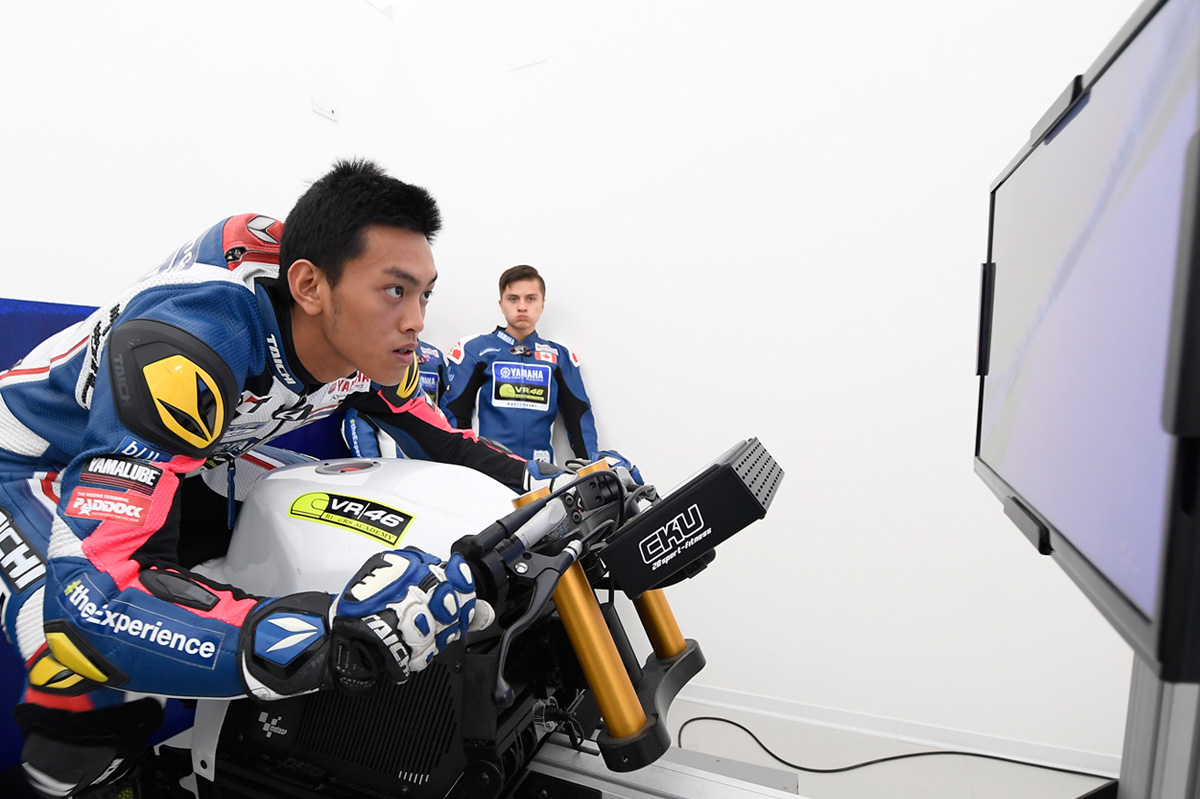 Though day one had taken its toll on the riders, a good night sleep meant they started off day two full of energy and raring to go. The first stop was the Fisio Gym, to learn how to use a race simulator. After a quick warm-up to loosen the muscles, the group split into two: one half went on to participate in a Pilates class, while the other half was demonstrated how to use a race simulator by Migno.
After the Moto3 rider showed how to do a hot lap around the Misano World Circuit Marco Simoncelli on the simulator, the Master Camp riders suited up and had a go themselves, only to find that it's actually more difficult than riding a real bike if you are not used to the controls. Half way through the gym-session the groups swapped places.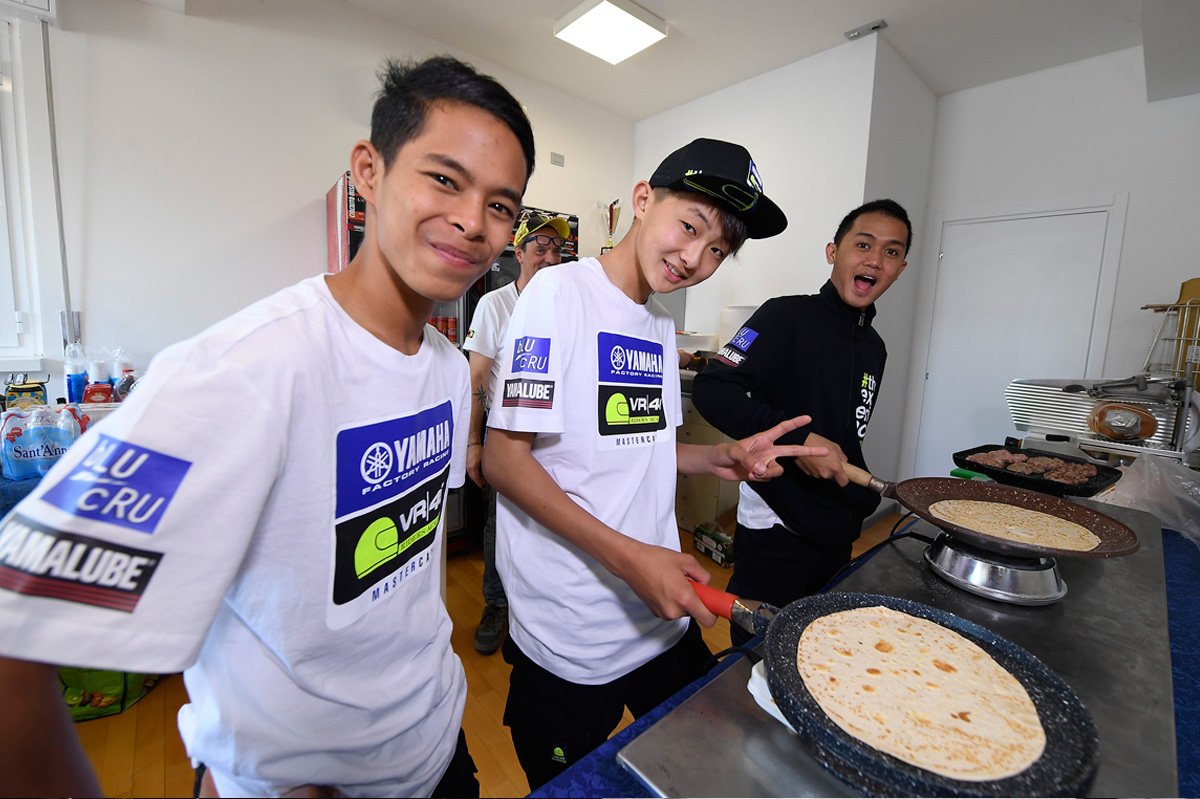 After a quick change of clothes, the riders had to rush off to their next appointment. Yesterday they didn't have time to stop by their favourite town, Tavullia, as their riding instructor, Bagnaia, was already waiting for them at the Misanino KCE World Circuit Marco Simoncelli with six mini bikes.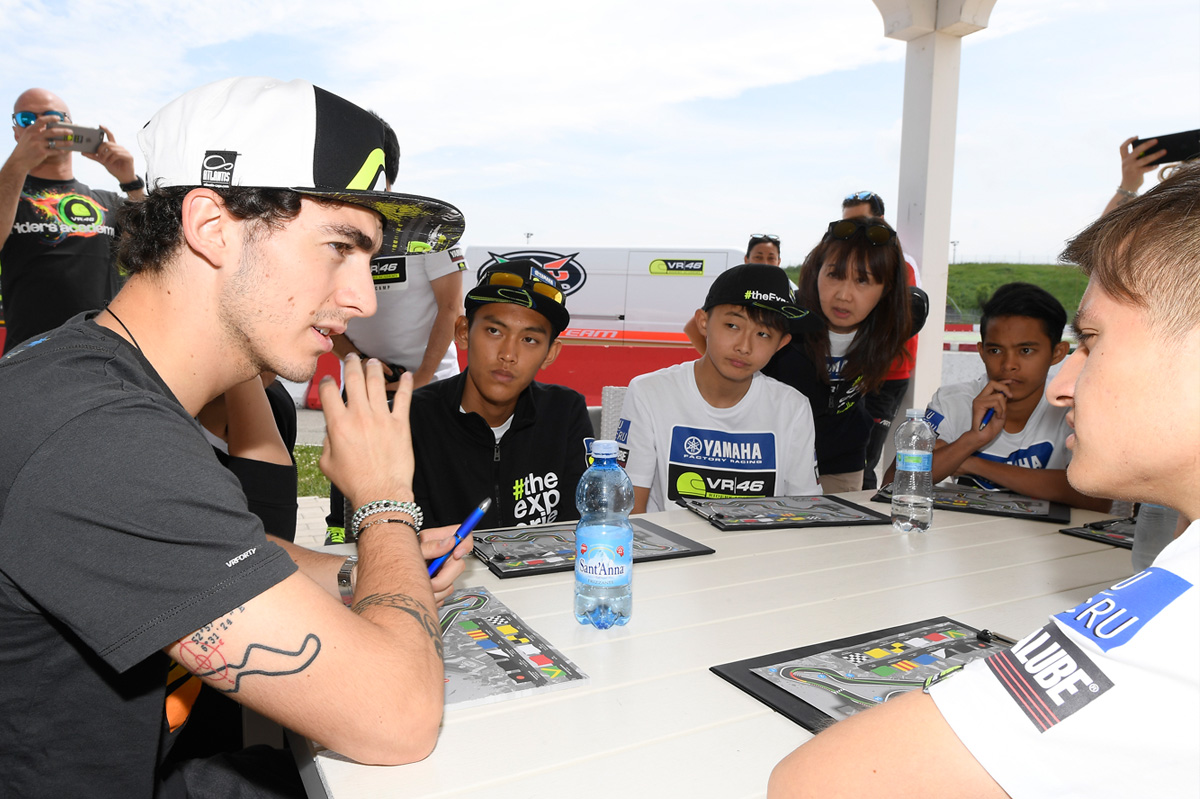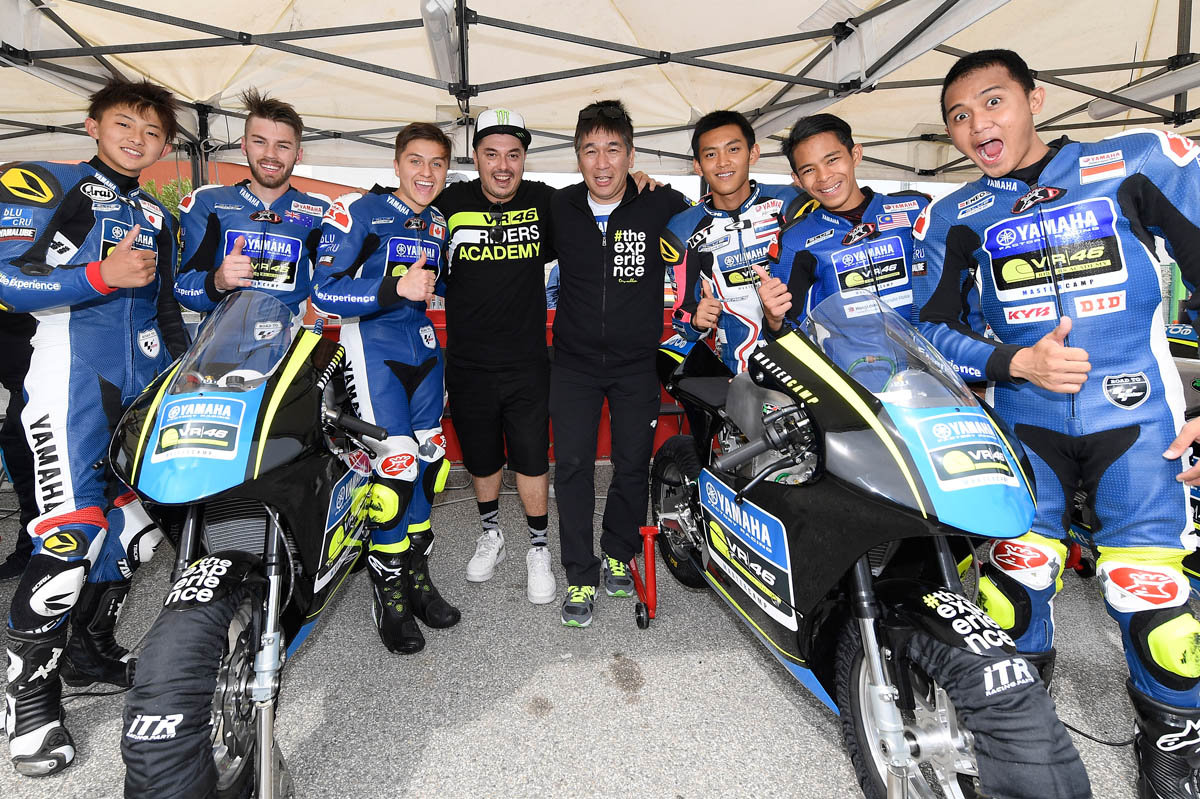 After a rider briefing, the Master Camp recruits quickly changed back into their leathers. During the practice sessions, their instructor (the Moto2 rider who secured second place in Jerez last weekend) steered the students in finding the right line and gear changes. After a few outings on track, the riders felt confident they were ready for the Master Camp MiniGP race, that was also attended by VR46 Riders Academy Director Alessio 'Uccio' Salucci.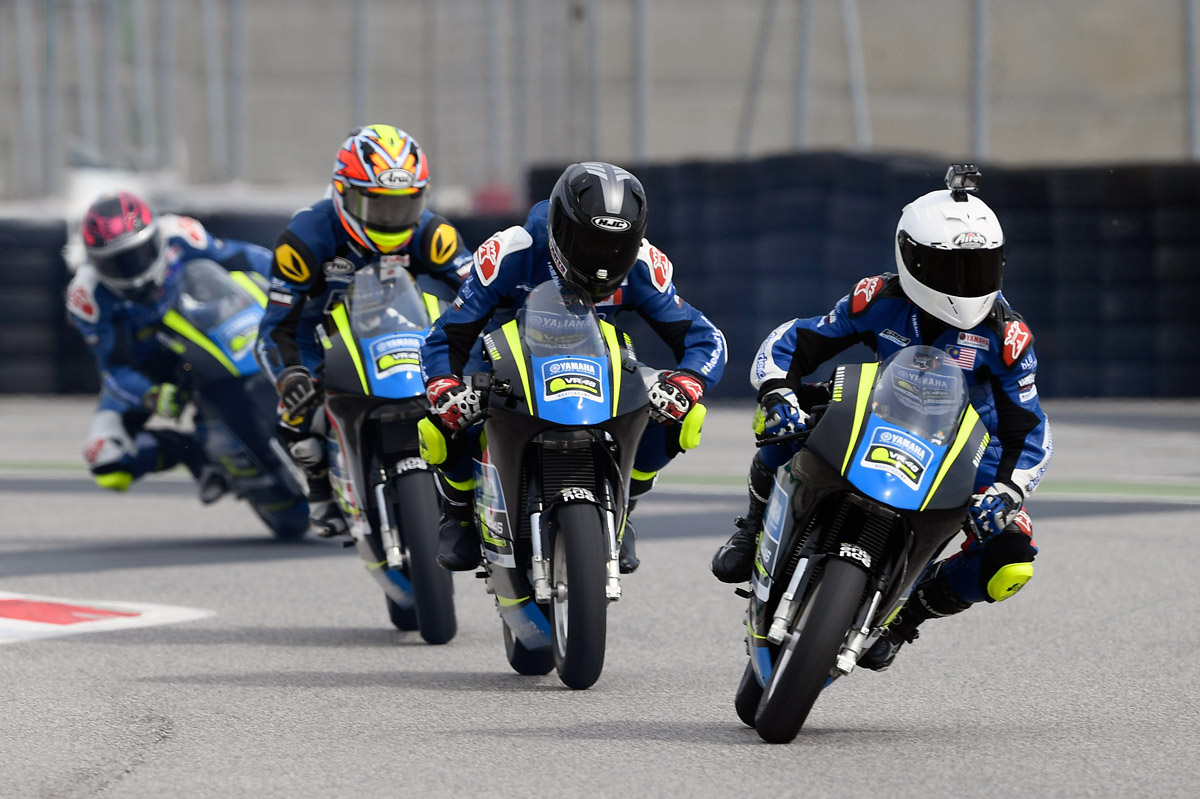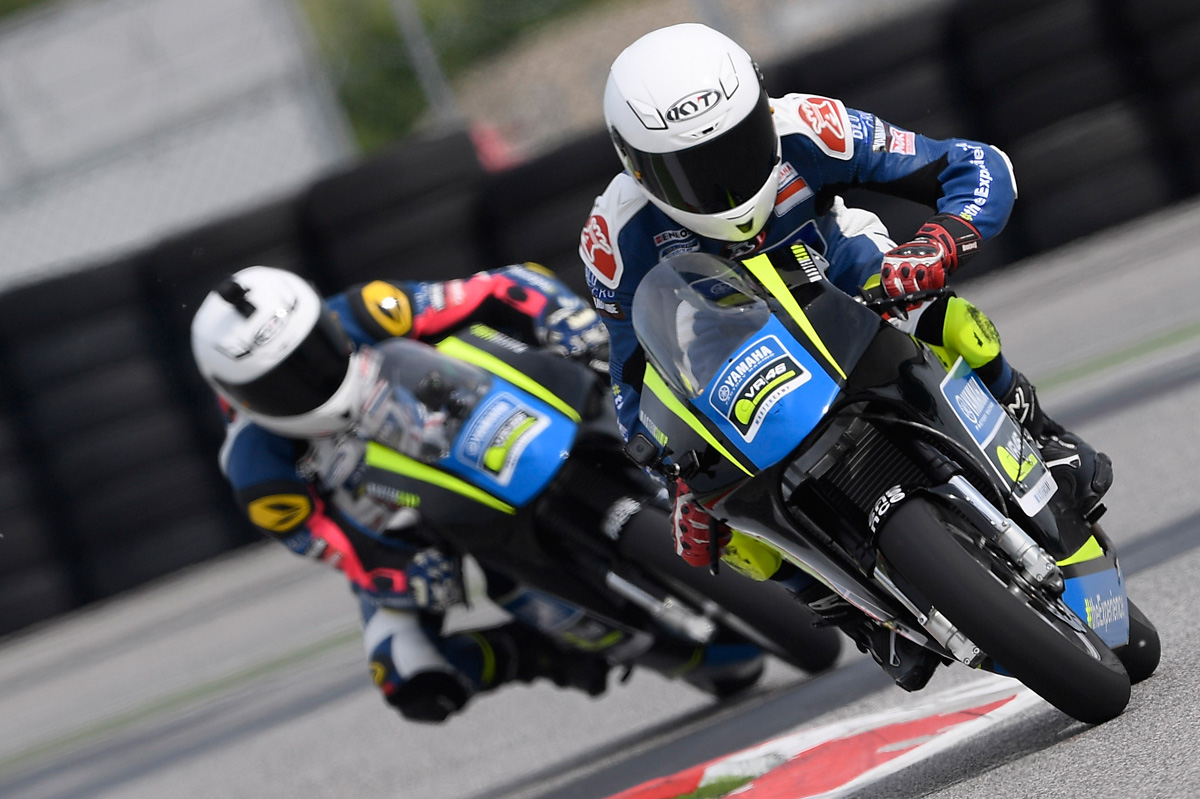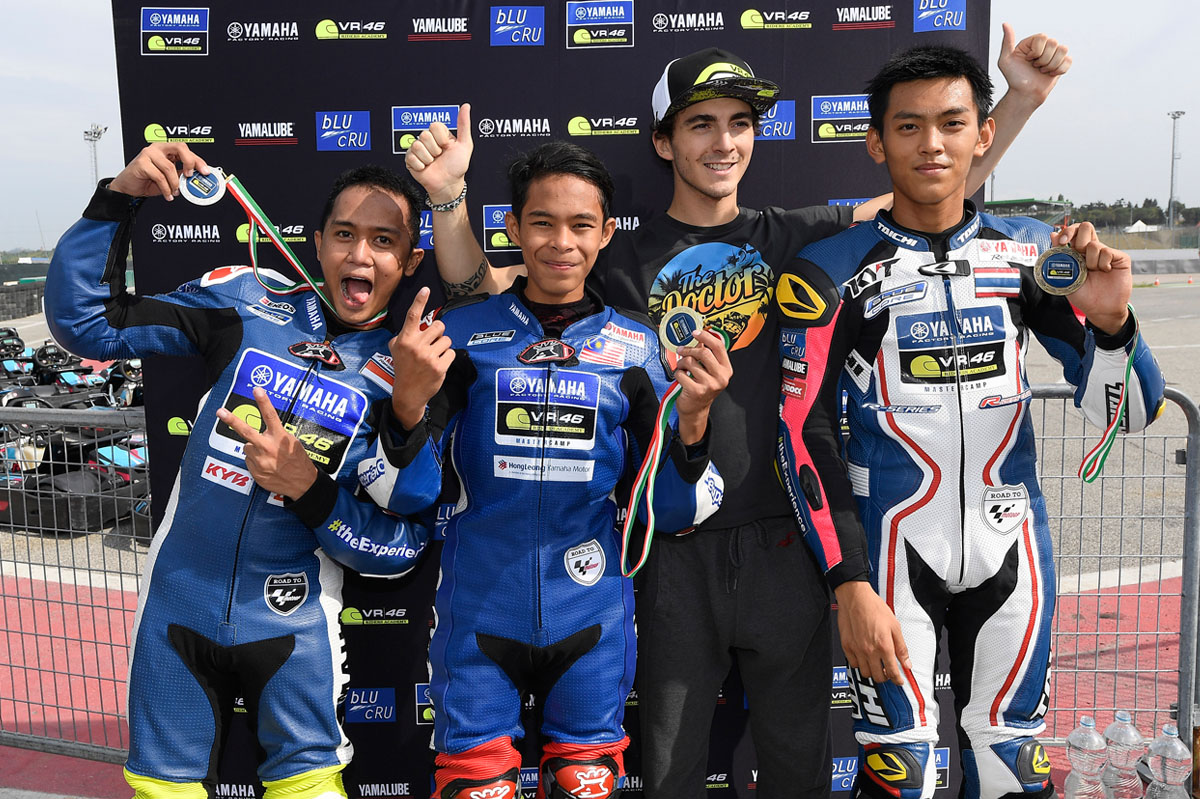 The short race was won by bin Aziz, ahead of Setiawan and Boonlert in second and third place respectively. It was time to say "arrivederci" to Bagnaia, who's work was done for the day. However, the young protégés weren't ready to leave the circuit yet and headed back out in go-karts.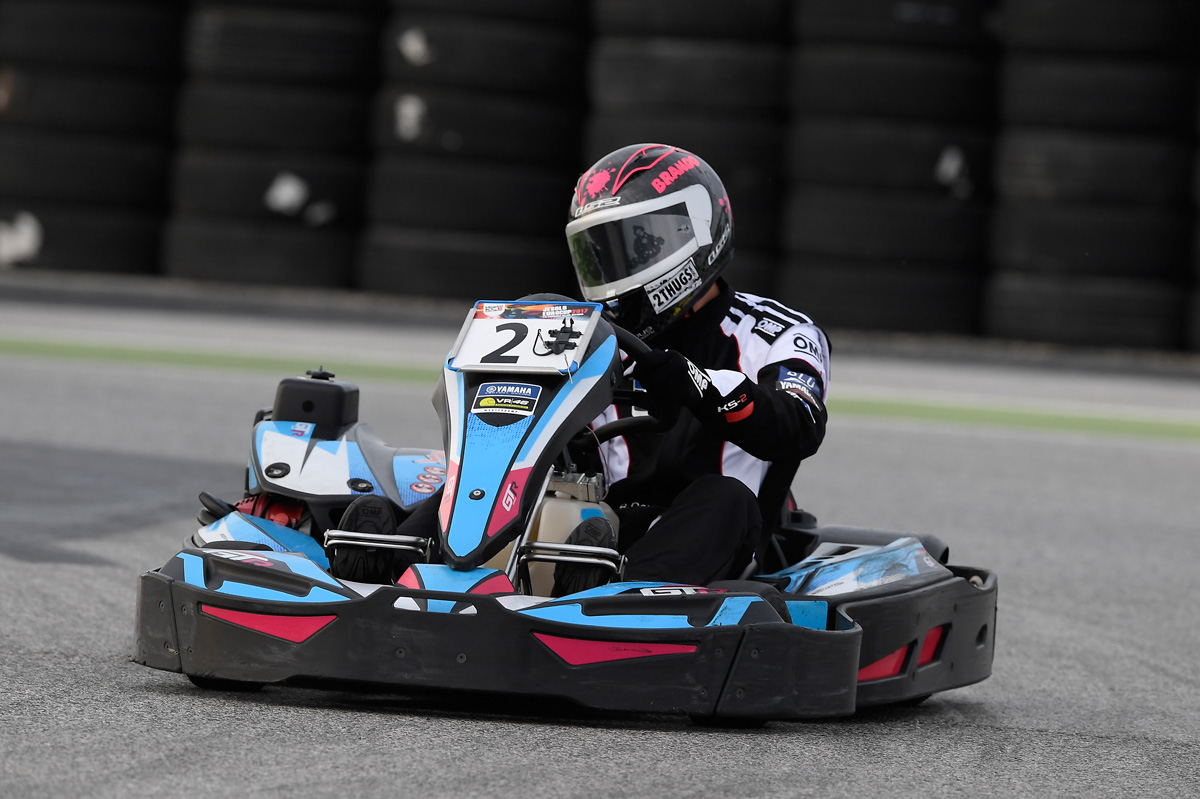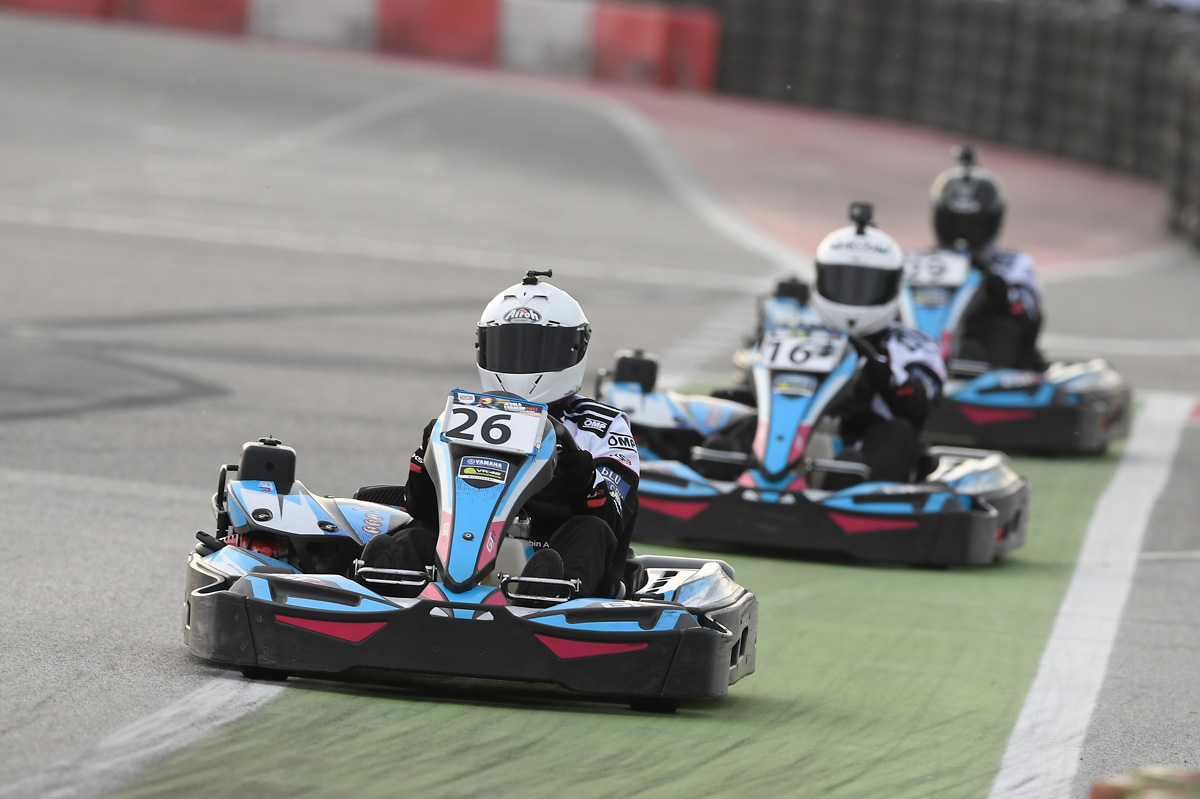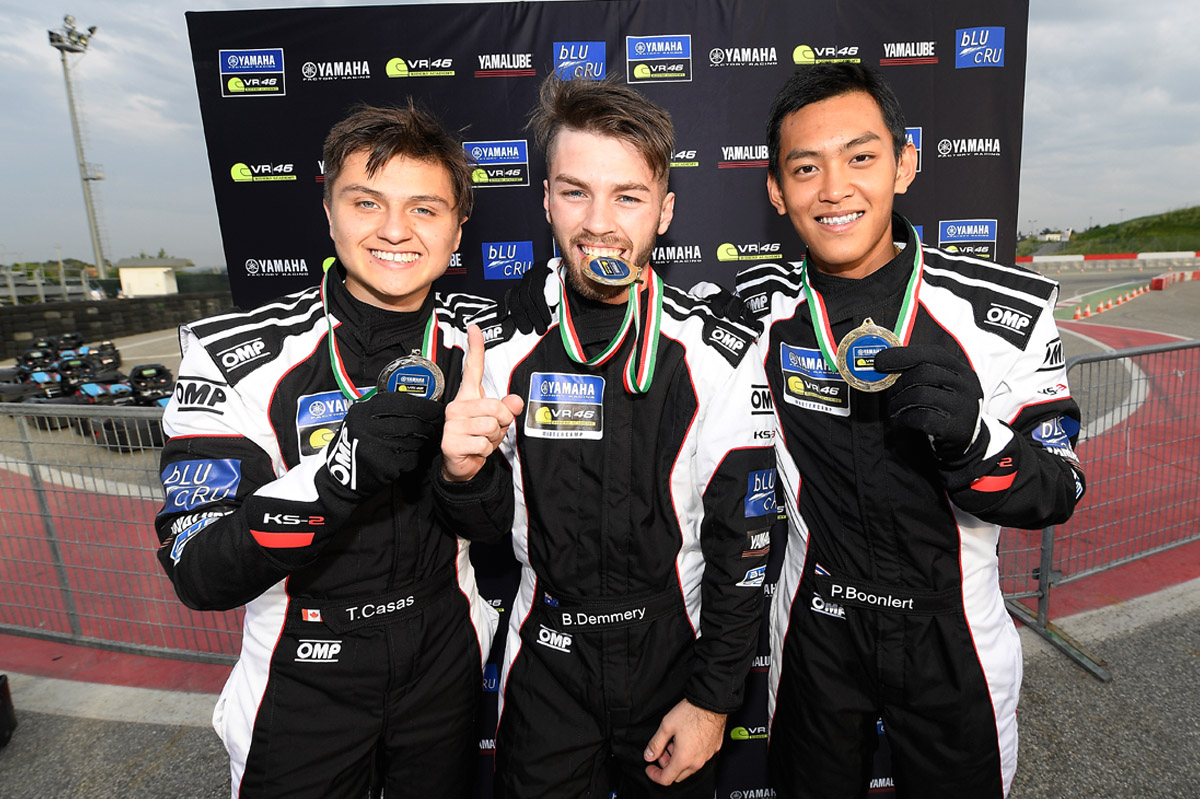 Demmery had previous experience in karting, having worked as a mechanic, which also required doing test drives. He set the standard high for the other riders, but they soon found a good rhythm. The Australian came first in a friendly kart competition, Cases and Boonlert came second and third.
Overall the riders were very happy with the variety of experiences and skills they acquired yesterday, which left them feeling excited for more track action on day three, today.
Comments
Alessio Salucci
"First of all, I want to say that I'm very happy that the third Master Camp is in session. It is always a very exciting five days for us, when new talent joins the VR46 group. We've only seen a small sample of the riders' capabilities at the Motor Ranch and at the Misanino kart track, so it's difficult to understand at what level the riders are exactly, after only two days. That said, I can tell the riders are having a lot of fun whilst picking up new skills. I already saw that a couple of riders are very good and I think it's possible to really bring out their potential over the next few days, because there will be a lot more action to come!"
Anggi Setiawan
"I was very excited yesterday, because everything was completely new to me. It was an action-packed day! We started with Pilates and then moved on to the simulator to head into the MiniGP and karting straight after that. I feel that what I learned yesterday is very important for my future as a racer, because I felt an improvement after applying all those skills. I especially liked the Pilates class, because I felt this is something very helpful, and for sure I will try to do something like this back in Indonesia. I am very grateful to have this opportunity to do things that I thought I would never be able to do."
Brandon Demmery
"Yesterday was very interesting. We went to the gym to try the race simulator and Pilates, which is something I had never done before, so that was a lot of fun and very helpful. It was something very different to what I normally do. In the afternoon we did some laps on mini bikes and in go-karts. The MiniGP was a bit hard for me, because I'm a bit too big for the bike, so I struggled a bit, but the go-karts were good. I won the race and I'm very happy with the day, it was good fun!"
Muhammad Akid bin Aziz
"Like the other students, I was very excited about yesterday's programme because the things we learned were new to us. I enjoyed Pilates and of course the race simulator as well, but to me the best part of the day was the MiniGP. That part I really enjoyed! It was the first time for me to ride on a two-stroke and I came second in the MiniGP race!"
Peerapong Boonlert
"Yesterday was really nice! I really liked the simulator, it's a great way to exercise and I'm sure that it will help me to improve my skills on the motorbike. I also had a good experience at the Misanino circuit and I finished third in the MiniGP, so that motivates me to do my best again today! I want to thank Yamaha Motor Thailand for giving me this opportunity and I feel really excited for day three."
Shota Ite
"I think that Pilates is a very interesting exercise and I would like to continue to practice this, also at home. The race simulator was also very interesting, even though I found it a bit difficult, but it's a very important tool to practise riding and I appreciate this experience a lot. About the mini bikes, I have to admit that I'm a bit disappointed, because I tried to pass Tomas, but unfortunately I lost a lot of time. I did learn that I don't always have to focus on who is riding in front of me. The MiniGP was a good way to learn and I'm very happy. It was my first time trying go-karts and it was a very nice experience. Sadly I didn't get a good start in the race, so I was a bit behind, but I still enjoyed it a lot."
Tomas Casas
"Yesterday was a really fun day. We started in the gym, trying out the race simulator, which was pretty awesome. Migno demonstrated how it works and made it look a lot easier than it actually was, but it was a good experience for us to try the simultor and adjust to it. It's a good training and helps you to get to know tracks and get used to bikes. Afterwards we did some Pilates, which was a nice way to end the morning session, to feel relaxed. We then went to the go-kart track and we tried MiniGP, which is was a great experience for myself, as I had never been on a MiniGP bike before. It was a little strange and it took some time getting used to the position, because the bike is so small. I was a little tight, but once I got the hang of it I was able to go faster as I went. It was a lot of fun and I learned many things. It was good to ride go-karts as well, which as a good way to end the day and now I'm looking forward to going to the Motor Ranch today. Again a big thank you to the VR46 Academy, Valentino Rossi and Yamaha for everything, it's been a great opportunity and a lot of fun so far."