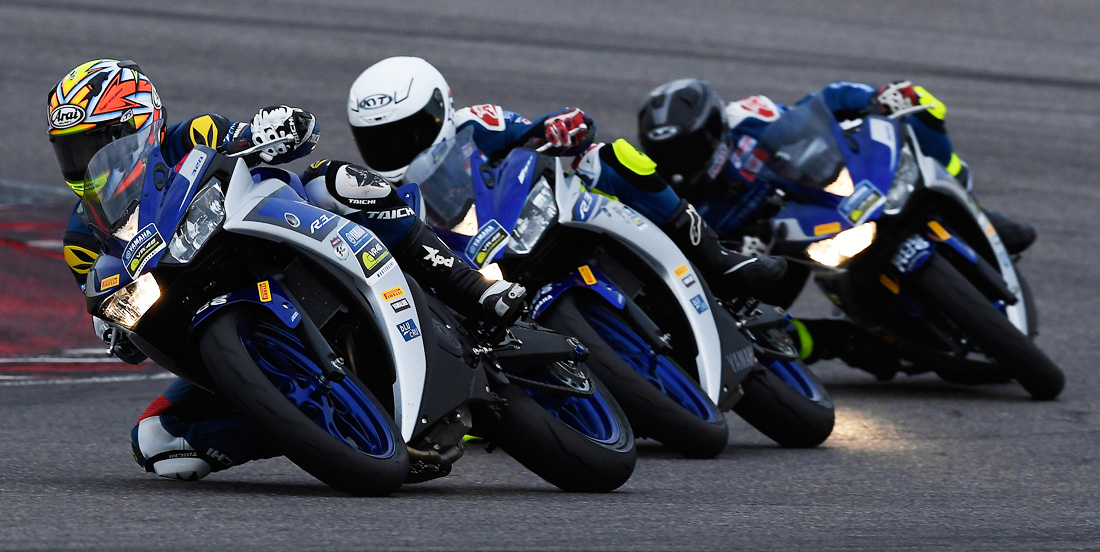 May 13, 2017
The Master Camp Go into overdrive on Day Three
The Yamaha VR46 Master Camp students couldn't believe their luck yesterday. The third day of the programme was a whirlwind of activity that saw them first return to Valentino Rossi's Motor Ranch, to join Sky Racing Team VR46's Technical Director and Crew Chief Pietro Caprara and Yamaha Motor Racing Srl's Lin Jarvis at the VR46 headquarters for two theory lessons, while they finished the day off with a riding session at theMisano World Circuit Marco Simoncelli with the VR46 Riders Academy.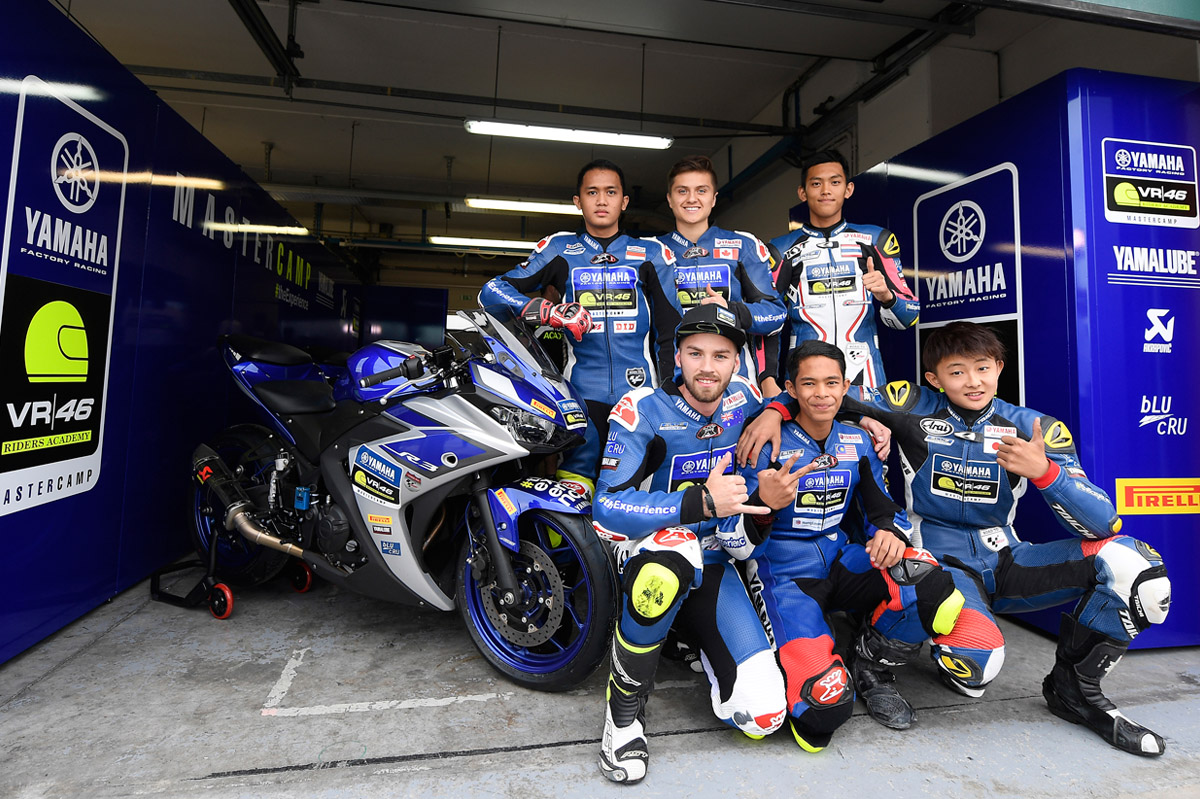 The Yamaha VR46 Master Camp riders needed little time to get up to speed on the third day, as the riders reunited with flat track expert Marco Belli, instead of heading to the gym, to further build on their control of sliding the bike.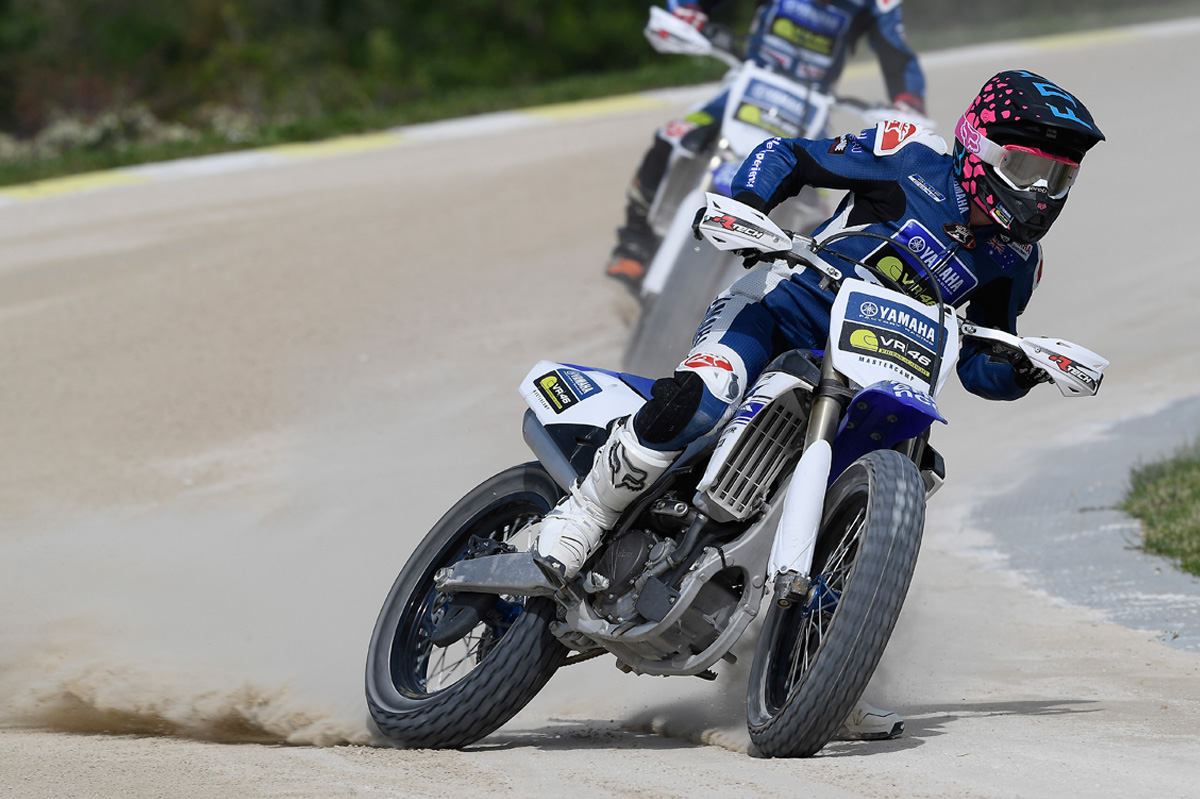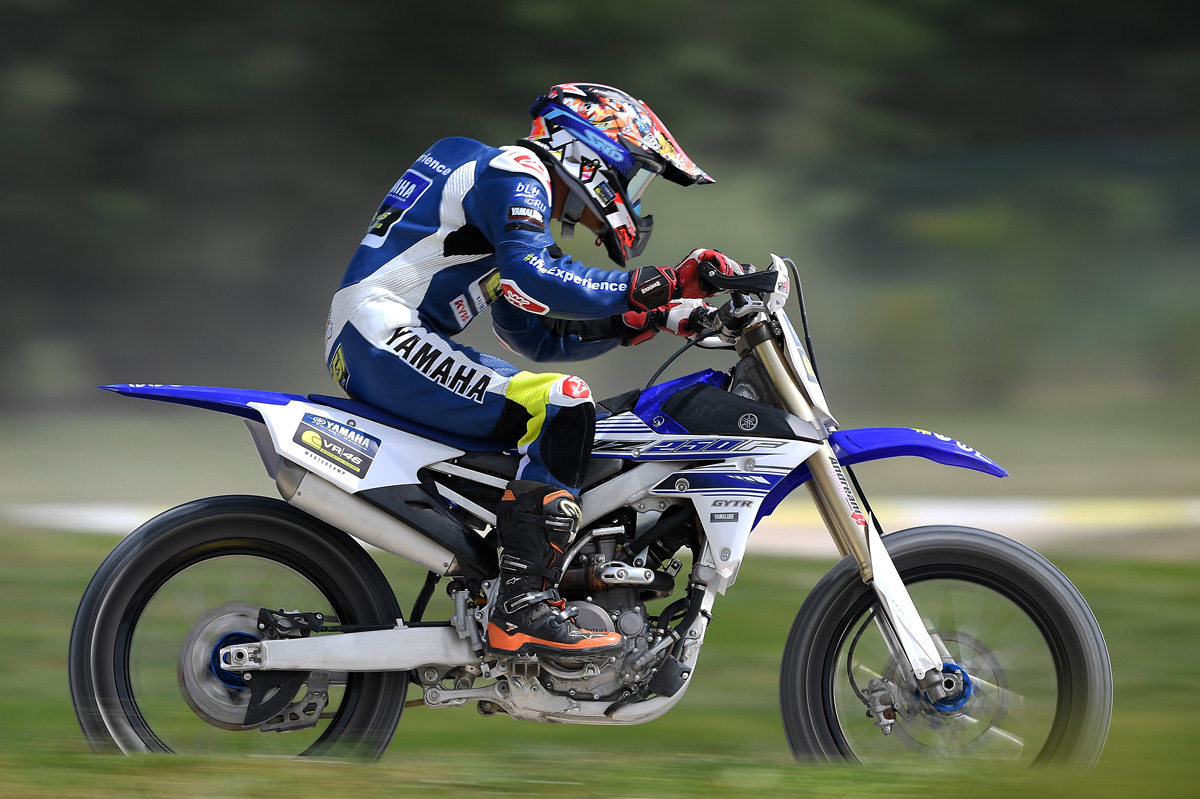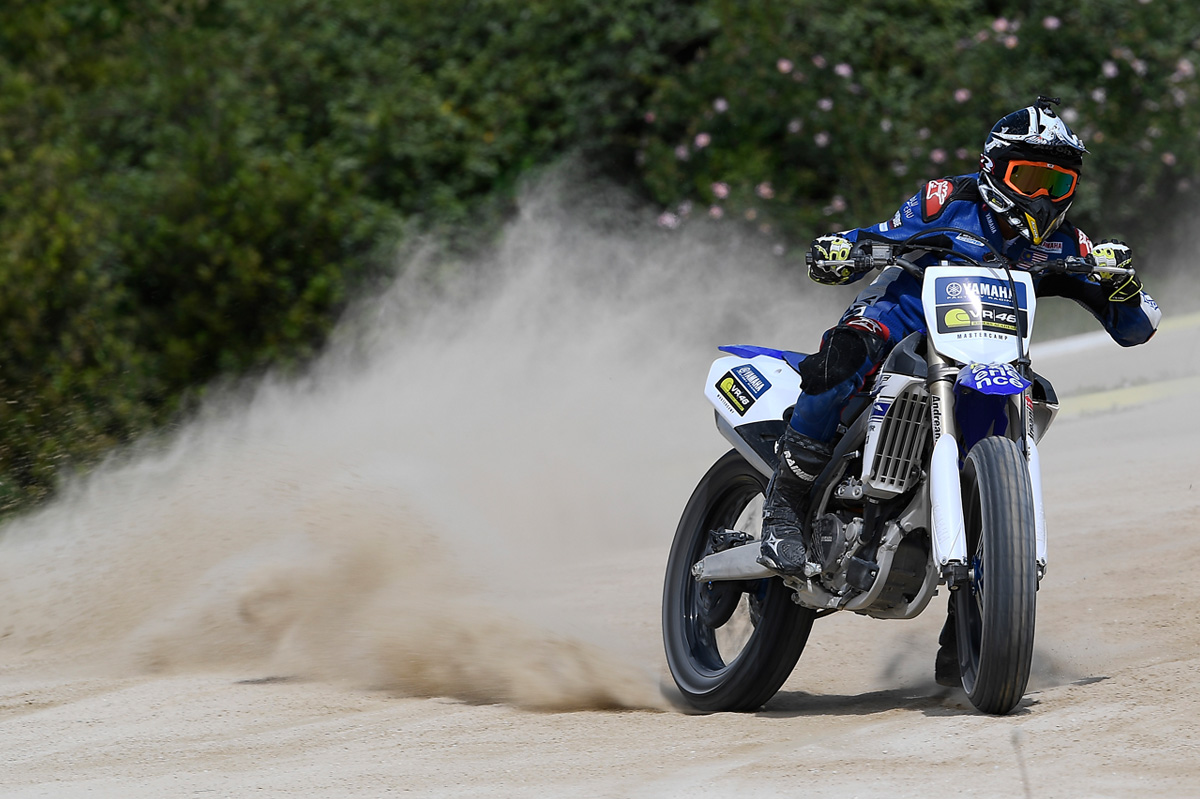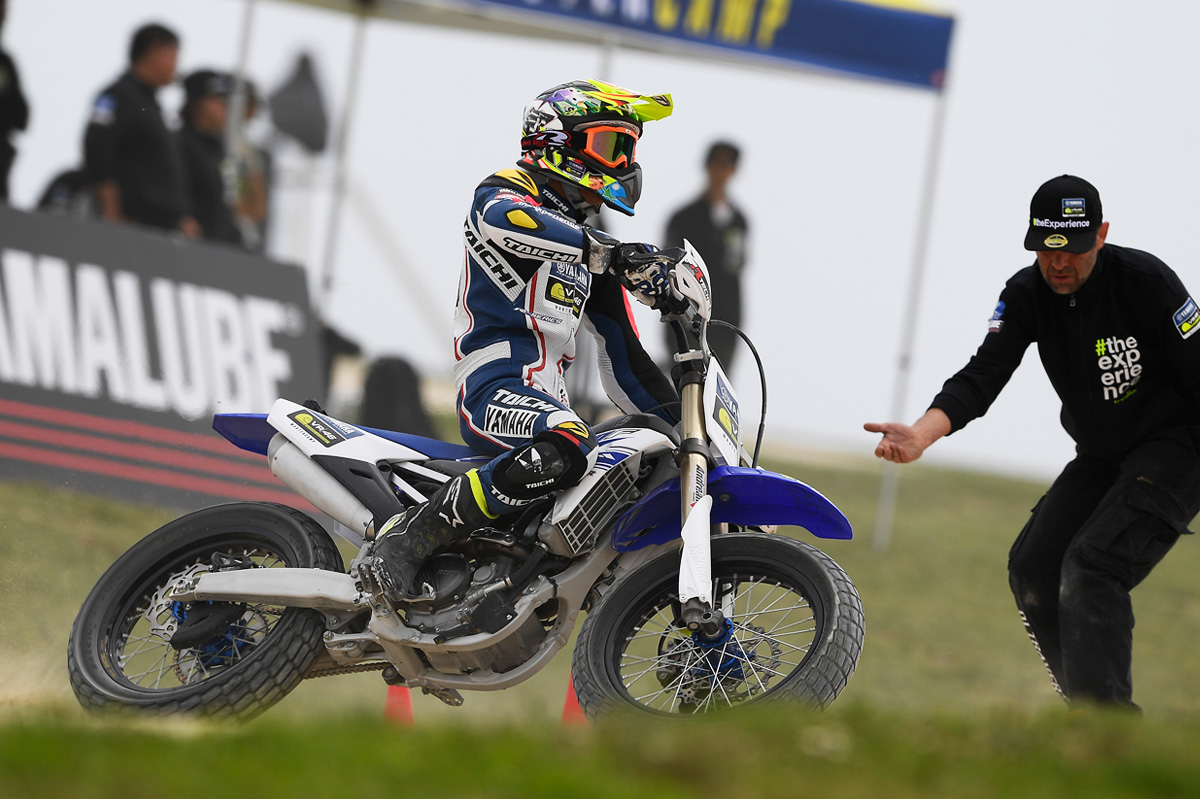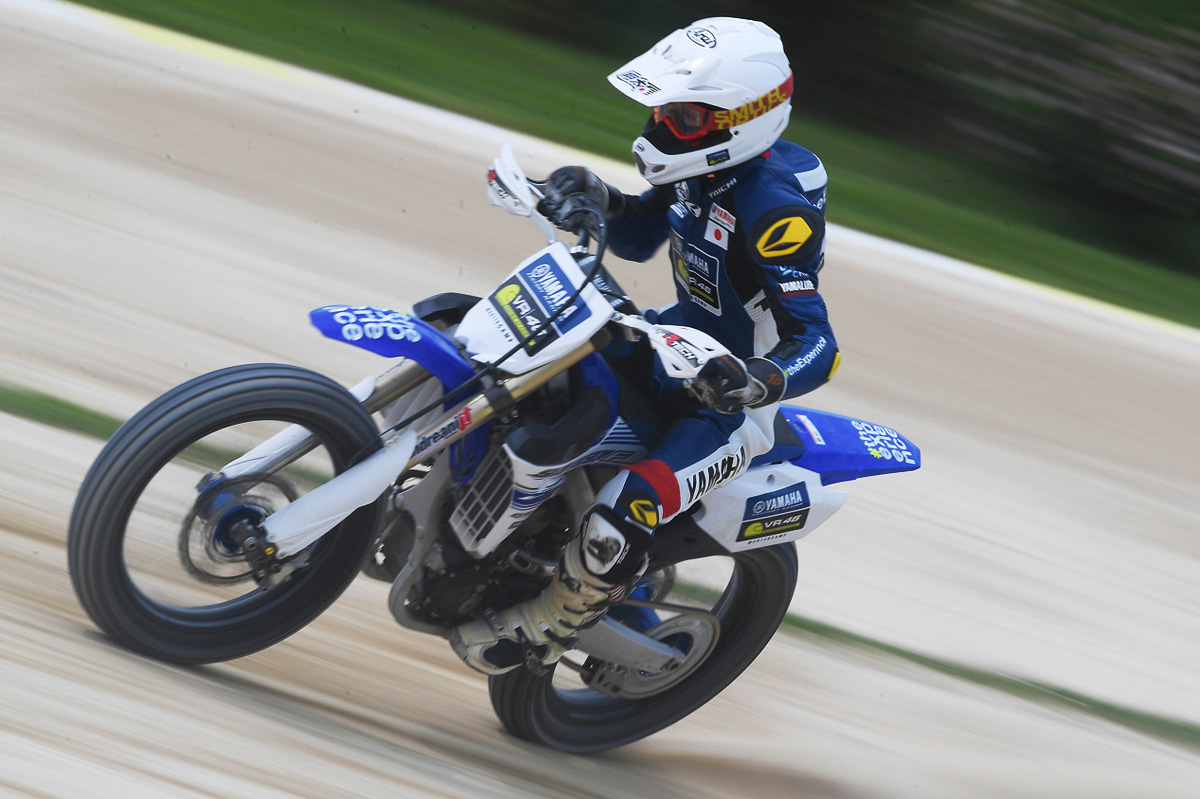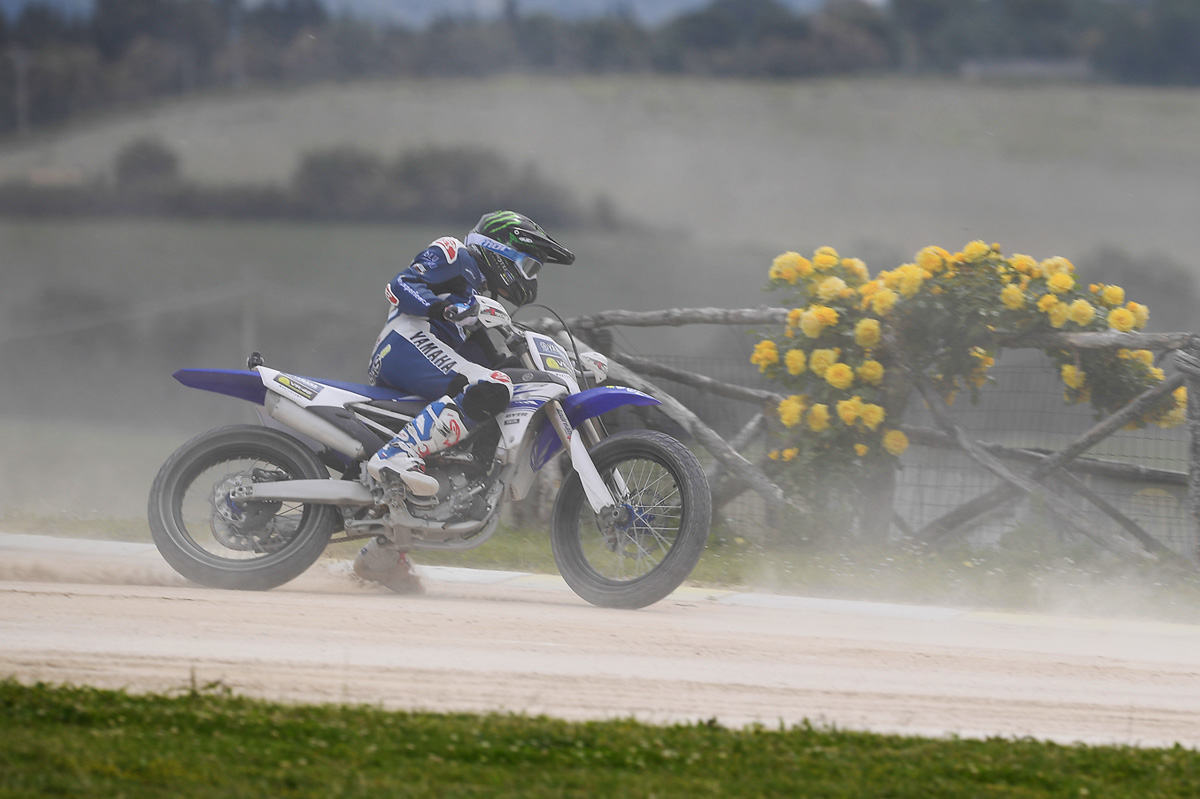 Already familiar with the track the one way round, this time the riders were asked by Belli to ride in the opposite direction. The young talents were quick to pick up the pace after a few practice laps and Belli answered the eager students' questions on how to further improve their riding style and what the sweet spot is for opening the throttle. He then asked them to do various exercises on the oval part of the circuit to perfect their lower body movement on the bike.
After the practice session at the VR46 Motor Ranch, the six students' efforts were rewarded with a lunch of meatballs, rice, mashed potatoes, and ice cream for dessert at the restaurant in Tavullia, but soon the young hopefuls had to hurry to their next star-studded appointment at the VR46 headquarters.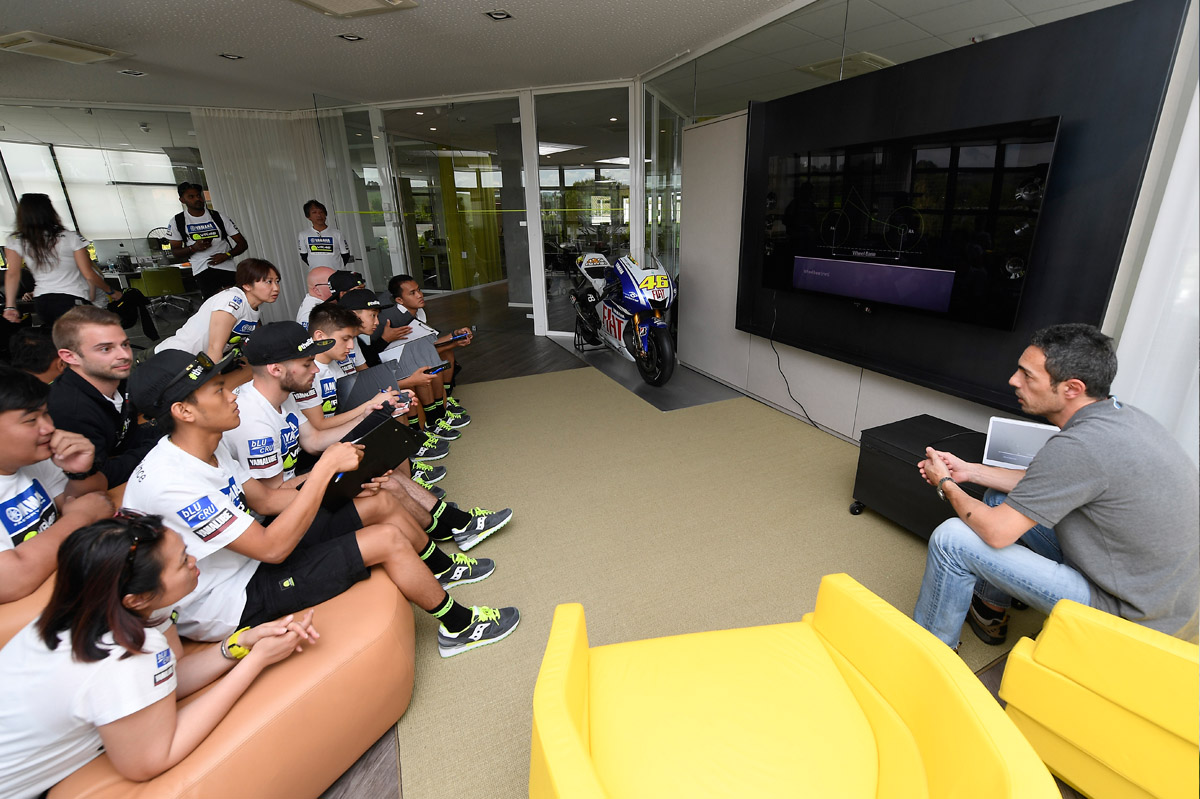 The third Master Camp's theoretical course was divided into two parts: the first being taught by Sky Racing Team VR46's Technical Director and Crew Chief, Pietro Caprara, and the second by Yamaha Motor Racing Srl's Managing Director, Lin Jarvis. The riders, who were really impressed by the modern style of the building and interior, were warmly greeted and guided to Valentino Rossi's office upstairs.
Throughout the class, Caprara used the Doctor's #46 YZR-M1 that was on display, to illustrate how to properly set up a bike for racing in terms of wheelbase, chassis, trail, offset, fork angle and swingarm angle.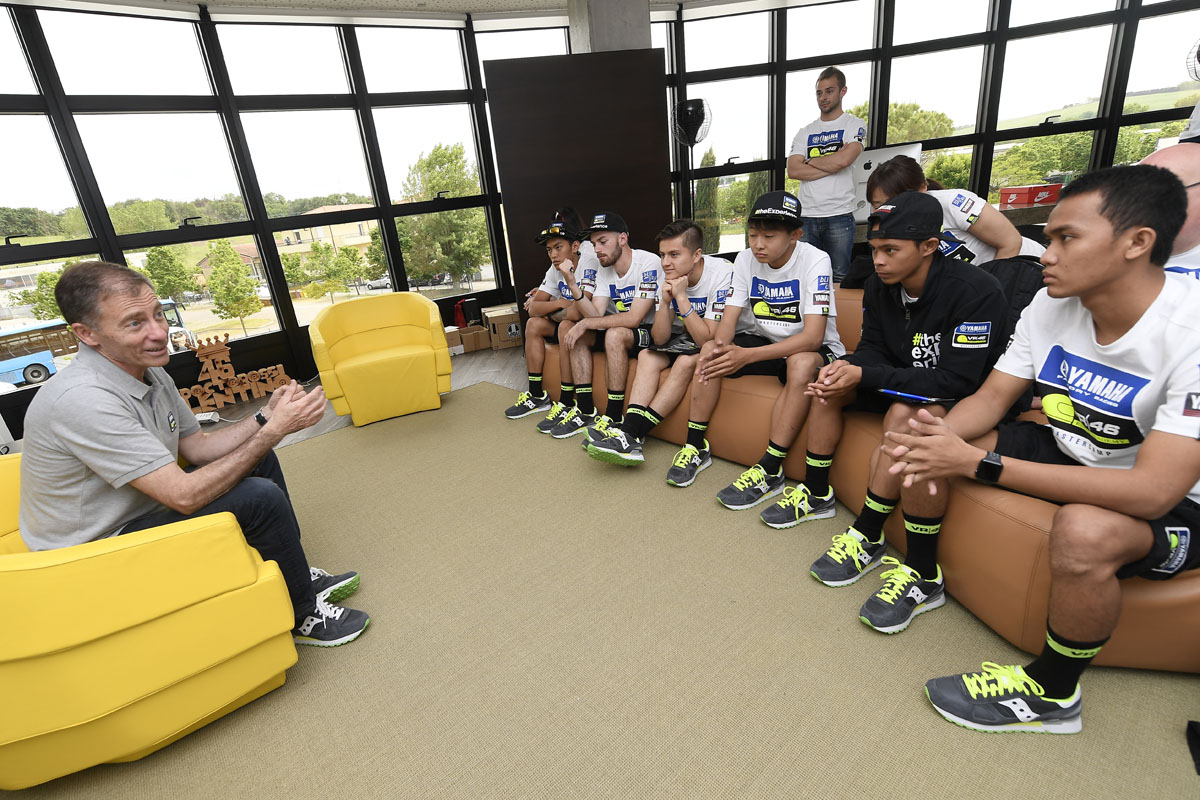 In the second part of the course, Jarvis shared a short 'history lesson' on his career with Yamaha, how Yamaha and Rossi started working together, the ups and down they went through over the years and what learning they took from it. He also told them how other Yamaha riders handle the demand put on them on a World Championship level. After his story, he gave the students a very exclusive opportunity to ask him any questions they wanted, which the Master Camp boys used to their advantage to find out in which areas they should improve their riding and their professionality to make it onto the world stage of motorcycle racing.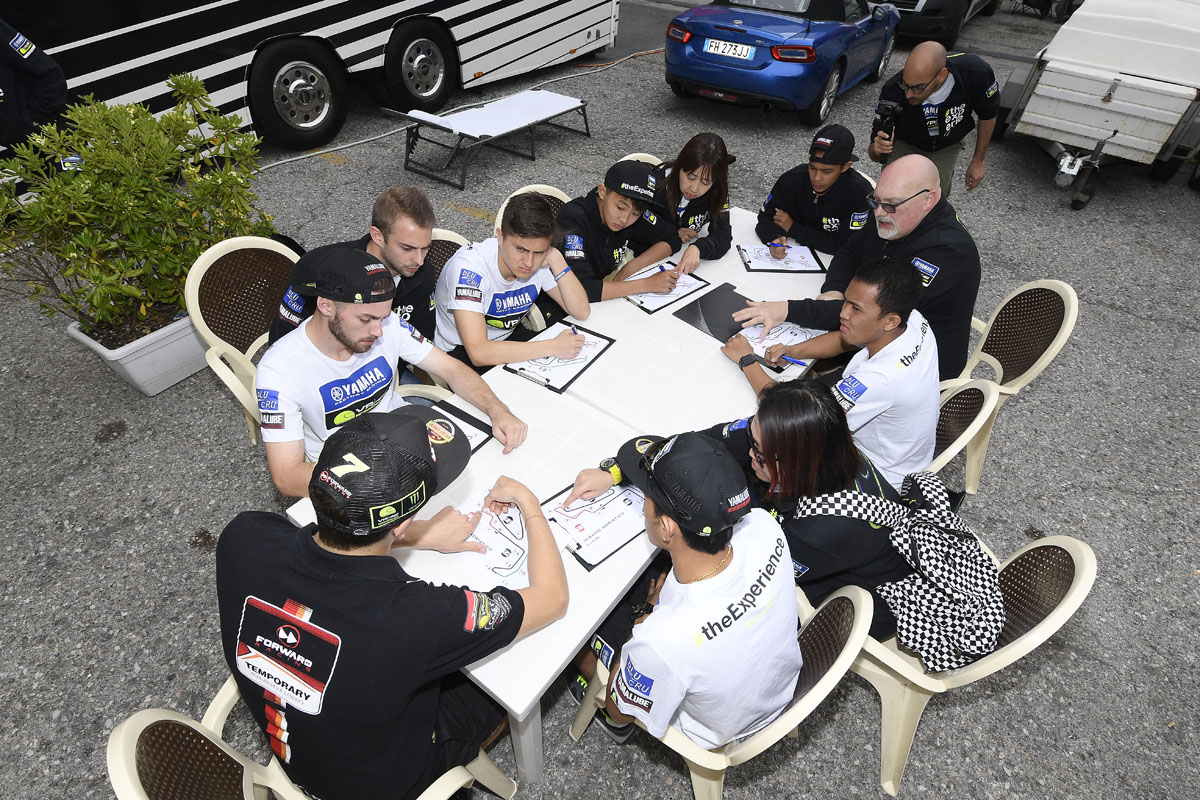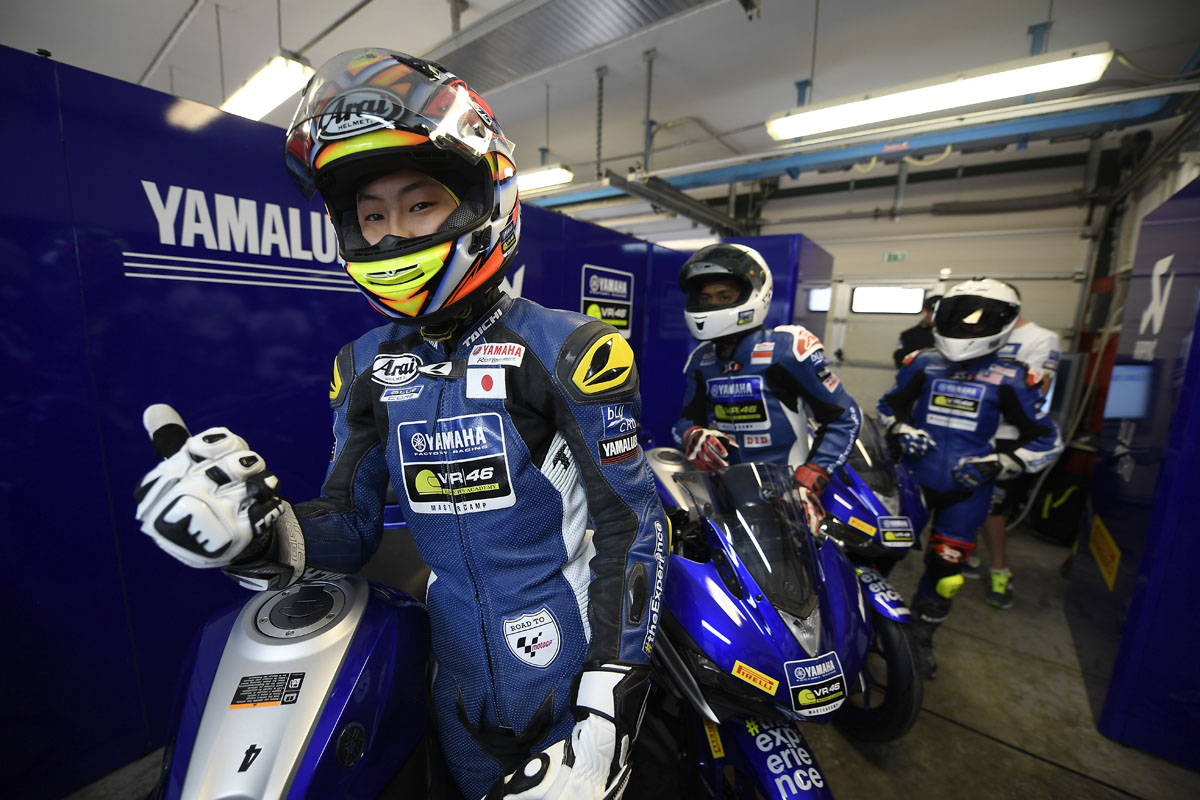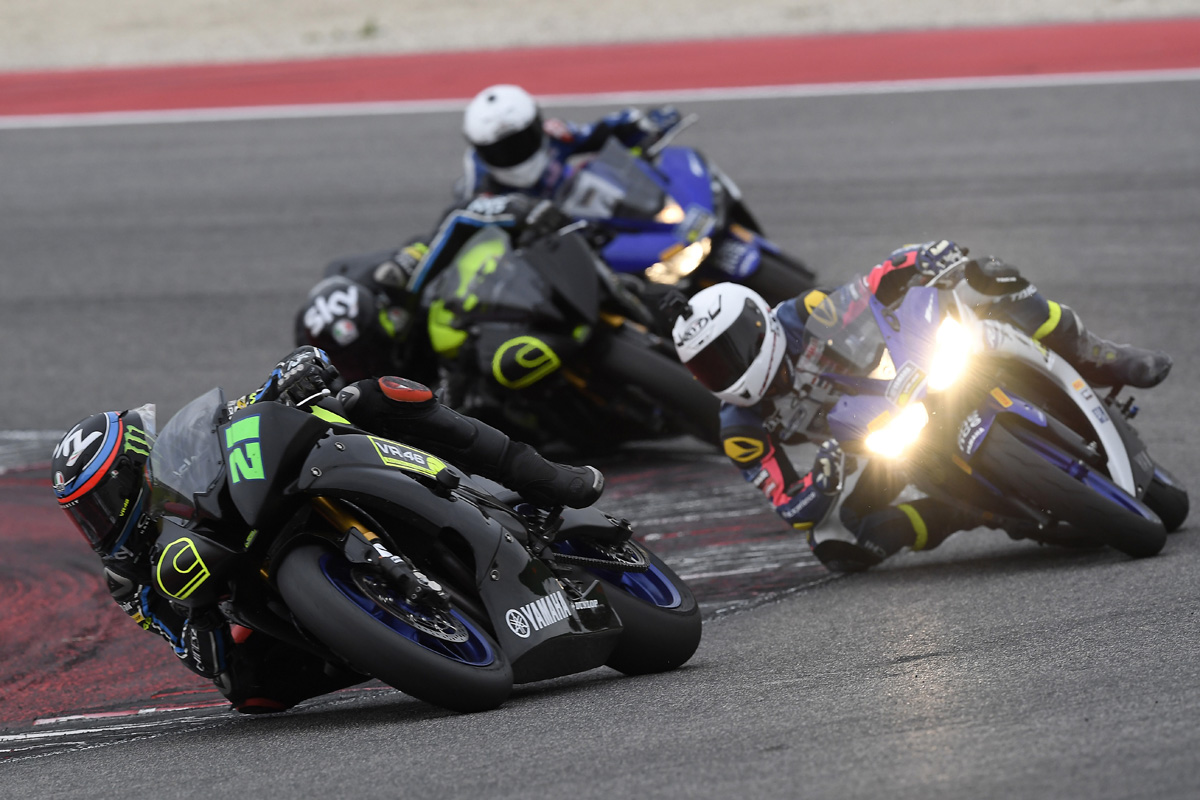 When the theory class was over the riders, had one more stop to make for the day. They hopped into their van and hurried to the Misano World Circuit Marco Simoncelli, where six Pirelli-fitted YZF-R3s were nicely lined-up in the Yamaha VR46 Master Camp pit box. The riders were soon asked to join a rider briefing on riding safety and the track's lay-out with yesterday's instructor Lorenzo Baldassarri, before they could change into their leathers and rev up the R3-engines.
Get to know more about one of Yamaha's most eager students Peerapong Boonlerts in a special rider introduction video.
Comments
Lin Jarvis
"Yesterday I had the opportunity to meet the third edition Master Camp students and tell them a bit more about Yamaha and its riders. After introducing myself and explaining what my role is within Yamaha - first in the UK, then in Europe and in the MotoGP World Championship - and the many riders I've worked with, I wanted to share with them what they can expect on a World Championship level. More than anything, I also wanted to hear their questions and answer them, because they are all very eager to learn. They want to step-up and improve. In our world we see a lot of young riders climb up the ranks and I wanted to help them understand what points are important for a rider to further his career: from rider selection, to training to progressing and achieving personal goals, which echoed their questions. That's what this camp is all about: giving them additional skills and insights, so they can go to the next level. Hopefully I've been able to tell them a few things that stick in their minds and prove to be useful to them."
Anggi Setiawan
"I learned a lot yesterday, especially about how to handle the throttle. I understood later in the day at the Misano Circuit that what I learned in the morning at the Motor Ranch can also be used in road racing. That was something I didn't realise before. I also want to thank Lin Jarvis and Pietro Caprara for taking the time to talk to us. I feel like I've learned a lot yesterday!"
Brandon Demmery
"Yesterday was an exciting day! We got to do a lot more laps at the Motor Ranch and that was a lot of fun. We did a few more drills and learned more about the track from Marco Belli and that was an amazing experience. We went anti-clockwise yesterday and clockwise today. Then we went to Misano late in the afternoon, early evening, and it was interesting to race at that time of day, I had never done that before. It worked out for me, I ended up being the fastest, which I'm really happy about. The day in a whole was really good."
Muhammad Akid bin Aziz
"We first were allowed to train again at the Motor Ranch and, after an interesting meeting with Lin Jarvis and Pietro Caprara at the VR46 office, we went to the track in Misano. I found that I'm greatly improving my riding at the Motor Ranch, as flat track riding was something I had never done before I came here. Every time I try something new that Marco Belli taught us, I improve. It always makes my riding better and this is very useful to me. I was a little sad that I wasn't able to use the full track time at Misano, because I had a crash, but I enjoyed the time that I had on track immensely. It was my first time to ride a world circuit like Misano and riding a YZF-R3 was new for me, so I'm very grateful to have been given this opportunity and for sure I will use it to further my career in racing."
Peerapong Boonlert
"Yesterday we practiced at the Motor Ranch again, which is always very beneficial and also a lot of fun. I think that the practice with Marco Belli helped me to develop myself further as a rider, not just on the flat track, but also on a road circuit. I definitely noticed an improvement when I rode the YZF-R3 and I have two more days to practice with the Master Camp, so I'm really excited. I will try my best to remember everything I've learned so far so I can work on my career back in Thailand."
Shota Ite
"Yesterday's morning session was really nice and I enjoyed it very much, though I still have some difficulties with moving my body weight in the right moment to the right position on the bike. I'm starting to understand it better. The theory lesson was very helpful and I was deeply impressed with the things Lin Jarvis said. It was the first time I heard someone talk so openly and real about the Yamaha riders and not just about technical aspects or things that could have been seen on television. It was great to understand their personalities and also the professional demands put on these athletes. I think I have a better understanding now of how to further my career after asking him my questions. We went to Misano in the afternoon and it was the first time we tried a real road race circuit, which was very interesting, but I wasn't satisfied. I want to improve more, better my techniques and do better. I hope to go back there in the future for a real race."
Tomas Casas
"Yesterday was a very neat day. We had the Motor Ranch in the morning, which went a lot better thanks to Marco Belli's teaching. I gained more confidence through a few more drills and I was getting more comfortable on the bike and started to get up to speed. It was interesting to ride the track in the opposite direction, which was a little tricky but a lot of fun. Later in the afternoon, after lunch, we went to the VR46 headquarters, which was a very special opportunity to check it out inside, to meet Lin Jarvis to talk about rider management and Pietro Caprara to teach us about the bike and the mechanics of it. Afterwards we went to Misano. That was a very special experience for me as I had never been on a world class MotoGP track. I was gaining more confidence and speed with the bike in each session and on the second session I was able to be third fastest, and I think I was third overall as well, I'm very happy about that. I learned a lot on the little bike. Surprisingly they teach you a lot about corner speed, corner entry and exit, which is very important. A lot of the VR46 Riders Academy guys were fast out there, so it was fun to learn from them as well. Overall it was a great day, especially watching them ride out there, they are animals! I'm looking forward to watching the riders at the Motor Ranch today."