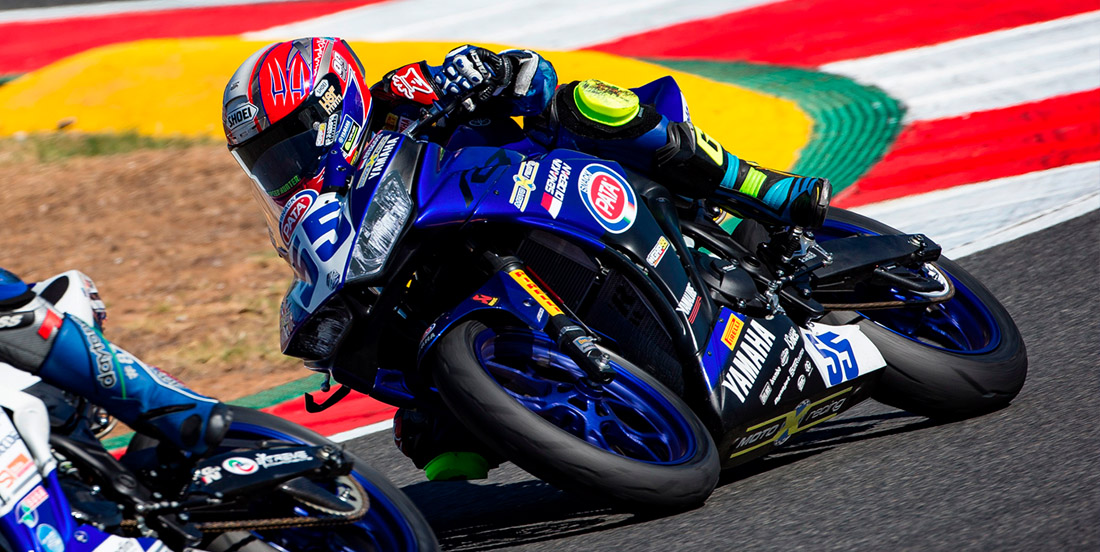 September 20, 2017
Coppola Storms into Championship Lead After Brilliant Portimao Podium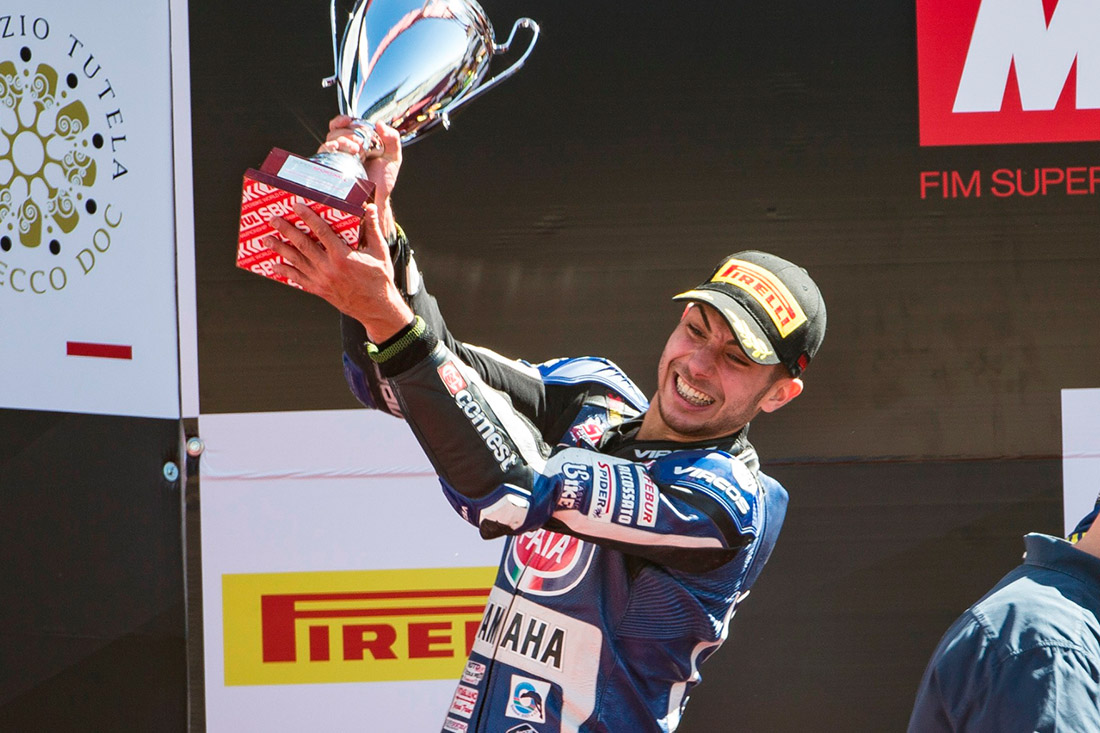 It was another great weekend for the Yamaha R3 bLU cRU Challenge riders in Portimao at round seven of the 2017 FIM Supersport 300 World Championship. Alfonso Coppola (Team SK WorldSSP300) timed it perfectly on the last lap to secure his fifth podium of the season and he now leads the championship by one point. Robert Schotman (GRT Yamaha WorldSSP Team) also recorded another good result as he made it five consecutive top-five finishes in a row, Mykyta Kalinin (Team MotoX Racing) continued his impressive season by crossing the line in 12th, while Enzo De La Vega (GRT Yamaha WorldSSP Team) recorded his best finish of the season in 13th. Renzo Ferreira (Team Kallio Race System) showed good progress to finish the race in 31st, with Kimi Patova (Team Kallio Race System) battling hard to 33rd. Indonesian wildcard Galang Hendra Pratama (Team MotoX Racing) had an amazing weekend, showing everyone his potential but was, unfortunately, forced to retire from the race after an electrical issue with his bike.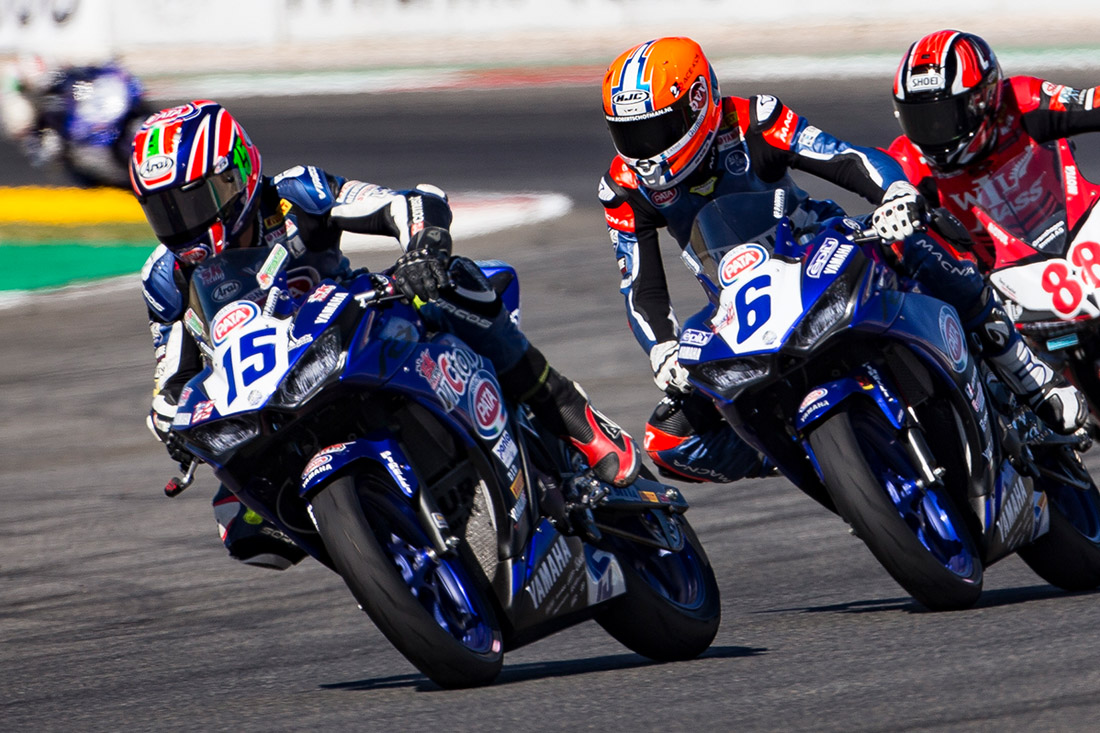 Coppola arrived in Portimao third in the championship standings, 6 points behind the leader. Unusually for the 19-year-old, he did not have the best of Fridays, finishing in 12th on the combined timesheets. A setup change for SP1 saw him make a breakthrough and finish on top of the session, before going on to claim his third pole position of the season in SP2. After a tricky start during the race, he recovered superbly and was involved in a breathtaking battle between five riders for the race win. On the final lap, he was fifth heading into the final corner but timed his dash to the line almost to perfection to claim second, just missing out on the race win by 0.053s. It was Coppola's fifth podium of the season and saw him leapfrog his rivals into top spot in the championship with 102 points. He now has a one-point lead over second-placed Marc Garcia with two races left.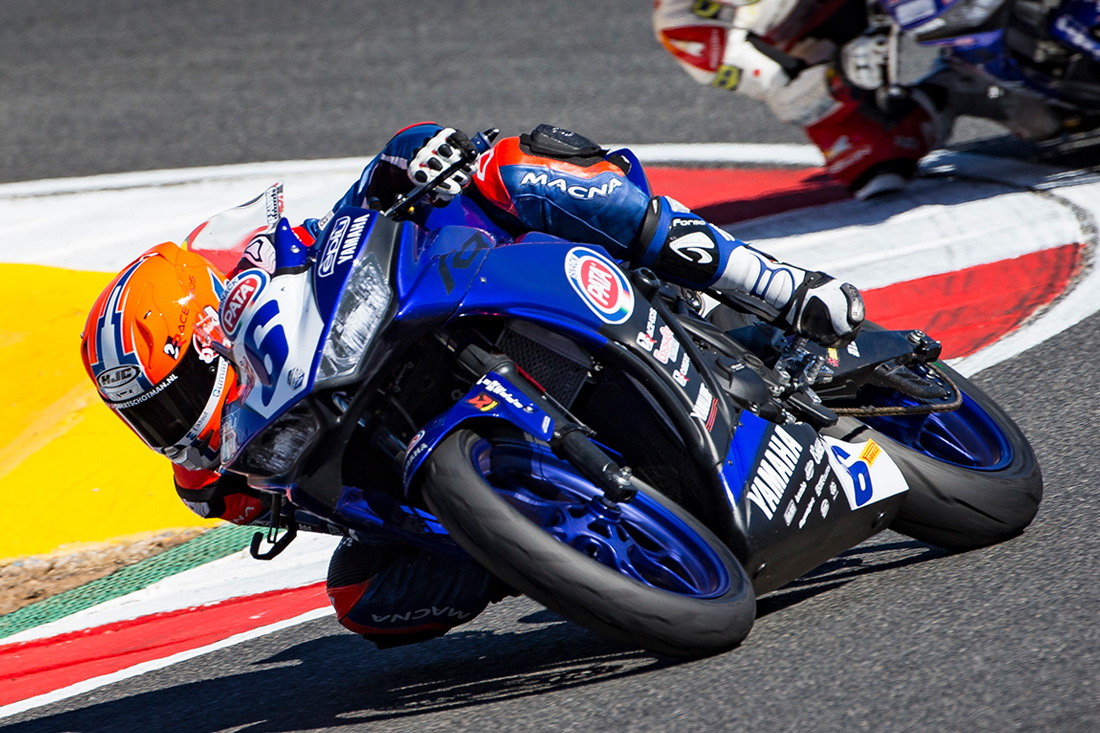 18-year-old Schotman had looked quick all weekend and went on to qualify at the front of the second row for Sunday's race. When the lights went out he battled with the leading group for the opening laps, but a change in track conditions meant he suffered down the long straights due to the lack of headwind, because he was hitting the rev limiter. Undeterred he fought valiantly to cross the line in ninth and record his fifth top-ten finish in a row. He is now second in the challenge and ninth overall in the championship standings with 52 points.
It was an unlucky end to a scintillating weekend for Indonesian wildcard rider Galang Hendra Pratama. The 18-year-old who rides in the Asia Road Racing Championship in the AP250 class was making his European racing debut and showed his potential by finishing Friday's practice in sixth on the combined timesheets, before qualifying in tenth. Confident he could fight in the top six during the race, he, unfortunately, suffered from an electronic issue that meant he had to retire on lap 8.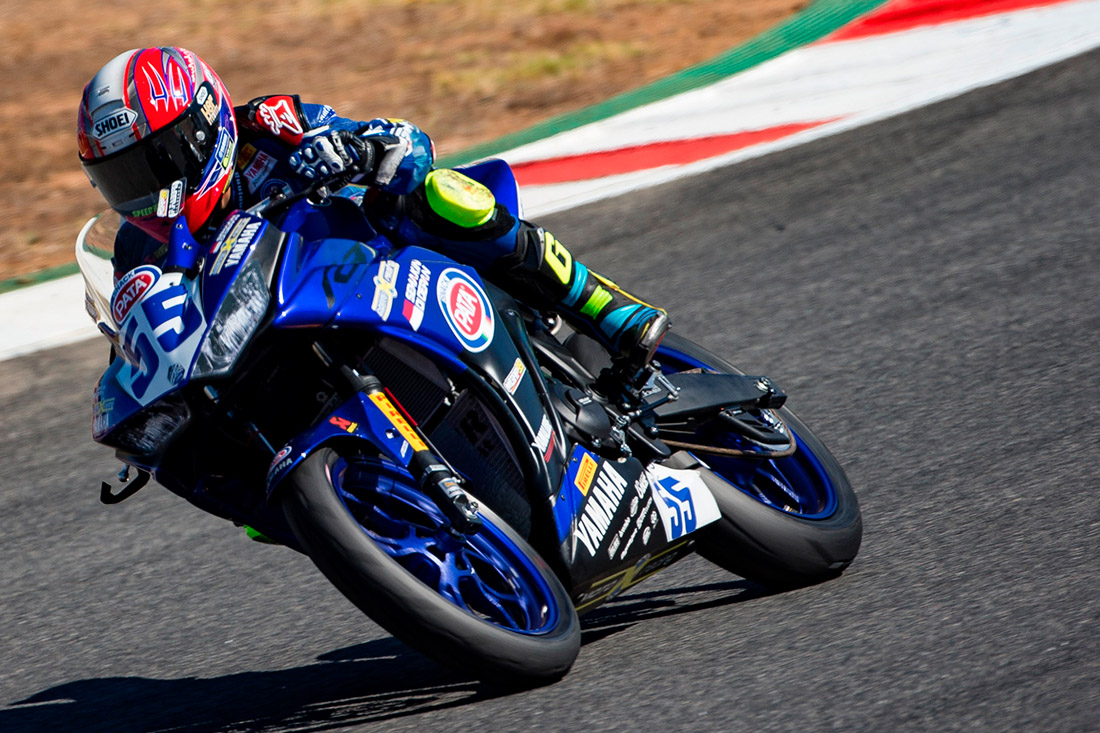 Comments
Alfonso Coppola
"In this moment, I am very happy! This weekend I did not have the best free practice, but I studied the data with my team and we found a good setup for SP1, then we made another step in SP2 and it worked perfectly to get us pole position. We made another change for the race, but it wasn't as good. During the race, I had a tricky start and that made it a lot harder for me. It was tough to try and close the gap to the leading group, but I got my head down and on the last lap I decided to try and follow Ana Carrasco out of the last corner as she was so quick and I managed to pass Garcia before the line, which means I now lead the championship! I am already looking forward to the next round at Magny-Cours, and hopefully, I can win the title at the final round in Jerez! I want to thank my team and Yamaha for all their hard work this weekend, plus I also want to say thanks to the fans! I will work hard in the gym training, and get myself as ready for Magny-Cours!"
Galang Hendra Pratama
"This weekend has been amazing! On Friday I was mostly still learning the limit of the track and the Yamaha R3, which is different to the R25 I ride in Indonesia, so I was happy to finish in the top six. SP2 was a great experience for me, although it was a little intense as I am used to having longer than 15 minutes to get up to speed, but I was happy to qualify in tenth. I felt confident for the race and had a good start, but after the first lap, I started to have a technical issue with my bike. I carried on until lap 8, but then I had to come into the pits and retire. I am very disappointed. We still do not know what caused the issue, so we will study the data to find out what caused it, but it was an electrical issue. This weekend has been an incredible learning experience and I am so happy to have had this chance to join this championship, and I want to say thank you to Yamaha Indonesia, Yamaha Motor Europe and Yamaha Motor Corporation for this incredible opportunity, plus to all the fans that supported me!"
Wahyu Rusmayady - Yamaha Motor Indonesia
"We did some testing before the weekend and we arrived here confident that we would do well. He was very quick on Friday and then a bit unlucky in qualifying, although tenth on the grid is still very good. During the race, he suffered from a problem with his electronics, so, unfortunately, he had to retire. While we are disappointed he did not get to ride at his potential in the race, I think Galang has shown people how high the standard of racing is in Asia, it is not far off the level of this championship. It has been a great experience for Galang, the atmosphere of the championship is amazing, and he has learnt a lot this weekend about what it is like to race in Europe. Thanks to everyone that supported us, Yamaha Indonesia, Yamaha Europe, Yamaha Motor Corporation, and also the fans. Without all of their support, we could never have come here to race! Now our focus returns to the next race in the AARC AP250 Championship in India."