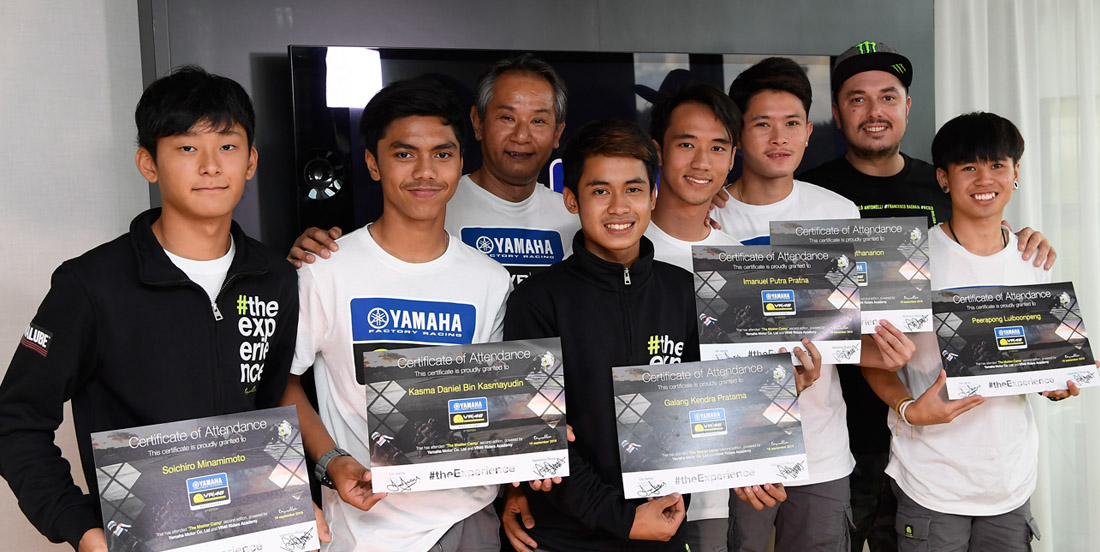 September 19, 2016
Second YAMAHA VR46 MASTER CAMP CLoses with Grand Celebration
Second YAMAHA VR46 MASTER CAMP CLoses with Grand Celebration
Today the second Yamaha VR46 Master Camp students spent the fifth and final day together with VR46 Riders Academy's Francesco Bagnaia, Andrea Migno and Marco Bezzecchi to give a fitting end to the great training experience they've had over the last week. The Master Camp riders pushed hard at their last morning training session at Valentino Rossi's Motor Ranch, before ending the day at the VR46 Headquarters in Tavullia with a graduation ceremony and many presents.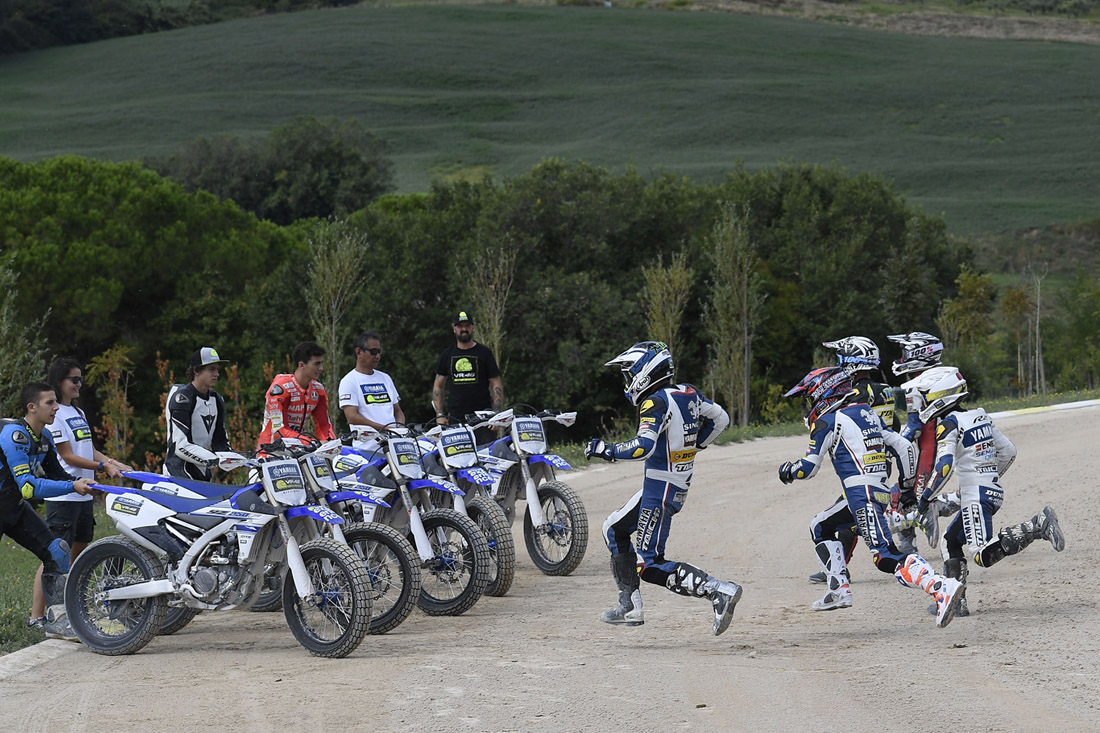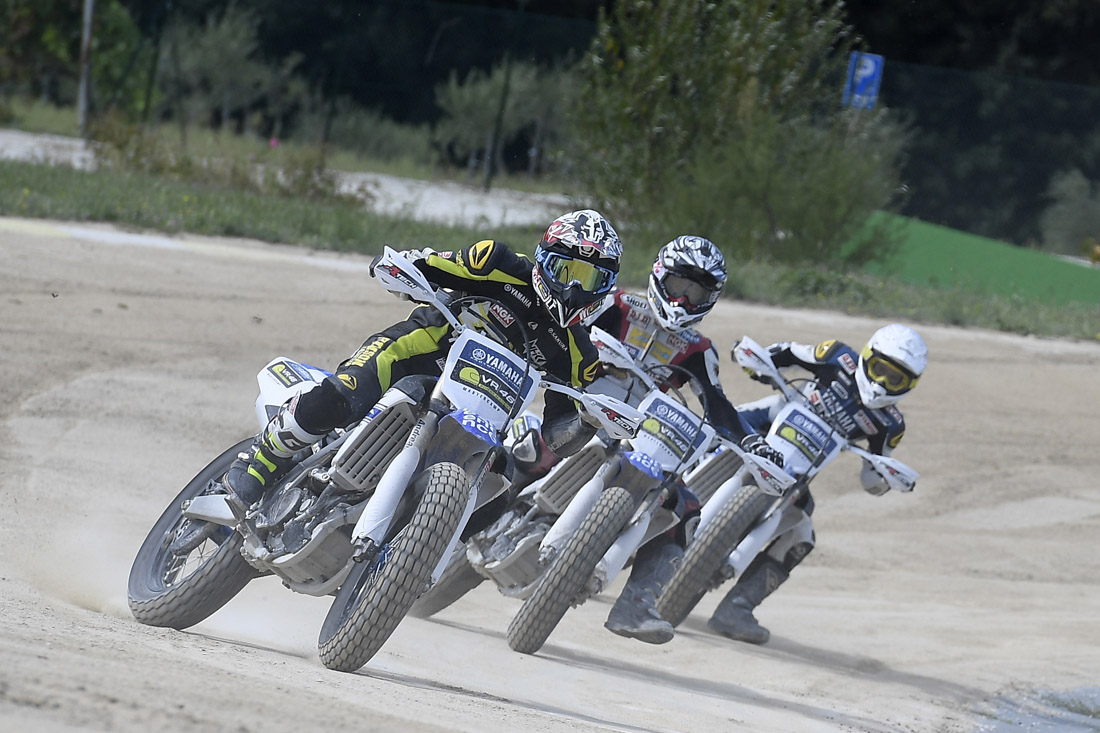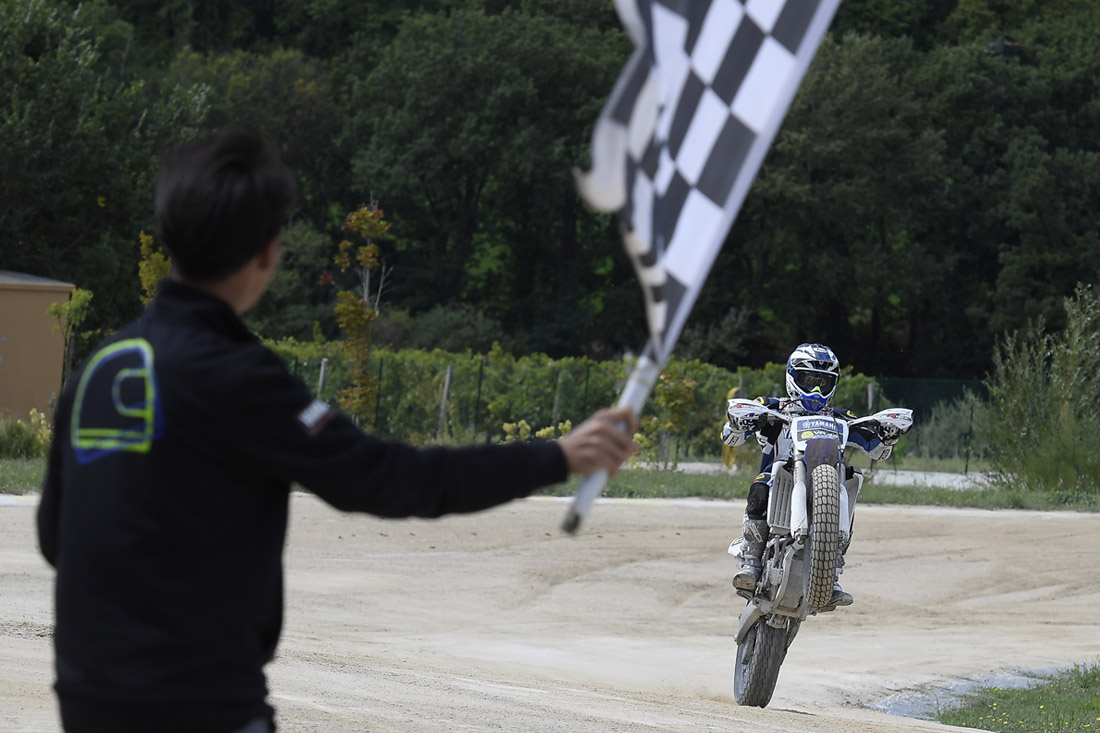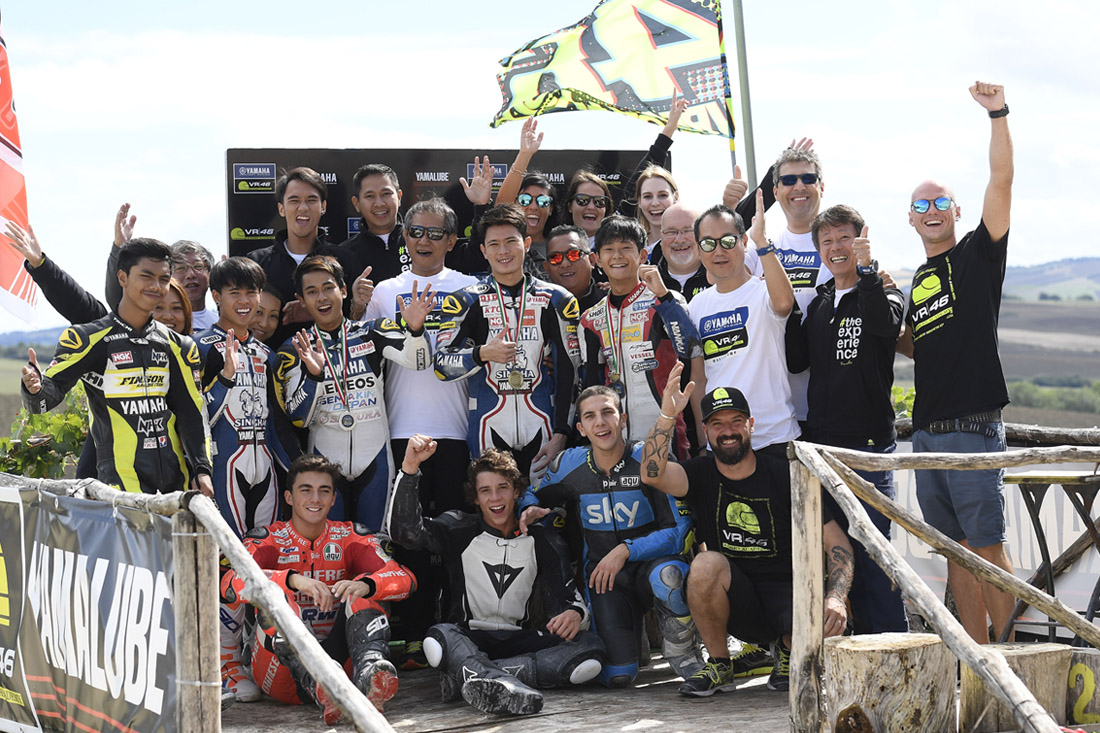 2The Yamaha VR46 Master Camp riders were eager to head out on the Motor Ranch today with VR46 Riders Academy's Francesco Bagnaia, Andrea Migno and Marco Bezzecchi. Once they arrived at the flat track they quickly changed into their leathers and started a warm-up session before a short race. To make the sprint even more exciting it was decided to begin with a Le Mans-style running start. The students ran across the track and hopped onto their YZ250F machine to dash off. The last race of the second edition of the Master Camp was ultimately won by Apiwat Wongthananon, ahead of Galang Hendra Pratama in second place and Soichiro Minamimoto.
The two and half hours of riding made the riders hungry, so they headed to Tavullia and their usual restaurant for a wholesome meal shared with Bagnaia, Migno and Bezzecchi, before making their way to the VR46 Headquarters.
After a quick guided tour through the building, past the latest products and the VR46 Riders Academy bikes, the riders arrived in Valentino Rossi's office upstairs (the place were the Yamaha VR46 Master Camp project was created) to view a summary video of the last five days, with a special feature of Yamaha Motor Racing Srl President Masahiko Nakajima and the Doctor racing together in a Yamaha Side-By-Side YXZ1000R model over the Motor Ranch.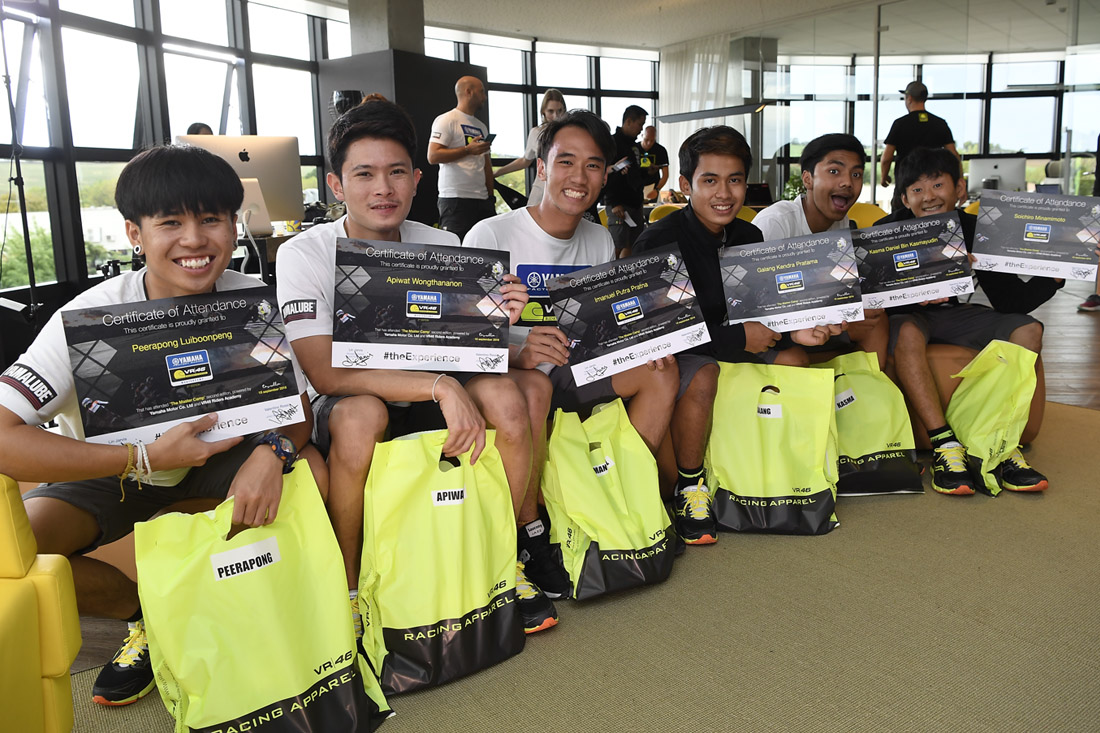 It was then time for the 'graduation' ceremony, where the riders were handed their official Yamaha VR46 Master Camp certificate of attendance and some extra gifts from VR46.
The Yamaha VR46 Master Camp team want to sincerely thank Yamaha, its partners, Valentino Rossi, VR46, the VR46 Riders Academy and its riders for their contribution to this project, which gave the Master Camp students the opportunity to take the next step in their racing endeavours.
Comments
Apiwat Wongthananon
"For me it was the first time to come here and experience the Yamaha VR46 Master Camp. I felt I was increasing my level and doing better day by day. I will go back to Thailand to develop myself there and benefit from everything I learned. I want to thank Yamaha and VR46 for this incredible opportunity of coming here. Today I felt that I was able to take the next step and I want to thank everyone who helped me do so."
Peerapong Loiboonpeng
"I felt so proud to be back here in Italy from the very first day until the last day of the second Yamaha VR46 Master Camp, which had a higher difficulty level compared to the first edition. I will use all the things I learned during both Master Camps in the upcoming Asian races to help my career. It was a very nice opportunity to be here, even if the classes were hard at times. I will try to develop myself even more in the future to increase my capacity and better myself. I want to thank Yamaha and VR46 who gave me this amazing opportunity."
Galang Hendra Pratama
"It's good to be here and I think it's been great for developing my career. I have learned a lot over the last five days and I've been very happy throughout the experience. I think of the Yamaha VR46 Master Camp as a stepping stone for my career. I especially enjoyed riding on the flat track and the MiniGP and karting. I learned new skills and this week has had great value."
Immanuel Putra Pratna
"During the second Yamaha VR46 Master Camp I learned from the VR46 Academy riders when riding on the track with them and I tried to do the same as them, trying out different lines than before and they turned out to be faster. I learned the difference in lines between a 125cc and a 250cc bike and I also picked up great tips from the minibike session. It's been a great experience and I'm very proud to have been able to learn from the VR46 Academy riders thanks to Yamaha and VR46. The second Yamaha VR46 Master Camp has been of a higher level in terms of the skills we learned, and the new training methods, such as the karts, are very interesting to me."
Soichiro Minamimoto
"This second Yamaha VR46 Master Camp was a beautiful experience, I'm happy to have joined it again. Over the last five days I have learned many skills. I wanted to show my abilities but I was unable to ride to a level that satisfied me, but I was still able to learn a lot. I aim to show this at the next race back in Japan by getting a good result. I want to say "thank very much" to Yamaha and VR46 for making this programme possible and I also want to thank the VR46 Academy riders for their helpfulness. I have really enjoyed this experience."
Kasma Daniel Bin Kasmayudin
"I am so happy to have gotten the opportunity to come here. It's been an honour to have been chosen for the second Master Camp and I have learned many new things. The race simulator was very interesting and also karting was a new experience for me. I gained a lot of speed when we went karting and also worked on my stamina at the flat track. This whole experience has been really cool and will be valuable for the rest for my career. I'm also very happy that I had the opportunity to become friends with the VR46 Academy riders, this makes me very proud."
Masahiko Nakajima
YAMAHA MOTOR RACING, PRESIDENT
"I'm very proud of what has been achieved overall during the second Yamaha VR46 Master Camp. The students showed they already had a good level of knowledge and skills thanks to the first edition of the Master Camp and they were able to build on this over the last five days. They have been given the unique opportunity to experience new training techniques and learn from the best in the business. The Master Camp riders have done a great job and picked up the information quickly. I am very pleased with the progress I've seen them make over the time they spent here and I was also impressed by their never failing enthusiasm and strong mentality. The bond between Yamaha and VR46 and the VR46 Riders Academy has strengthened thanks to this professional programme that not only helps young talent in their racing endeavours but also promotes the Kando* feeling. We look forward to many more similar events in the future."