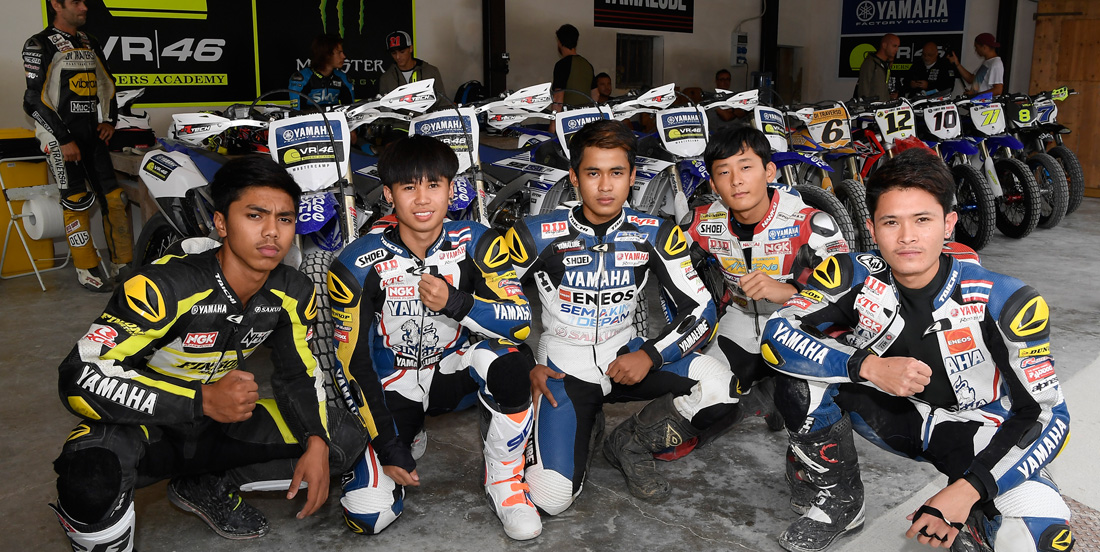 September 17, 2016
Master Camp Riders Gain Expert Knowledge and Wet Racing Skills
The Yamaha VR46 Master Camp students took a big step in terms of technical knowledge and wet weather riding on the third day of the programme. With the help of Sky Racing Team VR46's Technical Director and Crew Chief Pietro Caprara and Yamaha Motor Racing Srl's President Masahiko Nakajima-san the students covered a lot of ground in the morning when they learned about the various components involved in setting up a race bike. In the afternoon the riders returned to Valentino Rossi's Motor Ranch to join the VR46 Riders Academy for a training session and wrapped up the day with a wet race.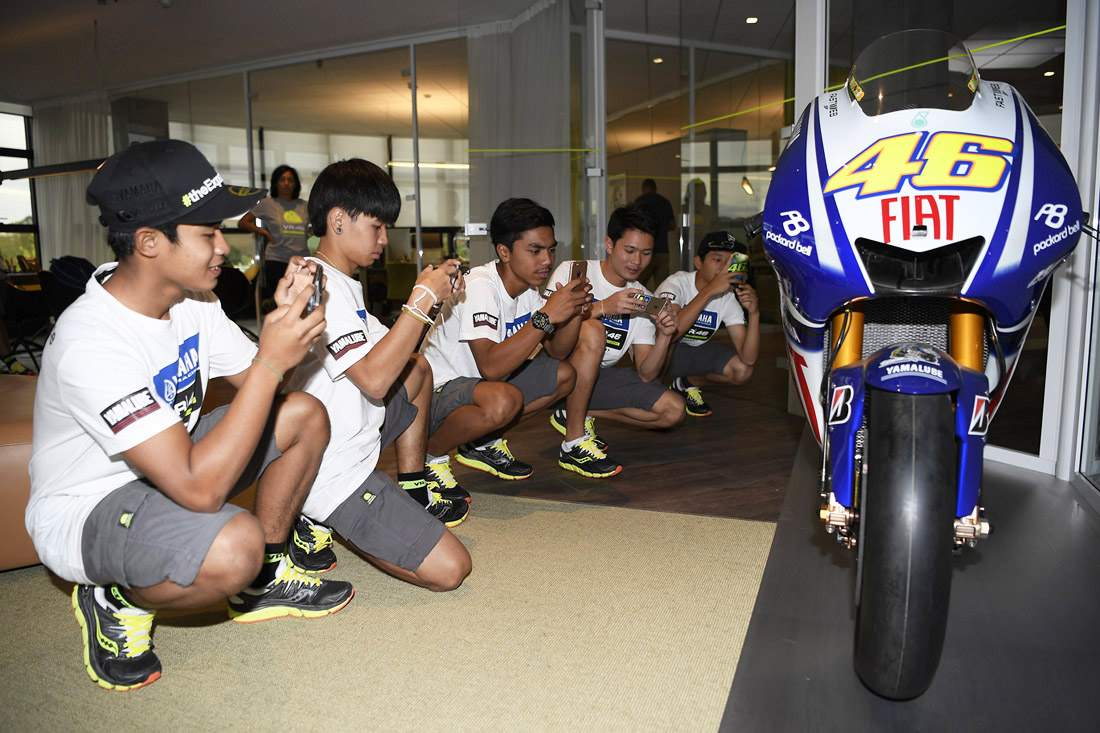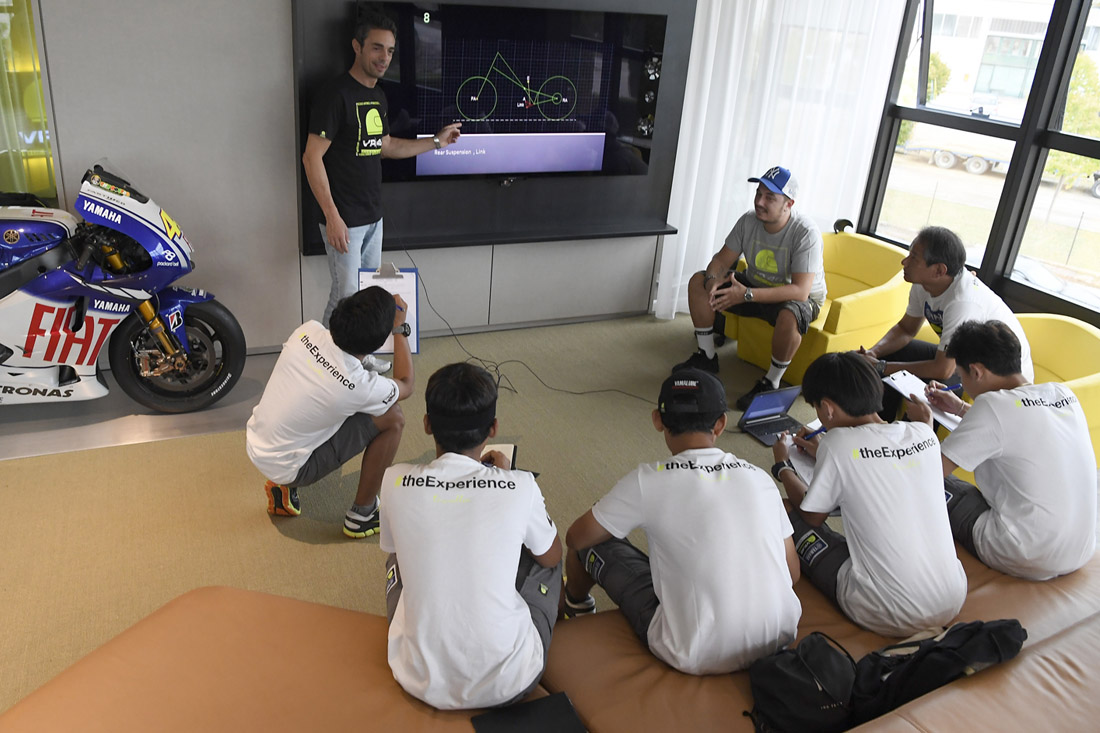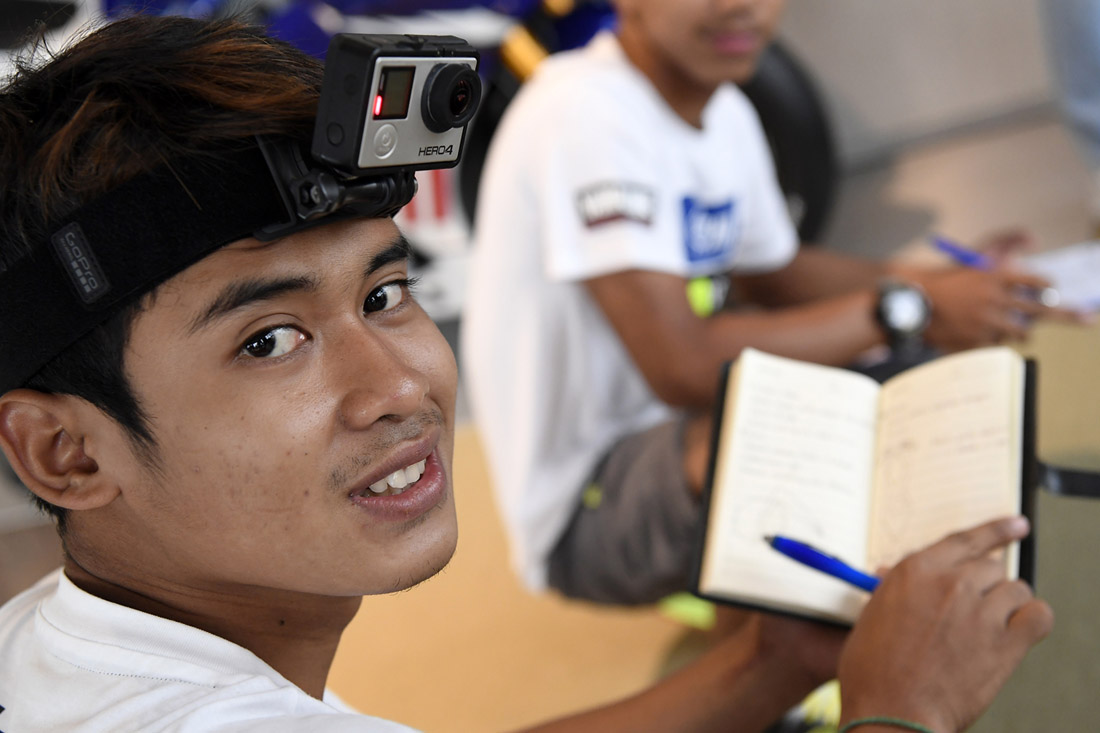 The third day of the second Yamaha VR46 Master Camp had an unusual start: instead of heading to the gym, the students were invited to visit VR46's headquarters to take part in a theoretical course taught by Sky Racing Team VR46's Technical Director and Crew Chief Pietro Caprara. The riders were asked to head straight upstairs to Valentino Rossi's office, where they immediately noticed the #46 YZR-M1 on display there. Throughout the class, that covered topics such as wheelbase, chassis, trail, offset, fork angle and swingarm angle, the Doctor's bike was used to illustrate how to properly set up a bike for racing.
After class the riders needed a little break to take in all the valuable information. They quickly headed to Tavullia for lunch where they briefly met up with VR46 Riders Academy's Francesco Bagnaia, Luca Marini and Lorenzo Baldassarri before they would all make their way to the Motor Ranch for a combined training later.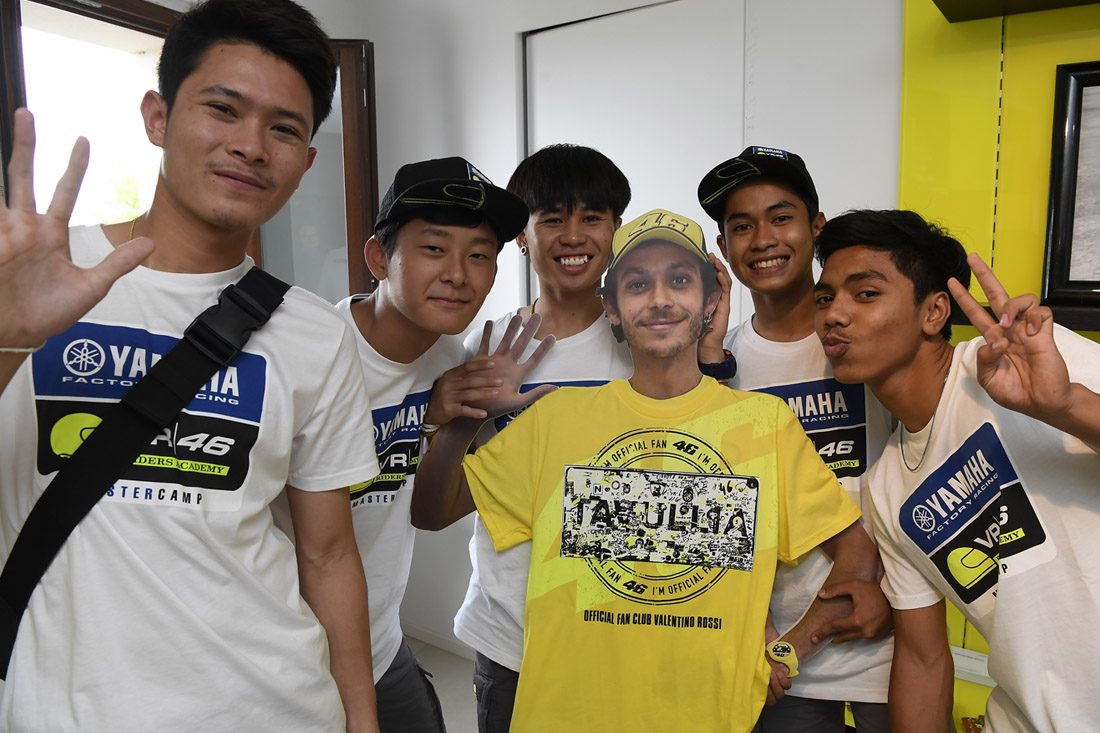 However, first there was one more surprise. Official Fan Club Valentino Rossi Tavullia Vice President Flavio Fratesi stopped by the lunch table to ask the riders to head over to the VR46 fan club headquarters just around the corner. Upon arrival, new rider Apiwat Wongthananon officially received a VR46 Fan Club membership card and all the riders were showered with gifts, including a special edition fan club bracelet, a VR46 flag, a Tavullia fridge magnet and a cardboard version of the iconic Tavullia road sign.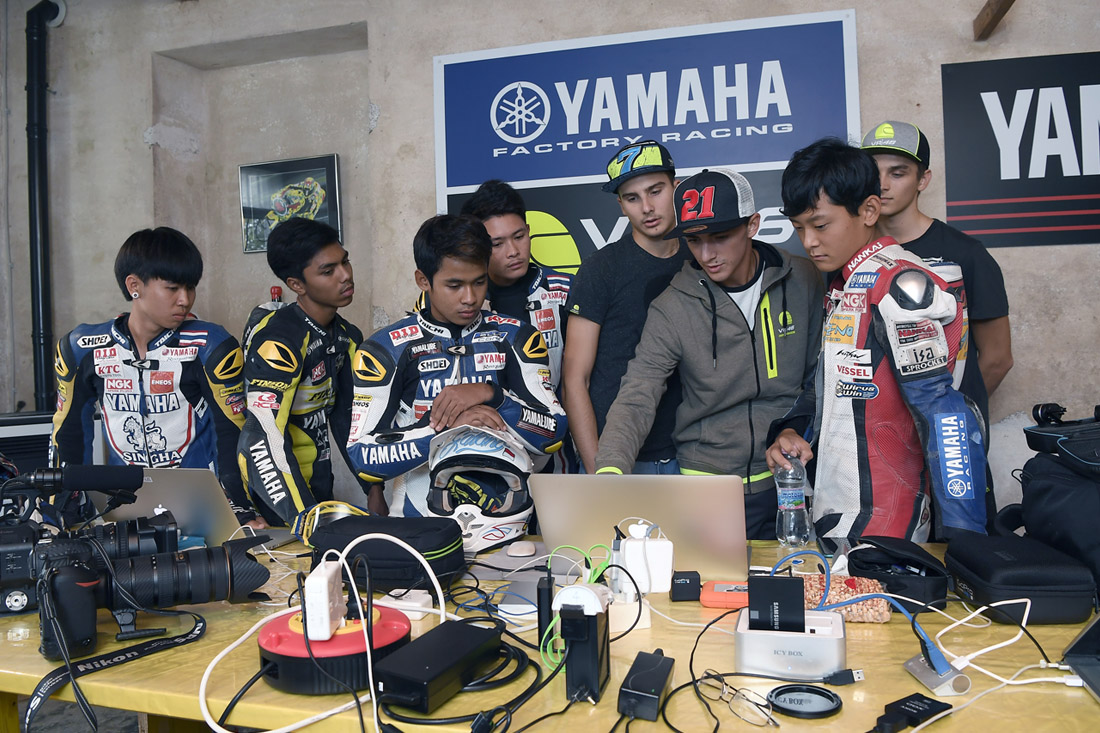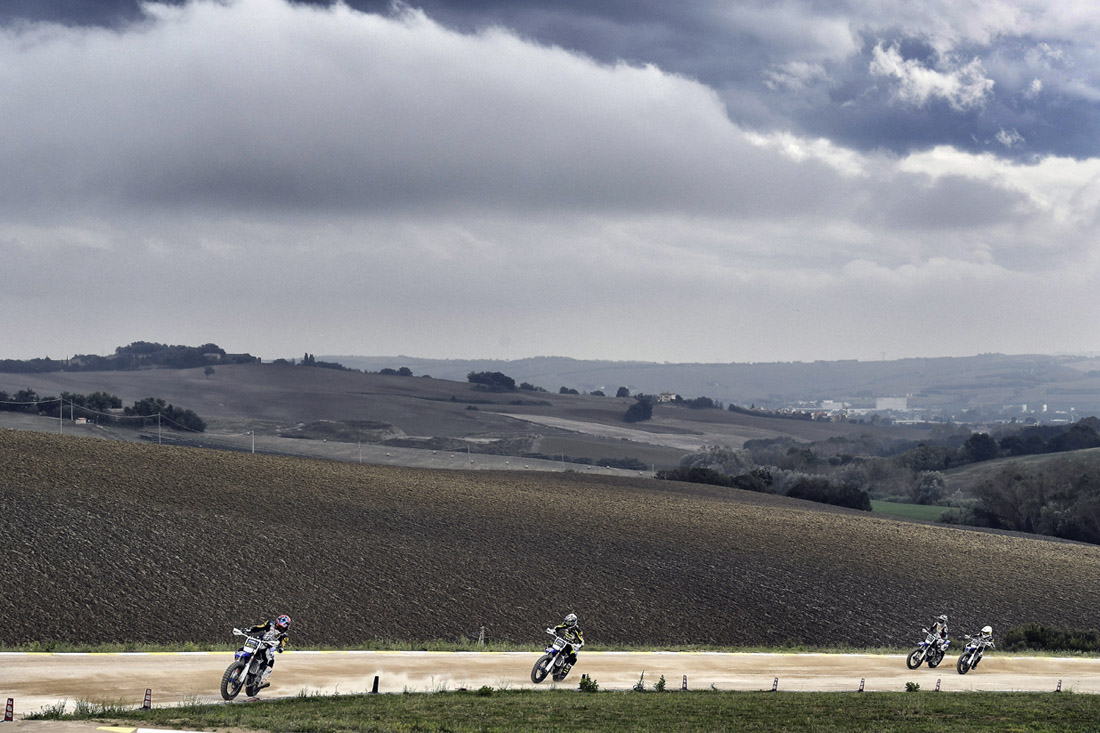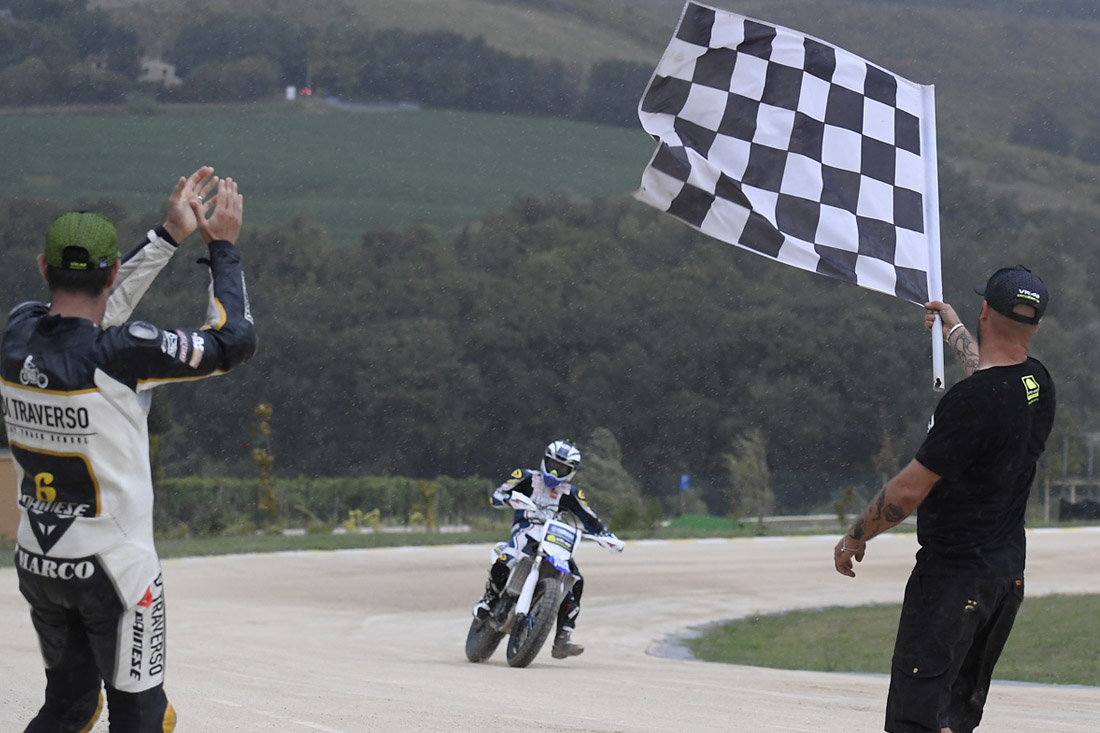 With their arms full of gifts the riders made their way to the Motor Ranch. Bagnaia, Marini and Baldassarri took the time to watch yesterday's onboard footage with the students so they could give them helpful tips before going out on track. Three-time English Flat Track Champion and two-time American and European Flat Track Champion and Master Camp instructor Marco Belli came over to coach his students and joined them out on track together with Marini, Baldassarri, Nicolò Bulega, Marco Bezzecchi and Celestino Vietti Ramus, until dark clouds gathered above the flat track.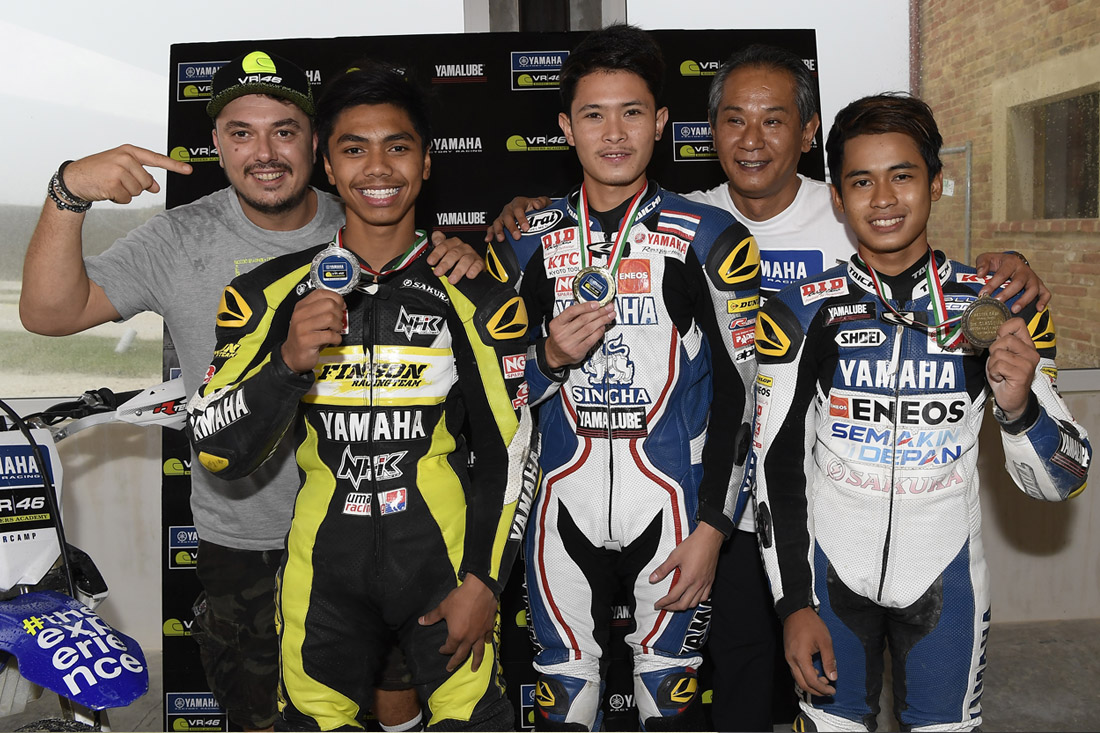 Despite rain pouring down, the Master Camp riders decided to have a three-lap race anyway and made the most of their YZ250F bikes' handling. Wongthananon secured the victory after a close battle with Kasma Daniel Bin Kasmayudin in second place and Galang Hendra Pratama in third place.
Comments
Apiwat Wongthananon
"In the morning I was learning about how to set up a bike properly and the technical aspects that come into play. The afternoon brought the first opportunity for me to use the full circuit, because yesterday we only used the inner section. We had two practice sessions during which I tried to develop my riding and tried to adapt my style to the YZ250F, which was a new experience for me and I tried to take in as much new skills and information as possible. After that we had the race. I tried to use what I had learned to win the competition and I feel like I did a good job, winning the race, but I feel like I can do even better, so I will try to do so on Sunday when we return to the Motor Ranch."
Peerapong Loiboonpeng
"In the morning we learned how to modify bikes for racing. They told us many things I hadn't thought of before and they were very specific, some were very detailed and I can't imagine how different things can be with this knowledge in Thailand, so I'm very happy that I know about the technical aspects now so I can set an example. In the afternoon we went to the Motor Ranch and the VR46 Riders Academy helped us with tips. I felt really lucky that I was given the opportunity to ride. However, I felt my riding wasn't as smooth as I wanted. When I had to overtake it was hard because it took more effort to control the bike, which was difficult due to the rain and the track was slippery. This Sunday I will try again and do better."
Galang Hendra Pratama
"This morning I noticed that the system of setting up a bike here is much more advanced than what we have in Indonesia. This made me think that we probably have not been working at it the right way and from this morning onwards I will work on the set-up in the manner we learned during today's class. It was my first time to ride at the track with wet weather and Marco Belli helped me a lot to feel confident under these conditions. For sure I will be able to improve my skills on the track, which at the moment are not up to the level I want them to be at."
Soichiro Minamimoto
"I was able to learn a lot about how to set up a bike in the morning class at the VR46 Headquarters. After lunch we went to the Motor Ranch and I was riding cautiously because I was thinking about last time we rode. I was able to study my riding and at the end of the day we had a race. Though I crashed I was able to pinpoint what caused it and how I will be able to improve my riding style. I want to try to be faster next time at the Motor Ranch."
Kasma Daniel Bin Kasmayudin
"This morning's lesson was interesting, because it gave me the insight that the technology here is further ahead than what we have at home, they have software that make the set-up better. This afternoon at the Motor Ranch I was a bit cautious because of the wet weather, so I didn't push too much but I finished second anyway. I'm very happy with the silver medal, but it was a pity it was raining. In dry conditions it would have been even better."