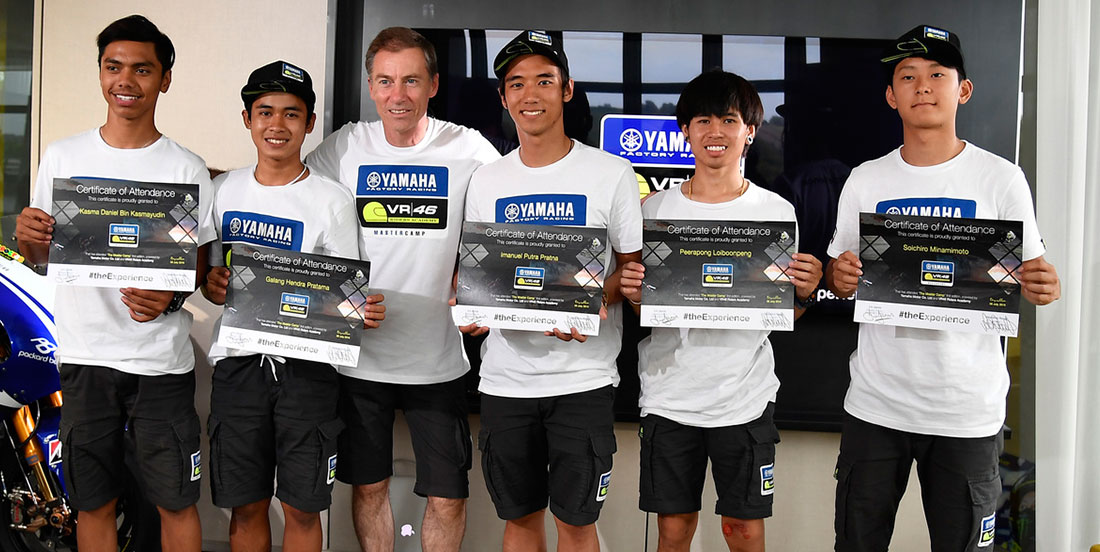 July 11, 2016
YAMAHA|VR46 Master Camp Students Graduate with Flying Colors
The YAMAHA|VR46 Master Camp came to an end with the fifth and final day of this amazing journey together with Valentino Rossi and the VR46 Riders Academy. The five Master Camp riders thoroughly enjoyed a day at the Jeepers Kart & Pit Bike circuit accompanied by today's instructor, Moto3 rider Francesco Bagnaia, before visiting the VR46 headquarters in Tavullia for a tour and their YAMAHA|VR46 Master Camp graduation ceremony.
Peerapong Loiboonpeng (Thailand), Galang Hendra Pratama (Indonesia), Soichiro Minamimoto (Japan), Kasma Daniel Bin Kasmayudin (Malaysia) and Imanuel Putra Pratna (Indonesia) started the day with mixed feelings; they were very excited to get a chance to learn from VR46 Riders Academy's Francesco Bagnaia at the Jeepers Kart & Pit Bike circuit on minibikes, but they couldn't escape the realization that today would be the last day of their fantastic experience.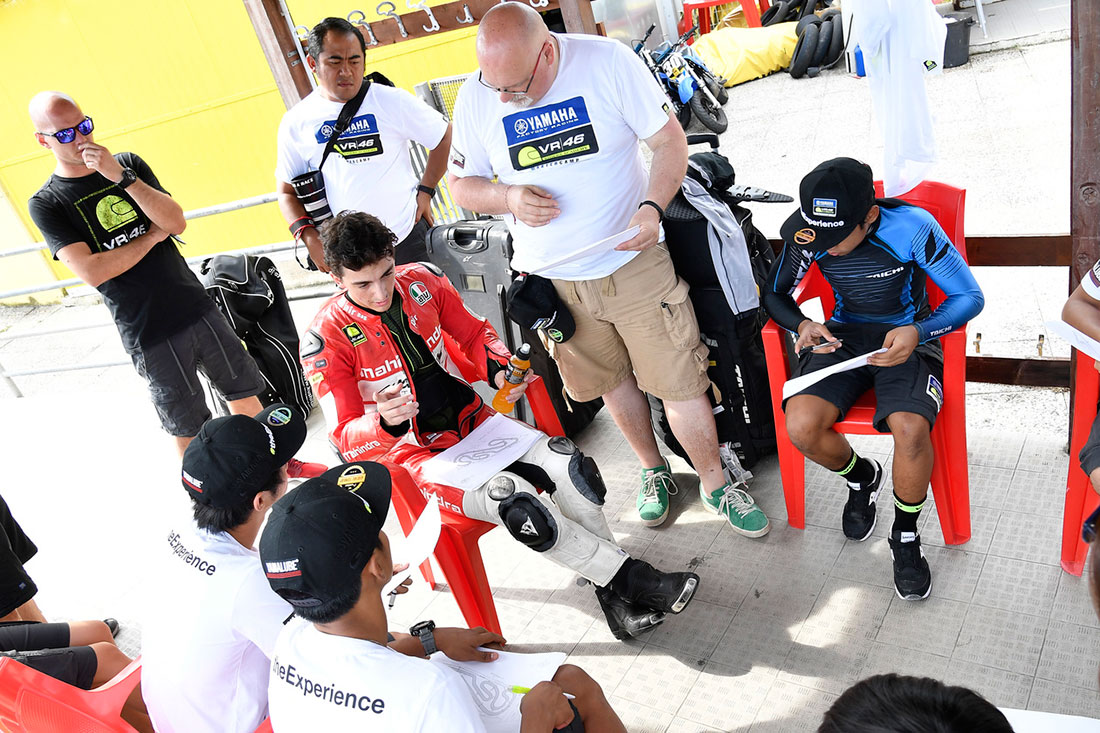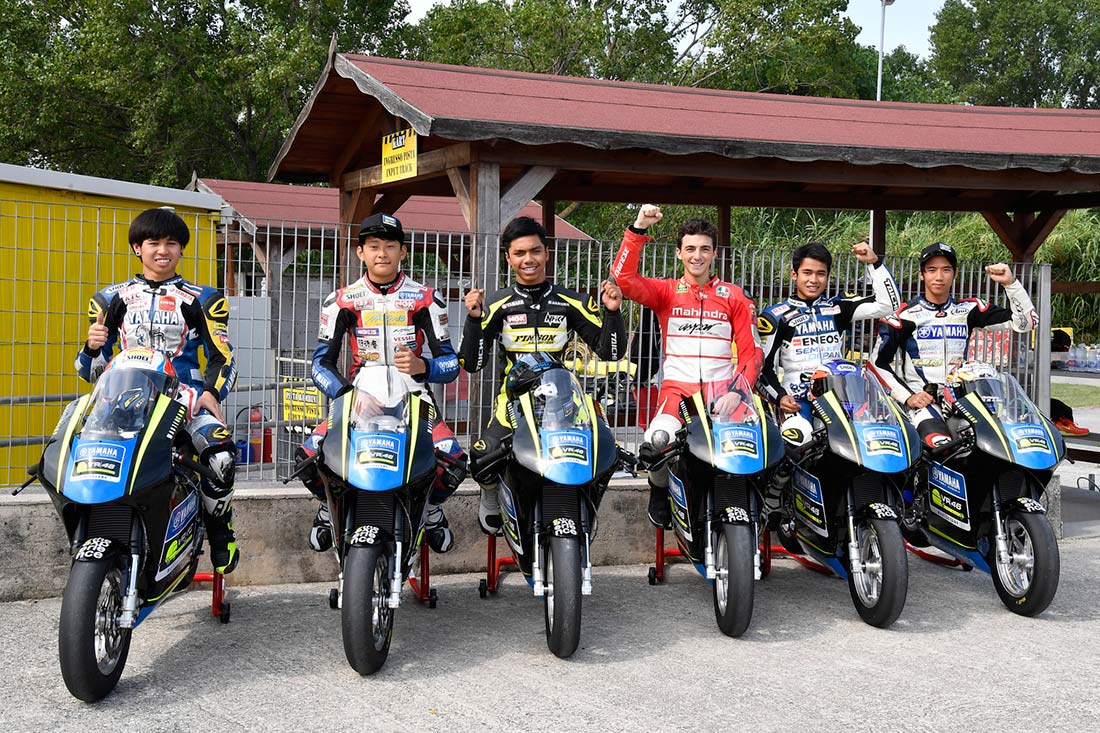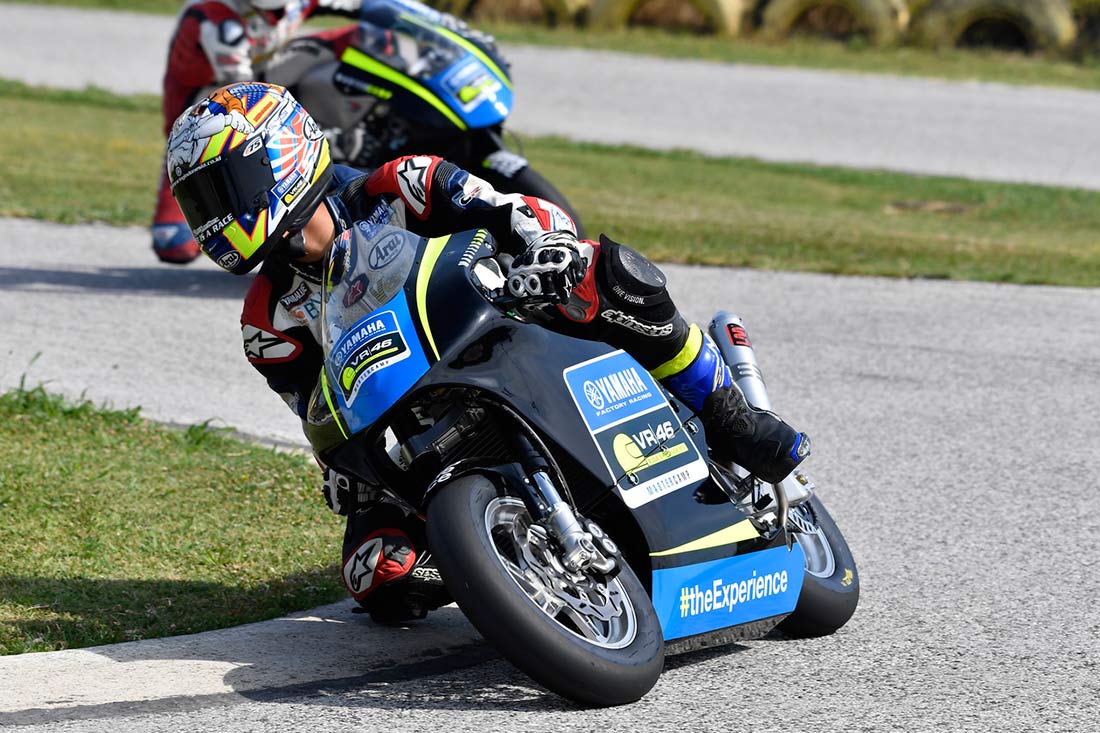 Once they arrived at the track they quickly changed into their leathers and hopped on their minibikes. The first session was a timed practice session, which was followed by qualifying and two races amongst just the YAMAHA|VR46 Master Camp riders. At first the young talents were a little starstruck to have the last Moto3 race winner teach them, but they soon overcame their inhibitions and dropped consistently fast lap times.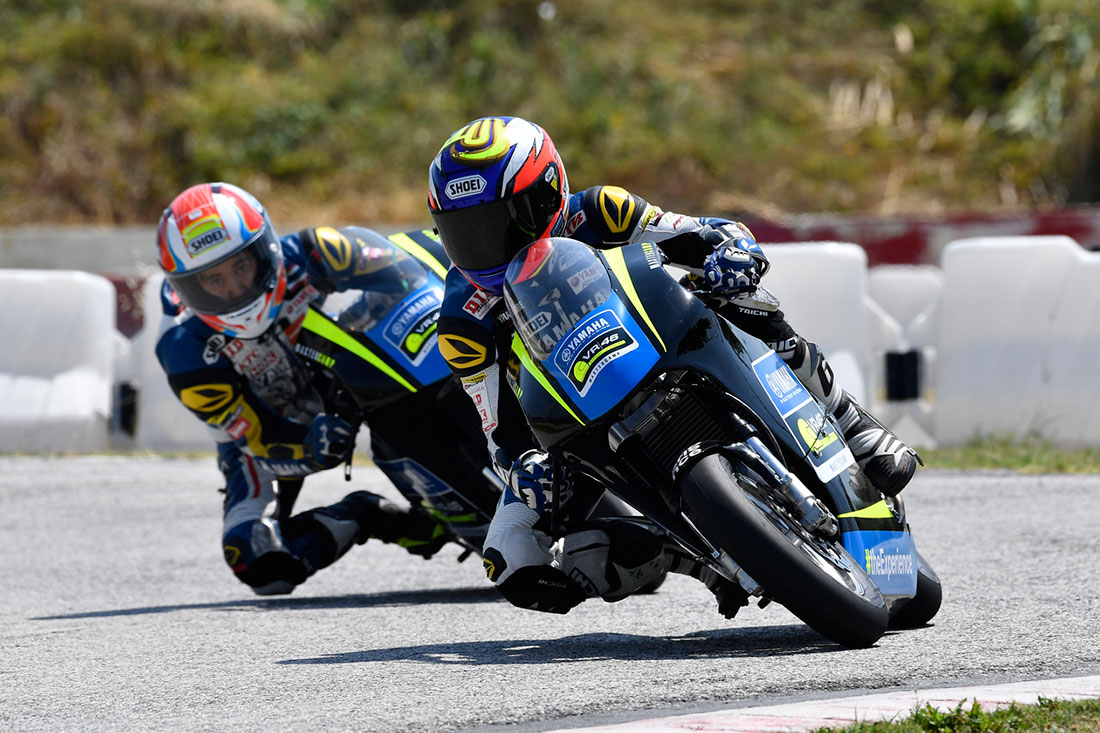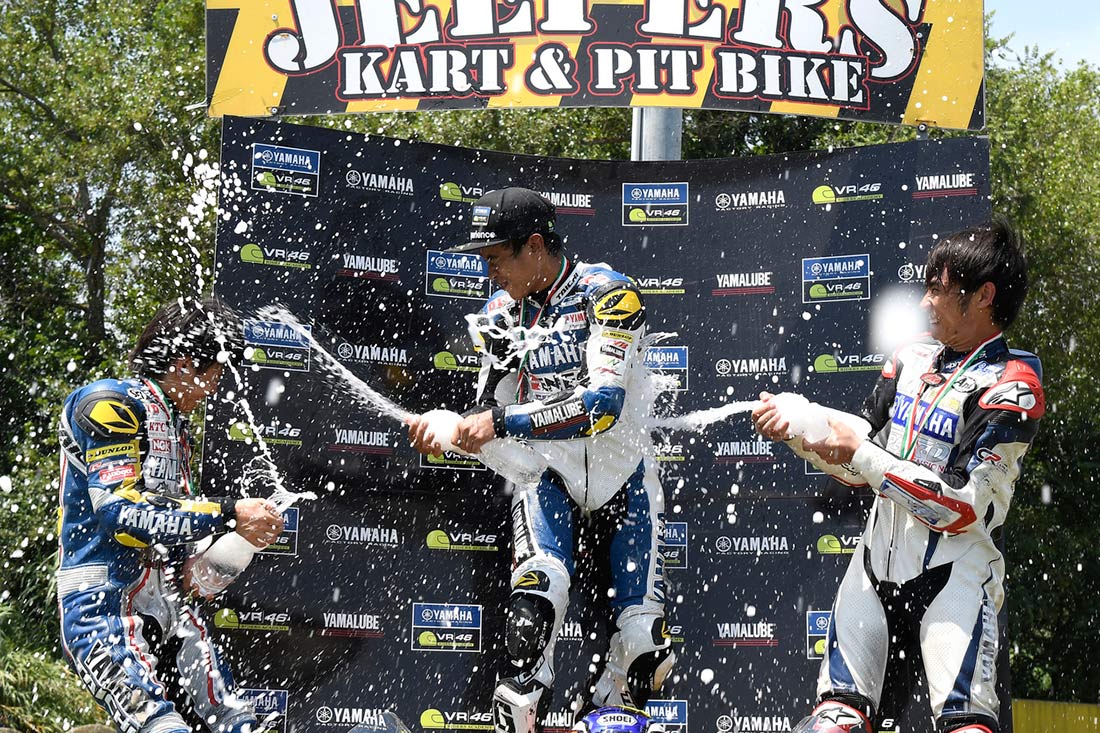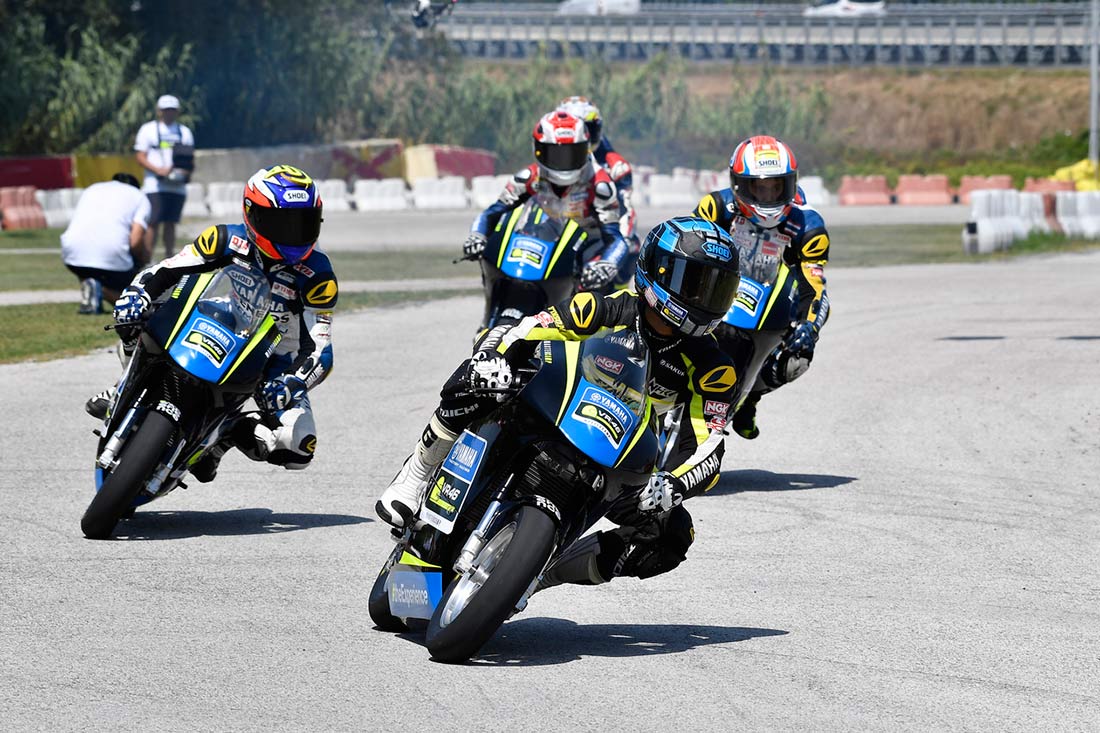 The first minibike race, which saw a close battle for the lead, was ultimately won by Galang Hendra Pratama. In the second race, Kasma Daniel Bin Kasmayudin raised the pace to another level and rode confidently to his first YAMAHA|VR46 Master Camp victory.
After spending almost three hours riding under the blazing Italian sun, it was time for the riders to regain some energy. They changed out of their drenched riding gear, drank the sparkling water replacing the victory champagne, and made their way to VR46's headquarters for a three-course lunch.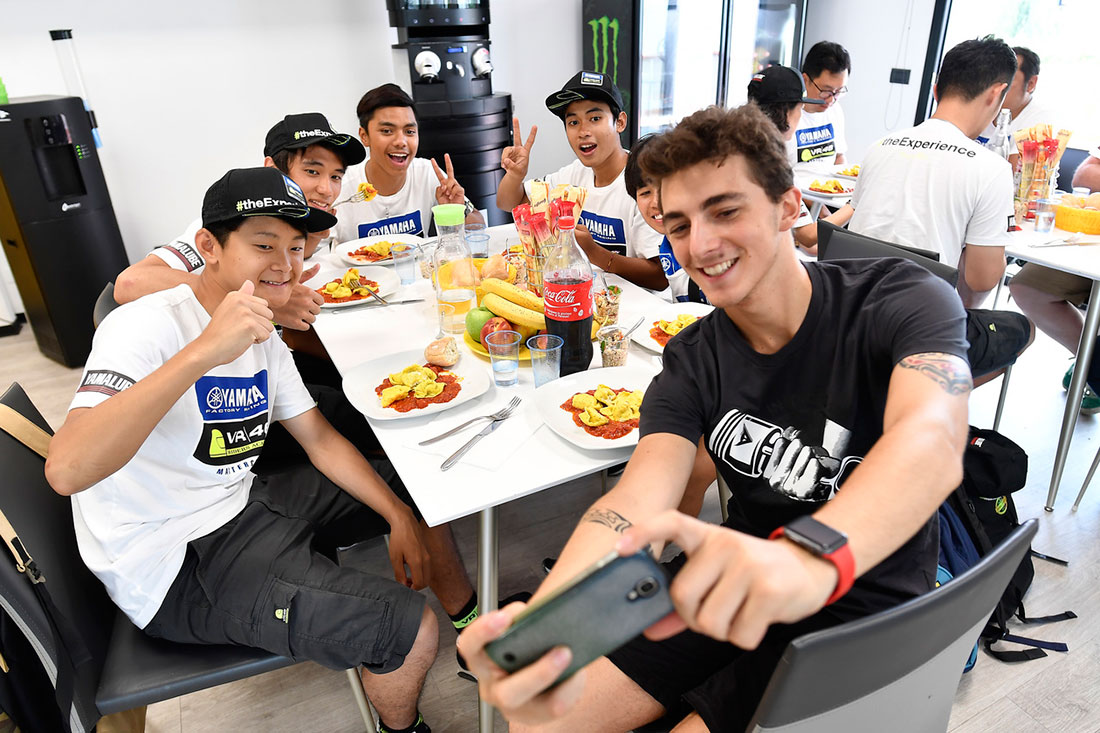 After they finished their Italian gelato ice cream, the riders were given a tour around the building by VR46 Managing Director Gianluca Falcioni. He showed them the various merchandise VR46 produces, which includes products for other well-known riders besides Valentino Rossi and the VR46 Academy riders, such as MotoGP's Dani Pedrosa, Scott Redding, Cal Crutchlow, Jack Miller and MXGP's Antonio Cairoli. Besides clothes, the VR46 Riders Academy bikes are also stored downstairs. The tour ended in Valentino Rossi's spacious office upstairs, where the riders got to view a summary video of the last five special days on the flat screen television. Yamaha Motor Racing's Managing Director Lin Jarvis remarked how the Master Camp program had come full circle: the project was created on the conference table in that office.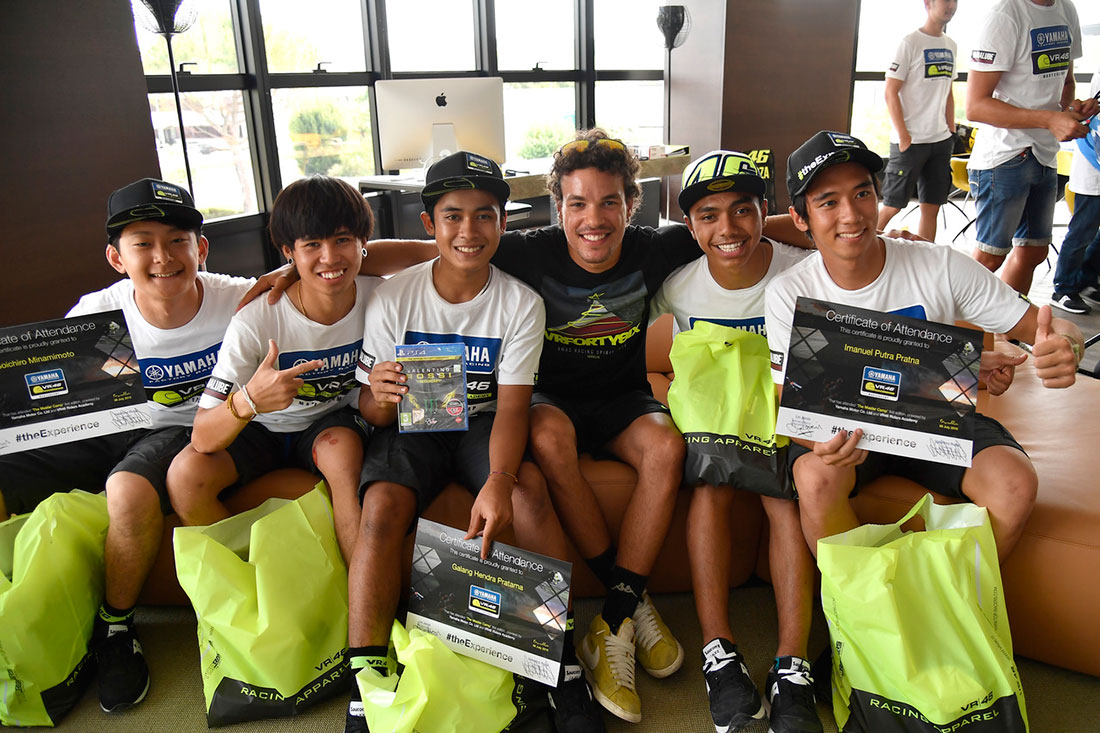 It was then time for the "graduation" ceremony, where the five riders were handed their official YAMAHA|VR46 Master Camp certificates of accomplishment and some extra gifts from VR46, which included the newly released MotoGP game in which players can simulate Valentino Rossi's racing career. Franco Morbidelli also quickly dropped in to congratulate the graduates and Bagnaia brought extra farewell gifts.
The YAMAHA|VR46 Master Camp team wants to sincerely thank Yamaha, its partners, Valentino Rossi, VR46, the VR46 Riders Academy and its riders for their contribution to this project. It has given the five Master Camp riders the foundation needed to further progress their careers to a world championship level.
Comments
Valentino Rossi
I'm really happy with how the first YAMAHA|VR46 Master Camp went. The guys were really excited today. Understandably, they are tired because of the intense training, but they are happy. They had fun during these five days but above all I hope they will bring home some things they learned from the VR46 Riders Academy, not only the knowledge and skills but also the mentality. The Master Camp riders were very good and also very quick to learn so much in just a few days. It was a great experience also for the Academy riders and all those who were involved in the organization. The Master Camp has been a success.
Galang Hendra Pratama
This week was beautiful. Today, we trained again with minibikes and it was a lot of fun. I'm honored to have been given this opportunity. I was able to train with world-class riders, such as Valentino Rossi, the VR46 Academy riders and also our flat track trainer, Marco Belli. I hope that these experiences can be repeated. I want to thank Yamaha for making it possible for us to have such a wonderful experience that we will remember forever.
Imanuel Putra Pratna
The activities over the last five days have made me very proud. I'm happy that I had the opportunity to have such a wonderful experience. I'm sad that the program is finished, but I am so grateful to have lived this. I want to thank Yamaha, Valentino Rossi, the VR46 team, Marco Belli, our trainers at the Fisio Gym and the VR46 Academy riders for all the support they gave us. I have learned a great deal and I'll never forget it!
Kasma Daniel Bin Kasmayudin
I am very happy after this experience. I liked every item on the program a lot. Being here was really nice. Today we trained with minibikes and then we said goodbye to the VR46 team at Valentino Rossi's headquarters. I gave the maximum over the last five days to learn as much as possible and will always cherish these unforgettable moments. A big thank you to Yamaha, our instructors and the entire VR46 staff for organizing such an amazing program.
Peerapong Loiboonpeng
I'm delighted to have had this opportunity. I never thought I would get here and meet Valentino Rossi. When I knew I was coming here, I did my best to be ready for this event and over the last five days I tried to memorize everything they taught me. I want to thank Yamaha; without their support I would never have come this far. I also want to say thank you to the VR46 Academy riders; they welcomed us with open arms and taught us well.
Soichiro Minamimoto
Today was a beautiful day again. After these five days, I realize more than ever how high the level of motorcycle racing on a world championship level is, because I was able to ride with the riders of the Academy. It was a great experience and I want to thank Yamaha and VR46 for taking the time to teach us so many skills.