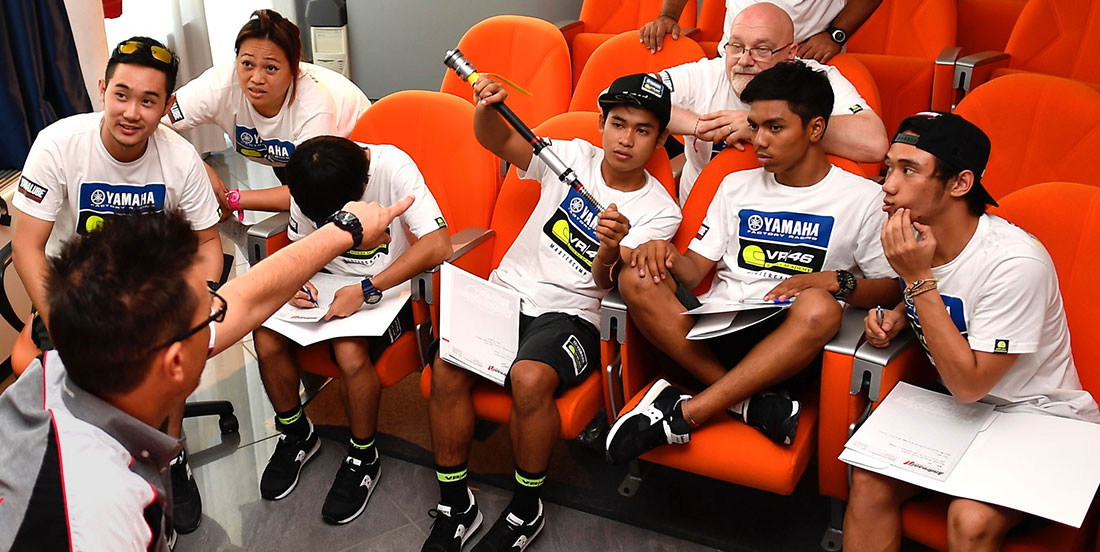 July 06, 2016
YAMAHA|VR46 Master Camp Riders Step It Up
for Muscle Strength and Improved Suspension
Peerapong Loiboonpeng (Thailand), Galang Hendra Pratama (Indonesia), Soichiro Minamimoto (Japan), Kasma Daniel Bin Kasmayudin (Malasia) and Imanuel Putra Pratna (Indonesia) again started their training at the gym, where they split up into two groups and took turns taking a pilates class to gain essential leg muscle strength.
While the first group was in session, the other group was again joined by a professional trainer together with VR46 Riders Academy's Franco Morbidelli. Francesco Bagnaia also joined them today, and guided the Master Camp riders while they were doing some stretching and spinning to keep their bodies injury free, before the groups switched places.
After the workout, the riders stilled their hunger with a four-course lunch in Tavullia with some ice cream for dessert, before eagerly heading to the Official VR46 Fan Club to sign up as members.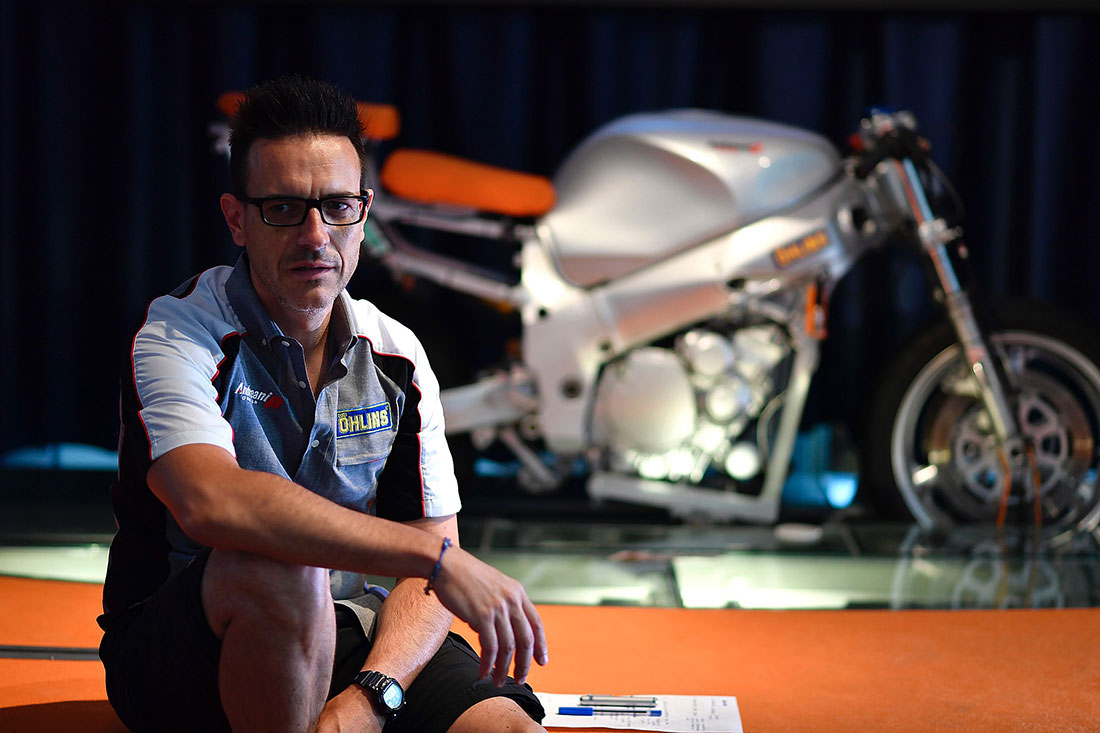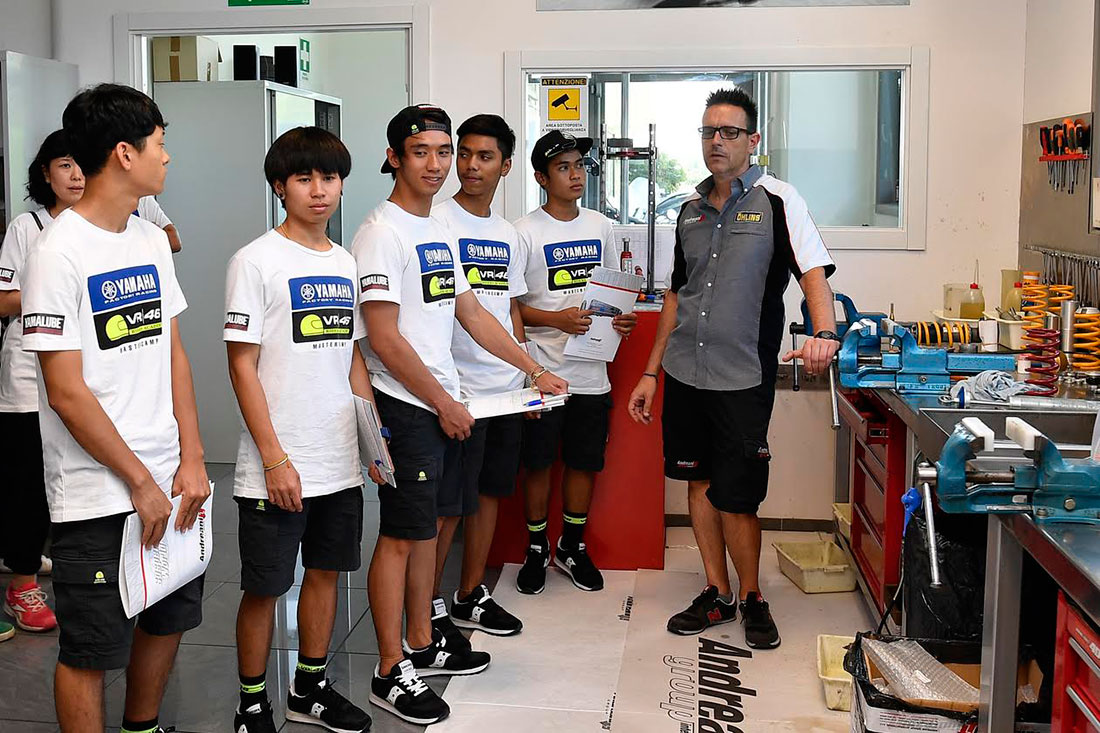 With their member cards in hand, they spent the rest of the afternoon at the Andreani Group's Suspension World Academy, where they strived to absorb as much knowledge as possible. In the first lecture, they were educated on the inner workings of car, bicycle, truck and especially motorcycle suspensions, which was followed by a quick tour around the Andreani Group's headquarters.
During the second class, they put their attention towards getting a better understanding of how to set up a motorcycle suspension and give constructive feedback to their mechanics to enhance their bike's performance at any track, whatever the track and weather conditions.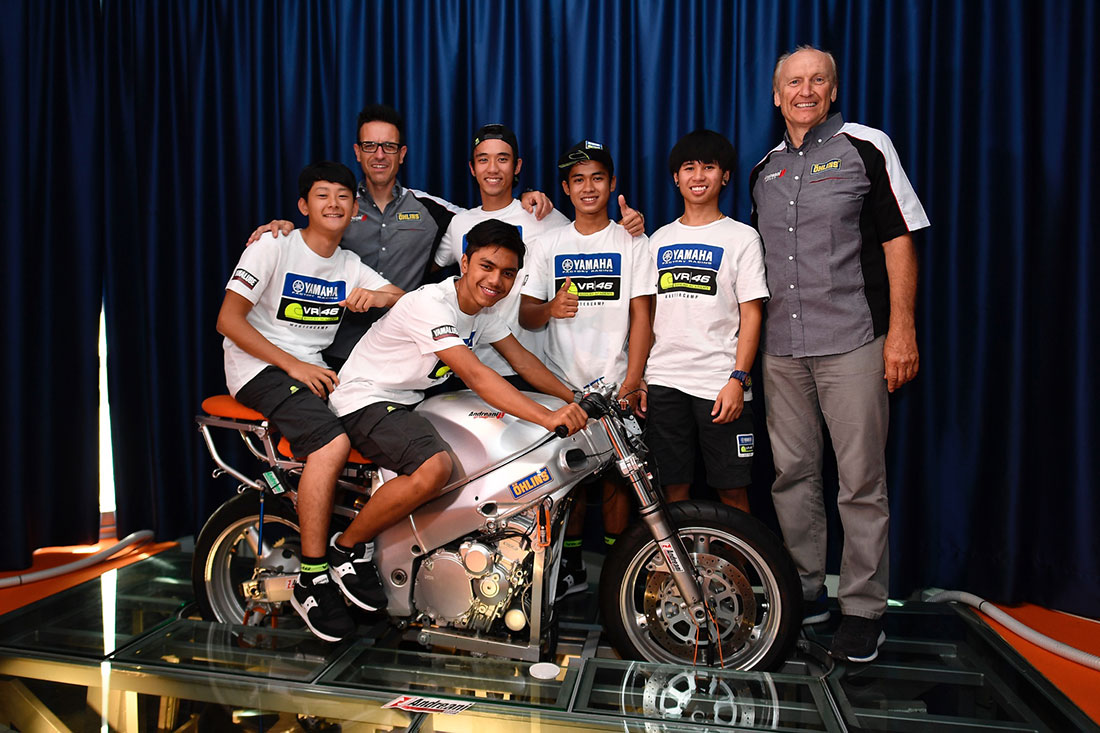 Comments
Galang Hendra Pratama
The work we did in the gym today was better, because we had never done pilates before and the training we did this morning helped our bodies detox from the strain from the exercises and training on track we did yesterday. In the afternoon, we had a lesson at the Andreani Group that we felt was very useful, because we didn't have any theoretical knowledge on this matter before we came here, so this was a good step forward for my future as a racer

Eid Mubarak* greeting
I would like to wish my friends, family and fans in Indonesia a Selamat Hari Raya Idul Fitri 1 Syawal 1437 hijriah, Mohon Maaf Lahir dan Bathin.
Imanuel Putra Pratna
This morning was my first time doing pilates. It was all new to me, but we had a good teacher so we were in good hands. We tried some moves that helped a lot to ease the stress from yesterday's practice session at the Motor Ranch. From our lesson at the Andreani Group, I got a lot of knowledge and some things I had never learned about before, like how to set up the geometry of the bike and the center of gravity. It surely will help me a lot to improve my lap time while riding on the track. Before I came here, my skills to set up the bike were limited, but after today I'm able to set up the bike perfectly and improve the settings to become faster!
Kasma Daniel Bin Kasmayudin
The morning session was great. Because I had never done pilates before, this session was an eye-opening experience for me; I liked it a lot! I suffered a small injury on my hip yesterday, but the training relieved the pain. The session in the afternoon was also very interesting. I already had a bit of an understanding for smaller classes such as 250cc, but the lecture at the Andreani Group gave me an opportunity to gain knowledge on bigger classes such as MotoGP. I am using Öhlins on my motorcycle, but I wasn't aware that they also made products for cars, bicycles and trucks, so this was very interesting for me.

Eid Mubarak* greeting
Wishing all my fans and followers back in Malaysia a Selamat Hari Raya Aidilfitri Maaf Zahir dan Batin.
Peerapong Loiboonpeng
I went to study pilates in the morning to know how to stretch my muscles. It's a soft type of exercising but it helped me to be more flexible and limber. After lunch we got a lesson on suspension from the Andreani Group to learn more about front and rear suspensions, and to learn how set-up technique works in bigger competitions like MotoGP and World Superbike. I acquired the skills to set up and modify the suspension, so I can adjust it to better suit my riding style and a circuit's layout.
Soichiro Minamimoto
In the gym this morning, I understood it's important to practice stretching every time. I did pilates for the first time and I realized that the muscles in my body are tightening. I would like to continue doing these calisthenics to improve my physical condition. In the afternoon, I was given the opportunity to see the inner mechanisms of the suspension and I reconfirmed how to set up a bike. I hope to make good use of these lessons in the future when I compete in races.